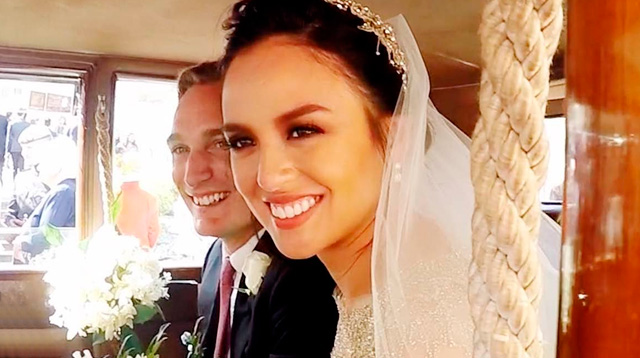 YouTube/laureenuy
1 When Georgina Wilson tied the knot with English businessman Arthur Burnand on April 30, they kept it super private, inviting only their closest family and friends. Blogger Laureen Uy vlogged their London adventure and shared these exclusive clips from the wedding. We honestly got all ~*feelsy*~ when George's cousin Belle Daza was delivering her speech!
2 Happy birthday, James Reid! The actor, who turned 23 on May 11, celebrated his birthday with the kids of Asociacion de Damas de Filipinas, a charitable organization for orphans and abandoned children. "I always like kids. I feel like a kid again. I had a very nice upbringing that's why I wanna give back," said James in an interview with PEP. Aww. (PEP) 
3 OMG! A MaiDen movie is actually happening! Maine Mendoza and Alden Richards have been spotted shooting their upcoming movie tentatively titled Imagine You and Me in Italy. Check out the behind-the-scenes photos here. (PEP) 
4 Here's a very pregnant Blac Chyna making a red carpet appearance with fiancee Rob Kardashian. Love her or hate her, you gotta admit the girl is glowing!
5 What's going on with Justin Bieber? The pop star was first spotted walking barefoot and feeding squirrels in Boston the other day. Today, he was spotted literally sitting on a tree branch in the Boston Public Garden. He appears to be listening to music while holding a notepad. Perhaps this is his new way of writing songs?