It's hard to believe that Ateneo Blue Eagle Isaac Go didn't fall in love with basketball at a young age. In fact, he only learned to play the game because his older brother, Gian, forced him to (he wanted a playmate and that's what older siblings do!).
Fast forward to 2017, Isaac and his teammates are crowned champions of the Men's Basketball division of the University Athletics Association of the Philippines (UAAP) Season 80, dethroning the defending champs De La Salle University in the third game of the best of three series, 88-86. Isaac, one of the team's go-to big men, played a crucial role in Ateneo's journey to victory with his heart-stopping shots and dimes throughout the season.  
Cosmo.ph sat down with the Blue Eagle and UAAP standout and had a candid chat about *everything*—including basketball, his favorite meme of himself, and even his dream girl:
We heard you only started playing basketball because your kuya Gian wanted a playmate. He also said in an interview that you weren't really the best at it from the start, but look where you are now! Can you tell us about your standout moments in your basketball career?
I remember, as a kid, I would always rage-quit. I would say "no na!" But [Gian] convinced me to always keep playing. Then, I got into the RP Youth team when I was around 16—that was a standout moment because that was the first real exposure that I had. In [Xavier] high school, we had tournaments, but nothing as big. We didn't have a UAAP or an NCAA.
And then, when I got into college, of course that's another moment. Out of the hundreds of high school players, not everyone gets the chance to play in the UAAP. I remember in my first year, my standout moment was the first time I checked in and I committed an offensive foul. Haha!
So when did you realize that you could take basketball more seriously?
I think it was early in high school. In grade school, I wasn't really getting a lot of [playing] minutes. I was really on the bench a lot. I think it was around High 2 (second year high school) or High 3 (third year high school) when I started saying that "Okay, there might be a chance." It wasn't really until fourth year that I was like, "I think I can do this." But I didn't expect that I would be playing like I am right now.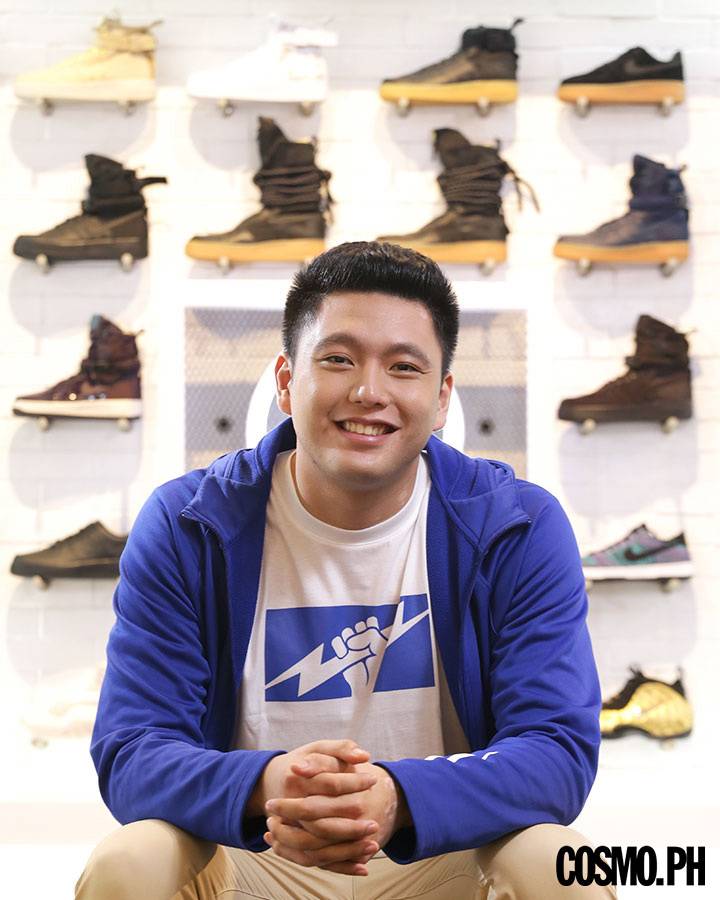 Can you talk about your relationship with your brother and basketball?
He really loves the game, so he's always looking for ways to understand it. My brother's the one who's always pushed me. He was the one who pushed me to start. He pushes me to do 6 a.m. workouts. He's the one who understands. I have to be thankful for him, because without him, I wouldn't be where I am.
You stand at 6'8''—when did you grow so tall?
I never had that one growth spurt. It's not like those NBA players like Anthony Davis or Dwight Howard who had that one massive growth spurt one summer. I never had that. I've always grown consistently. I was always the tall kid.
What was the first thing that went through your head after you won the championship?
"DID WE JUST WIN?!" and "'Yun na 'yun?!" It's something I can't put into words: That feeling once you win it. It's just surreal and so sweet, especially after losing to them (La Salle) last year.
What was the first thing you did after the championship? After the mass, of course.
Went home, dropped off my sister 'cos she had a test the next day, and went out to eat! Really eat. I stayed up until 4 a.m. to watch the shot 'cos I still couldn't believe it.
There was this video of you hugging Coach Sandy Arespacochaga after the championship where he was saying "I told you, I told you! What did I tell you?" What exactly did he tell you?
After we lost to La Salle last year, I went to him. It was on that spot of the court where he told us: "We'll help you get to where you want to be. We'll help you become the best local big. And we'll help you—we'll get there." It was all on that spot of the court—we even had the same bench. Before the [championship] game [this year], Coach Sandy pointed to it and said, "Do you remember that spot?"
Then, when (Ateneo Head Coach) Tab Baldwin put me in and I made a shot, that reminded me of what happened last year when we lost, and the message Coach Sandy told me before the game: "I told you so, it wasn't going to be the same result."
One of the most remarkable things about you is that you barely show any emotions on the court, even during the most crucial moments. How do you do that?
I think one thing that was crucial this year was that Coach Tab has been preaching to "learn to play without emotion." It's not to say that emotion is bad, it's just that with it, you get too attached to a moment, a segment, a game—and that's something that could prevent you from doing your job.
When my brother and I talked about it, we agreed that when you've had the journey that I had—where you started not really making the team, and you've been a benchwarmer for how many years, and you slowly get minutes—you see and you understand that these moments are what people dream of. It's more of [being] grateful for those chances, that's why I don't show any emotion.
I'm just grateful that I get the chance to play the game that I love at this level and [that I] have the opportunity to make these shots because of my teammates and my coaches.
When people ask me why I don't show emotion, I say "I'm just doing my job." Coach Tab says that for us to win, we all have to do our jobs. In those moments, I was called upon to do mine. My teammates executed, and all of us would've been ready to take those shots. It just so happened to be me at those moments. But I think all of us would've been ready.
I asked Coach Tab when we had a talk: "How do you learn to play or coach without emotions?" He just said: "You just learn it. It's not something I can give you a format for. It varies from person to person." He added: "When you've coached for 35 years, you've seen it all, and that's how I've learned."
I think that's why there was a conscious effort for the team to learn to play without emotion.
Speaking of Coach Tab Baldwin, what's the best advice that he's ever given you?
"Stop eating rice!" Haha! He was just really seeing how I could progress in the future, and that maybe that was one step I needed to take to help me develop more as a player. I still eat rice now, just less, and controlled.
How about the best piece of advice you got from your teammates?
My seniors in my first two years Von [Pessumal], Nico [Elorde] said, "Stay ready—your time's gonna come."
Any plans of going pro?
Yes, I have plans of going pro. If I'm able to stay on this path with the help of God, my family, my friends, coaches, and teammates. I do hope so.
What's something people would be surprised to find out about you?
Before basketball, I tried taekwondo, swimming, badminton, and even piano lessons! I hated the piano. Nothing clicked. I have no musical bone in me. I've wanted to learn how to play the guitar. I asked my friends to teach me and it never worked out.
People would also be surprised to know that I'm actually quite a nerd! I geek out about video games, card games, even animals when I was much younger. Yes, even animals! You can ask my mom! I'd watch NatGeo, Animal Planet, Discovery—I'd watch it almost at the same level as cartoons. I would nerd out. Now, I love watching the History Channel, too.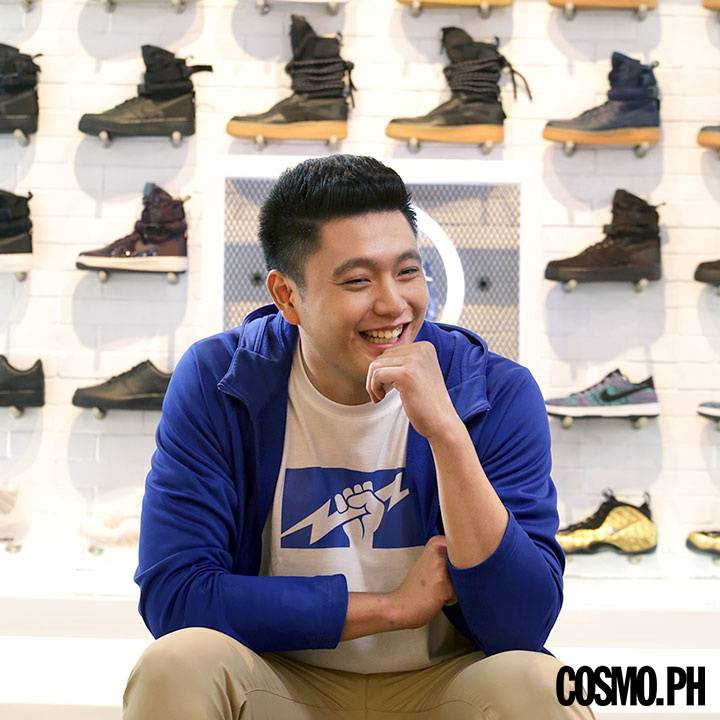 You have a tough course, Management with Applied Chemistry. What's your advice on balancing school and sports?
Really understand what your strengths are. Understand what you have to do now and what you can put off until later. Understand your body. Some people can work late at night, they can push the hours. There are some people who really can't, they have to sleep early. So you have to listen to your body.
There are a ton of Isaac Go memes and jokes on the internet. Do you have your favorites?
Yes! There was this one guy who tweeted "Isaac Go has rice in his veins"—they just showed it to me yesterday. I also like the "Why does everybody say Isaac Go? Why don't people say Isaac Stay?"
Where do you see yourself in five years?
Hopefully in the PBA.
Lastly, are you single right now? And can you describe your dream girl?
I'm single, yes. As for my dream girl? The first thing would have to be that she's tall. But for me kasi I want a girl who really understands what I go through. Someone who has character and was brought up well. Someone who understands that sometimes I can't make time, sometimes I can't be there because of practice, and the schedule is really bad. Someone who is really there [for] the highs and lows—just someone who will be there.
Follow Retty on Instagram.
Answers have been condensed and edited for clarity.
GROOMING: Nicole Ceballos
HAIR: Kim Echavia
Special thanks to Pj Pilares
Shot on location at Titan, Two Parkade, BGC