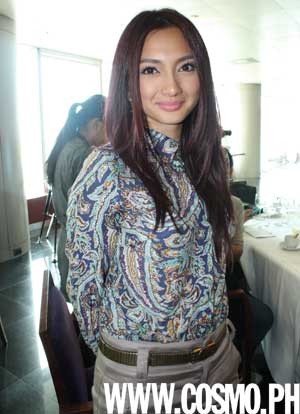 Local TV "it" girl Iya Villania shared some fab fashion and beauty tips with Cosmo a few months ago. A lot has changed in the short time that has elapsed--she has taken on more projects such as an acting stint in ABS-CBN's soap Kristine and, just recently, joined Umagang Kay Ganda's roster of anchors.

Iya is still as warm and bubbly as she was the last time we had a little girl talk with her. This time, in time for the hot, sunny season, we asked Iya for a few summer skin care and fitness tips. We also asked her about her relationship with her boyfriend Drew Arellano, who happens to be a host in rival GMA-7 morning show Unang Hirit. Read the interview to find out if they're headed for the aisle anytime soon.

What are your top skin care tips for summer?

Moisturize, apply sunblock, have good hygiene, get good sleep, and drink a lot of water. Those are my top five steps for every day naman e. Every day naman is like summer, [I] just [apply] more sunblock.

How are you getting ready for summer?

I was running for a while, but then I got so caught up with taping, and I prioritized sleep over exercising. So now that I'm done with Kristine, I have a more regular schedule. I'll be heading back to the gym. And, hopefully, I'll take up some kind of physical activity, like pole dancing.

How's your love life?

It's still there! (Laughs.)

Do you see yourself settling down any time soon?

Not yet. It's been almost seven years, but not yet.

What do you think would make you decide to settle down?

More time. There's so many things that I haven't done. And [before] I get to that stage, marriage, I need to complete the other stages of my life.

How does your boyfriend Drew Arellano feel about your joining Umagang Kay Ganda?

He was excited for me! 'Yung first day ko in college was his first day in Unang Hirit. And he's been there ever since.

Did he give you any advice for hosting a morning show?

He just told me, "You're gonna have a lot of fun, I'm excited for you" [because] I'm gonna be more time-conscious. Sabi niya, "Honey, every second and every minute is gonna count." Sabi niya, i-sync ko 'yung relo ko sa oras ng program, so I can give myself enough time to prepare for the show.

How long does it take for you to get ready in the morning?

I spend a good 30 minutes. I wake up at 2:45AM and I leave the house around 4:15AM. I get to the studio around 4:30AM or 4:45AM at the latest, may makeup na.

Launch the gallery to see more photos of Iya.
Continue reading below ↓
Recommended Videos
996