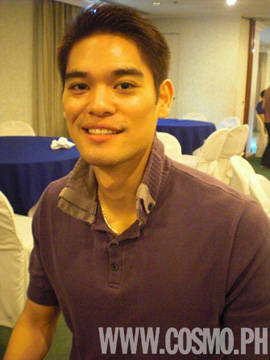 We loved him with his shirt off, his hair shaved, and a baseball cap perched sideways on his head, but we've got to admit, he looks damn hot all covered up, too!
Jay R
, once dubbed the Philippines' Prince of R&B, is back--with a new moniker, the Platinum Prince of Soul, and a sleek new look to boot.
He returns to the boob tube as host of
Party Pilipinas
on GMA-7. He also makes a comeback on the music scene with the launch of his latest album
Jay R Sings OPM Love Classics
under Universal Records. The compilation features Jay R's interpretations of 13 of Pinoy music's most timeless odes, including
Zsa Zsa Padilla
's "Ikaw Lamang,"
Basil Valdez
's "Sana Ay Ikaw Na Nga,"
South Border
's
"Kahit Kailan,"
True Faith
's "Huwag Na Lang Kaya,"
and
I-Axe
's "Ako'y Sa 'Yo, Ika'y Akin."
Also included in the disc is a cover of
Regine Velasquez and Gary Valenciano
's "Muli,"
done by Jay R and Soul Siren
Nina
, and a mellowed-down, blissed-out take on the
Rivermaya
rock classic
"Himala,"
which is already receiving heavy airplay on local radio stations.
Cosmo caught up with the crooning cutie to ask him about his sleek new look, his romantic new release, his beauty queen lady love, his summer plans...and his pre-makeover 2004 Cosmo Centerfold cover!



We like your hair. Why did you decide to grow it back?
I've been bald in the industry for seven years now. It's time for a new look. Universal Records recommended
na siguro kailangan magbagong
look for the new album, which is a 180-degree turn from what I used to do because it's all Tagalog.



So you've ditched the baseball cap + baggy jeans sans top look, too?


Dati uso 'yun e. 'Yung mga
hip-hop,
mga
baggy
na damit. Pero ngayon iba na ang panahon e, mga
skinny jeans and fitted shirts
na ang uso
. Of course you have to follow the trends, being in the entertainment business.



Does that mean we won't be seeing you topless anymore in the future?
It's hard not to see me topless because I'm endorsing Bench Body (
laughs
).



You used to be called the Philippines' Prince of R&B. Now you've got a new moniker, the Platinum Prince of Soul. What else are you a prince of?
I am the prince of cheeseburgers and sushi, my favorite food. I'm always eating burgers and sushi.



Was there a song you wanted to cover but didn't make it to Jay R Sings OPM Love Classics?
"Take Me out of the Dark" by Gary V.
Kasi
OPM
siya, pero hindi siya
Tagalog
.
Plus,
may ibang
Gary V song
na sa album
.



If your girlfriend, Bb. Pilipinas-International 2010
Krissa Mae Arrieta, were a song, what would she be?
She would be the song "Beautiful" by James Blunt.



Where are you headed this summer?
I'm going to Singapore and Malaysia for a cruise.



What's your theme song for summer?
Gusto ko 'yung
beat
ng
"Do You Remember" by Jay Sean
.



What do you think of DJ Tony Toni of Magic 89.9's Boys' Night Out
copying your 2004 Cosmo Centerfold look in Cosmo's September 2009 issue?
It's nice! They say that we look alike. And we look exactly alike there (
laughs
).



Whatever happened to those green apples nestled in your crotch? Did anyone take them home?
Props
lang 'yun. 'Di ko alam anong nangyari dun
(
laughs
).
Launch the gallery by clicking on the button below to see more pictures of Jay R!
417
Continue reading below ↓
Recommended Videos