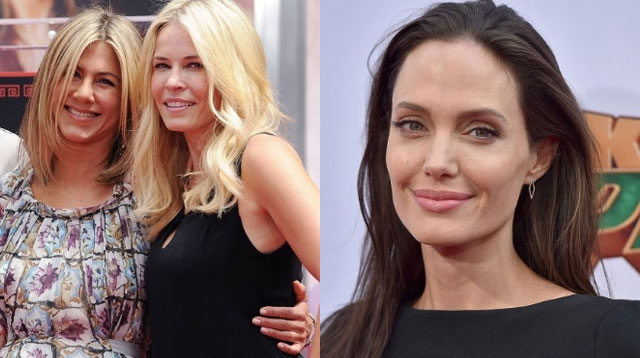 Like the rest of the world, Chelsea Handler has something to say about Brad Pitt and Angelina Jolie's divorce. Lucky for you, she also has a weekly talk show on Netflix, which allowed her to broadcast her reaction. As expected, Jennifer Aniston's longtime BFF did not have the loveliest of words for Angelina. "There are rumors that part of the problem was that Brad was allegedly drinking and smoking too much weed," Chelsea said on the show. "I wonder why he would need to self-medicate? Maybe because he could've been spending the last 12 years at Lake Como hanging out with George Clooney and Matt Damon instead of being stuck in a house with 85 kids speaking 15 different languages? Oh yeah, because he married a fucking lunatic. That's why." 
Chelsea weighs in. #brangelina pic.twitter.com/mCZsP5AHIy

— Chelsea (@Chelseashow) September 21, 2016
Chelsea also announced that she is now "officially accepting proposals" as per her rule of not getting married until Brangelina split up. (This, of course, is a nod to Brangelina's stance of not getting married until everyone else in the country legally can).
Angelina filed for divorce Tuesday after two years of marriage and some 12 years together. Following the news, which was first reported by TMZ and later confirmed by both parties, Chelsea issued her first reaction on Twitter:
Angelina Jolie has filed for divorce from Brad Pitt… he wants the China; she wants Pax and Maddox. ##sorrycouldnthelpmyself

— Chelsea Handler (@chelseahandler) September 21, 2016
Follow Peggy on Twitter.
***
This article originally appeared on Cosmopolitan.com. Minor edits have been made by the Cosmo.ph editors.
Recommended Videos