1 JM de Guzman's IG photos are making his fans worry about him, especially since he's done drugs and gotten into rehab. He just posted a photo of himself with the caption "Hey dad, are you going to send me to rehab again?" But the actor was quick to reassure his fans not to overread his posts: "Pag masaya ako, nakakalungkot. Pag tahimik, may problema. Pag malungkot, nakadroga. Guys...guys...eto ako. Live with it." He even tries to break the stigma against people who've done drugs. "17 months in rehab. 6 months I've been running the program. Hear our story. Respect our journey. We can be also a big help in our society if you just let us and free us from the undeniable stigma that literally chokes us every day..." (PEP)
Continue reading below ↓
Recommended Videos
2 Speaking of cryptic IG posts, last month Nadine Lustre got her fans worried when she posted a photo on IG that stated "it's gotten to the point where / I don't know who I am anymore / I constantly feel like I'm on the verge / of breaking down." What more, the caption was "Hey, it happens...But you gotta get back up." The post has been deleted, but no one's really forgotten about it. Nadine finally breaks her silence and says "It's a phase. Lahat po tayo nagdadaan dun, I guess." And no, it's not about her love life. "It's about my family," she reveals. "It's okay na. I'm over it na." And FYI she says she's "really really happy and grateful" with her career and her heart and mind. (PEP)
3 Angel Locsin totally slammed and OWNED a basher via Instagram! Angel posted a photo of a kettlebell, suggesting that she was working out again—which she says is for herself and her future, not for her career. The hater pretty much said that Angel was just seeking attention because she's "laos":


Angel, not letting that comment slide, said: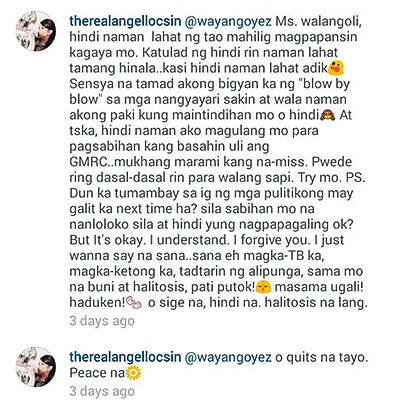 You go, Angel! (PEP)
4 Jennifer Lawrence graces the cover of Vogue's December issue! In the magazine she talks about being single and how she spends her weekends. "No one ever asks me out. I am lonely every Saturday night." Still, she hopes to settle down one day. "I can't wait to be married. I feel like if I find that one person who I want to spend the rest of my life with, who I want to be the father of my children, that I would absolutely not f--k it up." (Us Weekly)
5 Guess who's back! It's Missy Elliott! The rapper's out with her first music video, "WTF," in SEVEN YEARS. And Missy, being cool, just shared the link on her Twitter; no other fuss. Anyway, it's totally a song to shake your hips to.