1 We're sorry to break it to you, but Carla Abellana admits that she is not dating her My Destiny costar Tom Rodriguez. The actress, who recently broke up with longtime boyfriend Geoff Eigenmann, admits that it might be a problem to date Tom, saying, "We've already formed a good friendship. Ang hirap masira, ang hirap mag-take ng risk, and go into relationship." You have to admit though, they look really good together. (PEP.ph)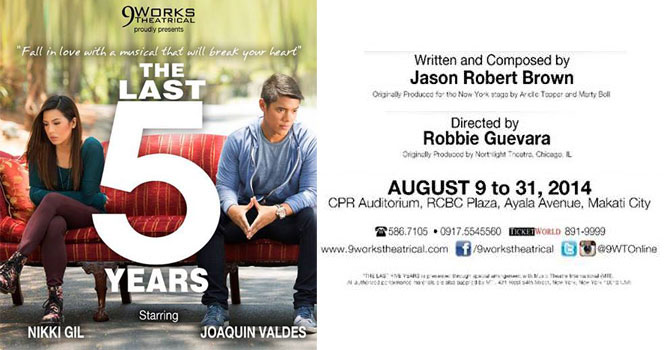 2 Nursing a broken heart? Y'all might want to drag your girlfriends to watch stage play "The Last 5 Years," starring Nikki Gil and Joaquin Valdes. The musical revolves around the five-year relationship of writer Jamie Wellerstein and actress Cathy Hyatt—where the story is told in reverse chronological order, starting from the time the couple broke up. Interested? The musical will be playing from August 9-31 at the CPR Auditorium, RCBC Plaza. To buy tickets, call 0917-5545560, 586-7105 or 891-9999.
Continue reading below ↓
Recommended Videos
3 We hope they're serious about this! The government just filed a house bill stating that road and traffic safety should be included in the school curriculum of students from Grade 1 to high school seniors. Among the topics to be discussed include traffic signs; the rights and obligations of pedestrians, drivers, vehicle owners, and public-utility vehicles; Philippine laws on driving; fines and penalties; and local traffic codes. (Topgear.com.ph)
4 Remember that really cool treadmill music video that OK Go did for their hit song, "Here It Goes Again?" Well, the American rock band just released their new vid for "The Writings On The Wall," and it's even better. The video makes use of optical illusions and it is G-E-N-I-U-S! Genius, we tell 'ya! Watch it below!
5 So Match.com decided it was cool to build a program that helps you find your ex's lookalike for like $5,000 (roughly about P220,000). The dating site's premium service allows users access to the service's Three-Day Rule, a program that gets photos of your ex, and matches it with existing members in the site! Crazy, di 'ba?! (GQ)