2009
Justin Bieber and Selena Gomez meet for the first time after Biebs' manager Scooter Braun rang Selena's mom (also her manager at the time) to tell her how much Biebs had the hots for Selena.
New Year's Eve 2009
Biebs serenades Selena at Dick Clark's New Year's Rockin' Eve.
March 2010
Selena denies she's dating Biebs. In an interview on The Late Show, Selena insists they're just great friends: "He's been in my life for so long, and it's just nice to have someone [who] understands what you're going through."
December 2010
Paps snap Biebs and Selena sharing a New Year's Eve smooch on a boat—like a scene from a Nicholas Sparks film. Soon after this, Jelena are forced to admit they're an item.
February 2011
Biebs and Selena make their first public appearance as a couple at the Oscars.
March 2011
Selena tells Ellen DeGeneres all about her relationship with Biebs, while he gushes about her to People magazine: "She's hot. Of course every guy likes the girl to be hot, which Selena is. But I like to mess around and pull jokes on people so I like to be around people who make me laugh and share my sense of humor. She is a really great person and I think she has the best smile in the world."
Continue reading below ↓
Recommended Videos
August 2011
Biebs and Selena jet off to Mexico for their first holiday together. But things aren't all loved-up for long.
September 2011
Biebs faces cheating allegations after a fan—Mariah Yeater—claims he fathered her child. He's also spotted sneaking out of a model's hotel suite.
November 2011
The couple put on a brave face at the AMAs.
November 2012
Jelena split up for the first time after being together for 18 months. But no one really knows why. Later that month he was spotted on a string of dates with Victoria Secret models, while Selena admits she'd really like to date Zayn Malik.
"I really shouldn't have said that should I?" she then added: "I'm young and I'm experimenting. I'm experiencing life."
May 2013
Biebs posts a photo of him with Selena, and the internet goes bat-shit-crazy at the prospect that they might be back together.
Later that month, one of Selena's besties, Taylor Swift, sticks her tongue out at them kissing on the Billboard Awards red carpet. Actual lol.
June 2013
Selena denies they're back together. She tells InStyle magazine: "I don't know. I'm a kid, and a breakup is normal. I have to go through the emotions and feel it out. I'm doing my own thing, being with my friends, and he's doing very well too."
July 2013
Biebs posts a #TBT photo of him with Selena, and captions it "#Heartbreaker."
January 2014
Biebs posts another photo of them together with the caption: "Love the way you look at me." But no one can figure out if it's a recent photo or another throwback.
March 2014
Biebs posts a photo of Selena and captions it: "Most elegant princess in the world." Bit weird, but whatever.
July 2014
Orlando Bloom punches Biebs in Ibiza because he allegedly hooked up with Orlando's ex-wife Miranda Kerr while they were still married. Plus there are a LOT of rumors doing the rounds that Orlando and Selena have hooked up.
November 2014
Selena breaks down while singing The Heart Wants What It Wants at the AMAs, and everyone obviously assumes it's to do with her relationship with Biebs.
May 2015
Jelena can be seen hanging out in a video on Rich Wilkinson Jr.'s Snapchat.
September 2015
Selena says she doesn't think they will ever get back together. Sad times.
Speaking to Elle magazine, she says: "Genuinely, I'll forever support him and love him in a way that we grew up together. I think people want it to be different." And when asked if they would ever get back together she replies, "I don't know."
And Biebs tells Complex magazine that their relationship was so intense, it was doomed.
"We were so in love. Nothing else mattered. We were all about each other. But when it's like that and you get your value from that, people will always disappoint you.
"Your girl or your dude, they're always going to disappoint you. Your full identity can't be in that person. My identity was in her. Her identity was in me."
November 2015
Biebs serenades Selena in a bar. Whether she wants him to or not.
Later that month, Biebs and Selena are spotted snuggling in the street.
Plus, Justin admits in an interview with Ellen DeGeneres that he would get back with his former girlfriend.
"Um, maybe? We have a lot of history together, and I am sure it could possibly happen," he said when asked about a reconciliation.
"I think we are both just on our own journeys and figuring ourselves out, and I think maybe once we figure ourselves out we can come back and make an awesome duo or she finds someone awesome and I'll find someone awesome. I just want her to be happy."
The same month Justin is spotted out with Kourtney Kardashian, with insiders claiming the duo had been secretly hooking up for four months.
December 2015
Biebs shares ANOTHER throwback photo of him and Selena. And then another one captioned: "Just a throwback calm down."
February 2016
Selena congratulates Biebs on his Grammy win: "I'm very happy for him. Honestly, so cool," she said, before complimenting Biebs' collaborators Skrillex and Diplo. "They have such a cool energy amongst all of them to be able to create something like that. It's really great."
But she also hits out at the attention of the relationship and claims she's "exhausted" by it.
Speaking in W magazine's March issue, she says: "I'm so exhausted. I honestly am so done. I care about his health and well-being. But I can't do it anymore."
March 2016
Guess what? Biebs posts another throwback photo of him and Selena, but this time they're kissing. He captions it, "Feels."
August 15, 2016
Biebs posts a bunch of photos of him with his new girlfriend, Sofia Richie, on Instagram. After his fans start trolling Sofia, Biebs changes the caption on one of the snaps to: "I'm gonna make my Instagram private if you guys don't stop the hate this is getting out of hand, if you guys are really fans you wouldn't be so mean to people that I like."
Selena comments on the picture with: "If you can't handle the hate then stop posting pictures of your girlfriend lol" she wrote. "It should be special between you two only. Don't be mad at your fans. They love and supported you before anyone ever did."
Biebs wasn't crazy about Selena's comments, so replies to her saying: "It's funny to see people that used me for attention and still try to point the finger this way. Sad. All love. I'm not one for receiving any kind of hate. Hope you all can be kind to my friends and each other. And yes I love my beliebers."
Selena then replies saying: "Funny how the ones that cheated multiple times, are the ones pointing the finger at the ones that were forgiving and supportive. No wonder fans are mad. Sad. All love."
Biebs has the final say by replying: "I cheated. Oh, I forgot about you and Zayn?"
Woah, is this Biebs telling us Selena cheated on him with Zayn Malik?
August 16,  2016. 
Justin deletes his Instagram account.
January 11, 2017
Selena is spotted making out with singer The Weeknd. TMZ releases paparazzi photos that show them outside of Giorgio Baldi in Santa Monica.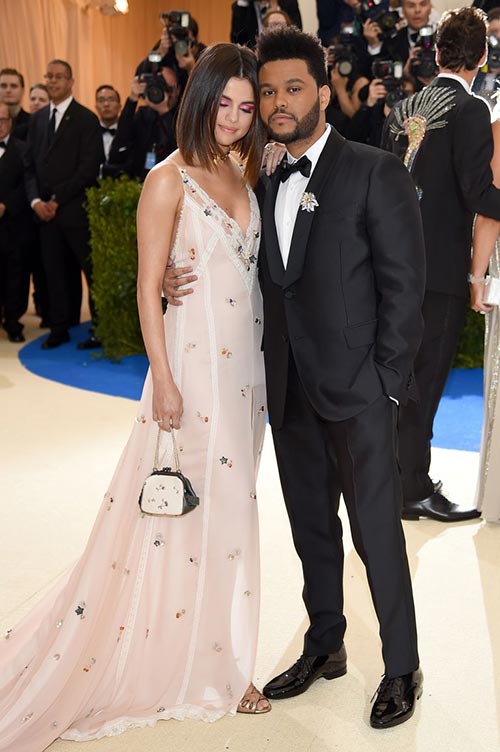 September 12, 2017
Selena's assistant puts the nail in the Selena-and-Justin-getting-back-together coffin by saying she is "so beyond done" with her once on-off boyfriend, Biebs.
October 25, 2017
Forget what Selena's assistant said—apparently Biebs and Selena are friends again! They've been hanging out and everything! Paparazzi photographed Selena walking into her Studio City home Sunday evening 10 minutes after Biebs arrived there in his car. They were with other people, according to the report, and The Weeknd was reportedly aware. He knows they're friends; he would've been there too if he wasn't on tour.
Multiple sources told TMZ that Biebs and Selena also hung out last week and first reconnected around the time Selena announced she'd had a kidney transplant.
October 31, 2017
Just five days after it's reported that Biebs and Selena are pals again, Selena and The Weeknd reportedly split up. Coincidence?
November 1, 2017
Bieber and Selena are spotted hanging out in Los Angeles for the second time in four days, after being papped on a bike ride.
November 2, 2017
Selena is spotted wearing Justin's ice hockey jersey after watching him play ringside. Wearing each other's clothes is a definite sign that things are back on, right?
November 3, 2017
Insiders say Selena and Justin are dating! Jelena is happening! A source tells US Weekly: "Selena and Justin are back together. Selena and The Weeknd just fizzled and ended amicably—it wasn't dramatic and it wasn't about Justin. But Selena always had feelings for Justin. Her friends want her to be cautious because she has been in such a good place post-surgery."
JELENA LIVES.
November 4, 2017
Biebs and Selena spend the weekend together, and go to church together not once but TWICE—once on Friday and then again on Saturday! The couple was spotted leaving Hillsong church separately on Saturday, but we were on to them straight away. Nice try, Jelena.
***
This article originally appeared on Cosmopolitan.com/uk. Minor edits have been made by the Cosmo.ph editors.