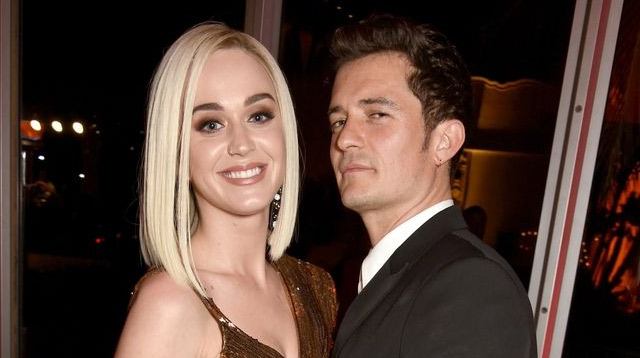 Katy Perry and Orlando Bloom, who said six months ago in a joint statement about their breakup that they were "taking respectful, loving space" at the time of their breakup, might be a thing again. Over the weekend, the former lovers were spotted attending an Ed Sheeran concert together in Los Angeles. And because it's 2017 and approximately 99 percent of concertgoers watch concerts with phone in hand, some photographic evidence has surfaced to suggest that Katy and Orly went as more than friends. One lucky witness shared the following clips of the famous concertgoers on Twitter:
Here's Orlando saying "hi love" to us last night ???????????? Katy was walking in front of him! pic.twitter.com/4GMn4ylaIs

— M. Valencia (@_monthse) August 13, 2017
Here's Katy Perry exiting the concert last night. Orlando was walking right behind in the group of friends! I should've posted this 1 first pic.twitter.com/GYNnx8Kj0l

— M. Valencia (@_monthse) August 13, 2017
While another fan saw Katy and Orly backstage "holding hands and walking together":
Somehow ended up backstage tonight at the Ed Sheeran concert and Katy Perry and Orlando Bloom both walked right past me.... ????&smiled lol

— Fatima (@fatimaa_fon) August 13, 2017
They were holding hands and walking together! :)

— Fatima (@fatimaa_fon) August 13, 2017
E! News also spoke to an eyewitness, who said the pair "definitely seemed like they're back together" and that Katy sat on Orly's lap and "shared kisses." The source also noted "they were having the time of their lives" at the show.
While you let these images and accounts marinate in your brain for a bit, let me remind you to take this news with a grain of salt. Remember what Katy suggested we all do after her breakup back in March?
HOW BOUT A NEW WAY OF THINKING FOR 2017??U can still b friends & love ur former partners! No one's a victim or a villain, get a life y'all!????

— KATY PERRY (@katyperry) March 2, 2017
At this point, the only sensible thing to do is to try to get an official comment from Katy's and Orly's lookalike pups, Nugget and Mighty, who have remained silent on their humans' relationship since their breakup. How are you guys feeling? Are your owners really back together? When was the last time you two saw each other? Are you FaceTiming, at least?
Follow Peggy on Twitter.
***
This article originally appeared on Cosmopolitan.com. Minor edits have been made by the Cosmo.ph editors.
Recommended Videos