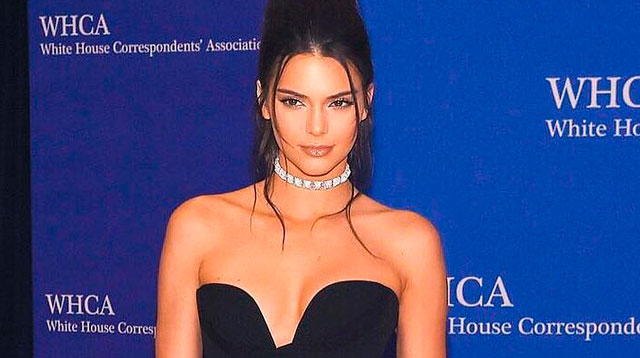 Instagram/kendalljenner
Kendall Jenner was starstruck for the first time after meeting President Barack Obama at the White House Correspondents' Dinner.
The supermodel attended the event on Saturday, which was the final dinner to be hosted by Obama at the White House before his presidential tenure is up.
The 20-year-old, who stunned on the red carpet in a low-cut Vivienne Westwood black dress, shook hands with Obama and revealed that he had a favor to ask of her. "He was like, 'Say hi to Kim and Kanye,'" she told People.com. "I was like 'Okay.'"
Confessing that she was starstruck for the first time when she met him, Kendall also said that her mother, matriarch and 'momager' Kris Jenner, was very proud of her.
"She's already Instagrammed it," she added. "I know she's proud. She's all over it."
Despite the friendly conversation Kendall and Obama had upon meeting, the president seemingly had a joke at the model's expense during his speech.
"Kendall Jenner is also here. We had a chance to meet her backstage and she seems like a very nice young woman," he said. "I'm not exactly sure what she does but I am told that my Twitter mentions are about to go through the roof."
The former creative director of American Vogue magazine Grace Coddington recently defended Kendall and best friend Gigi Hadid. Both, aged 20, rose to fame thanks to reality TV shows Keeping Up with the Kardashians and The Real Housewives of Beverly Hills, while also gathering a big social media following.
"They are a different kind of celebrity—they represent this moment in time very much," Grace told Refinery29. "It's hard to say... It sort of annoyed me at first, but I do think both Gigi and Kendall are really good models, and that they could've (gotten where they are) without all that Instagram.
"It's just now that everybody is judged by how many followers they have and things like that—which is a shame."