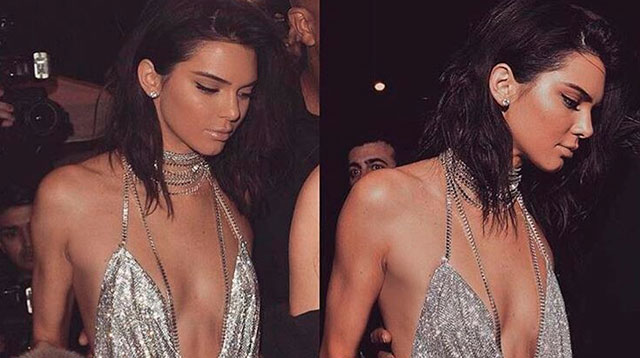 1 Kendall Jenner celebrated her 21st birthday in style! The model wore two gorgeous outfits to ring in the night: a snakeskin jumpsuit paired with a green fur coat for dinner, and a $9,000 slinky silver dress covered in Swarovski crystals to her 1920s-themed party at Delilah. ~*YUP, NINE GRAND*~ Kendall's family and closest friends were present and also greeted the birthday girl on Insta, but Gigi Hadid and Karlie Kloss just couldn't resist sending the luurve a day early! (Elle.com)
2 New posters for Disney's live-action remake of Beauty and the Beast are FINALLY available! Entertainment Weekly released nine stunning photos, and Emma Watson is PERF as Belle. Also, Luke Evans is one hot Gaston! 
3 Do you love beauty pageants with a passion? Premiering this Sunday, November 6, at 7:30 p.m. on ETC is a new reality-documentary show, Journey to the Crown. The weekly program will be hosted by 2010 Miss Universe 4th Runner-Up Venus Raj and 2011 Miss Universe 3rd Runner-Up Shamcey Supsup-Lee. 
4 The Pretty Little Liars cast members have been through a lot together, and after seven years, they felt it was time to prove their bond—so to ring in Troian Bellisario's birthday, the six girls got tattoos together! Troian joined castmates Shay Mitchell, Ashley Benson, Lucy Hale, Sasha Pieterse, and Janel Parrish to get the initials of their character's first names on their "shh!" finger. Now that's love!
5 We all know British actors Benedict Cumberbatch and Eddie Redmayne are buddies. So when the two appeared on The Graham Norton show together, we were hoping for some talk on a possible Sherlock/Dr. Strange/Harry Potter crossover. Instead, we got the duo and Bryan Cranston creating dating profiles. Thank you for all the GIFs and memes to come. ~*dies laughing*~
Recommended Videos