Kim Kardashian is thrilled with her Vogue shoot and reportedly isn't worried about the backlash facing the magazine over their cover star choice.
The reality star has reportedly brushed off negative comments about her long-awaited cover and spread in the prestigious U.S. magazine, and is grateful to editor-in-chief Anna Wintour for making her dream a reality.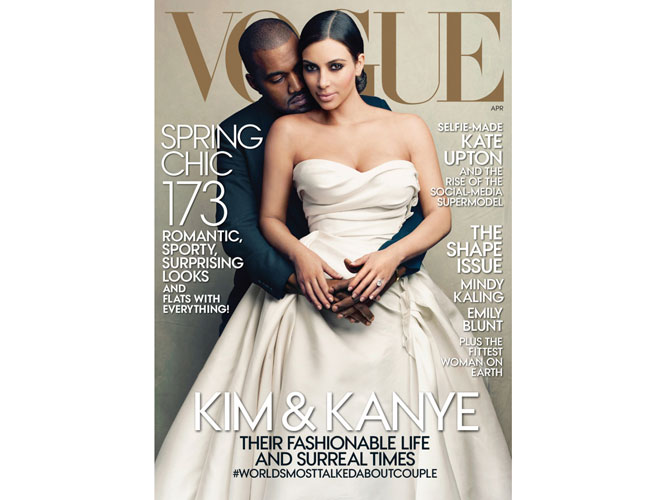 A source revealed to E! News: "She's thrilled about it—completely over the moon. For her, this is a dream come true.
"[Kim] doesn't spend time worrying about the haters. She's not stressing about the backlash, she honestly doesn't pay attention to stuff like that."
The controversial decision to put the 33-year-old beauty and her fiancé Kanye West on the cover of Vogue's April edition caused outrage in the fashion world, with celebrities including Sarah Michelle Gellar threatening to cancel her subscription to the elite magazine.
The announcement caused shockwaves when the image—which sees Kim looking demure in a Lanvin bridal gown as Kanye nestles up to her—was unveiled on Friday (March 21, 2014), since Anna was previously said to have declared the Keeping Up With the Kardashians star would only appear in the publication "over her dead body."
Continue reading below ↓
Recommended Videos
But Kim is thrilled with the result and it seems no one was more surprised than her friends, who were kept in the dark about her career landmark.
The insider added: "She didn't tell anyone it was coming. Everyone found out with the rest of the world. But everyone's really excited for her."