Uh-oh, YouTuber Lars Pacheco has been recently receiving a lot of hate from ARMYs.
On May 24, the It's Showtime Ms. Q&A 2018 contender uploaded a video on Facebook that angered BTS fans. Screenshots of the now-deleted video have been making the rounds on the internet.
According to reports, the video showed Lars with a red towel, seemingly exposing her naked body to a paused BTS music video, with Kim Taehyung or V in the frame. At times, she would also reportedly kiss V on the screen. The caption of the posted video was, "'Di ko na kailangang pumila sa BTS."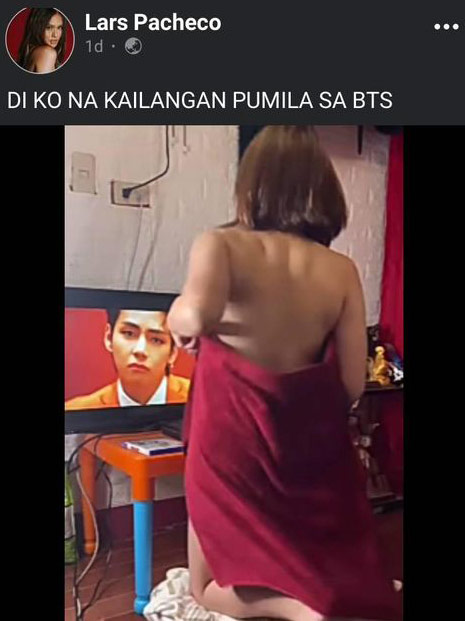 ADVERTISMENT - CONTINUE READING BELOW ↓
ARMYs were furious and took to social media to criticize Lars for allegedly "sexualizing" the K-pop idol.
"Seriously, Lars Pacheco?" tweeted an ARMY. "Please, you're not welcome in this fandom if you think sexualizing an idol is normal and still part of your fangirling. TBH, your recent video is so disgusting. Yes, Taehyung is handsome and hot, but that isn't enough reason for you to sexualize and disrespect him."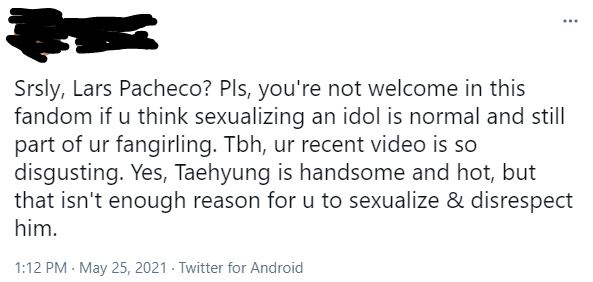 ADVERTISMENT - CONTINUE READING BELOW ↓
Recommended Videos

Another fan shared the definition of "sexualization" and addressed netizens defending Lars.
"To the people who are defending Lars Pacheco, know that sexualizing someone is not okay and it'll never be okay. Whether it's a celebrity or not, everyone deserves respect."
"Sexualization is to make something sexual in character or quality or to become aware of sexuality, especially in relation to men and women. Sexualization is linked to sexual objectification."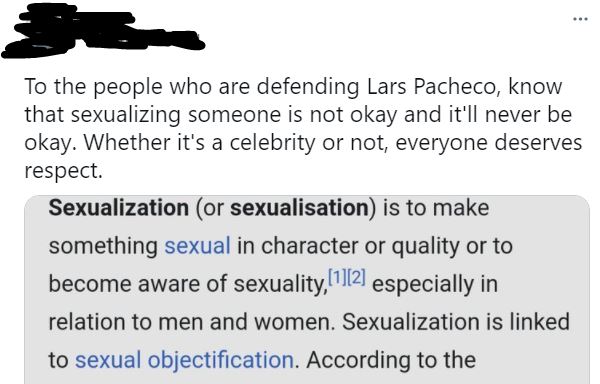 ADVERTISMENT - CONTINUE READING BELOW ↓

Lars initially apologized to fans on May 25, Tuesday, in a now-deleted Facebook post. 
"The video is for entertainment purposes only. Those who were offended, sincere apology. Fans, ARMYs, sorry."

Later that day, Tuesday, Lars posted on Facebook to clarify the story behind the video. She says her boyfriend Clyde Vivas was playing K-pop songs while she was getting dressed when he asked her to pretend to talk to V. That's when Lars asked him to pause the video. 
ADVERTISMENT - CONTINUE READING BELOW ↓
"I have no intentions to sexualize him, bastusin, and 'manyakin' siya. It's just that akala namin it will appear funny, appear nakakatawa, ganyan, nakakatuwa, akala namin matutuwa kayo."
"It appears to be negative so I'll take responsibility for that. Pasensya na po kayo kung ganoon po ang kinalabasan."
ADVERTISMENT - CONTINUE READING BELOW ↓
Lars also explained that she received death threats after posting her initial apology. She urged fans to "educate" instead of "attacking" new BTS fandom members.
"Alam ko na maling-mali yung ginawa ko, na maybe may mga batang nanonood; I'll take note of that. Pero sana lang po maging ano rin naman tayo sa mga bibitawan nating mga comments kasi hindi lahat ng tao ay kasing lakas ko, hindi lahat ng tao ay kayang basahin ang mga ganung comments, that's why yung iba, nade-depress."
K-UPDATES