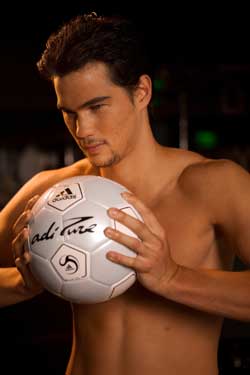 Ledge: (lej)

An absolutely cool person. British slang for "legendary," or, more commonly, for "legend."

If something is referred to as brilliant, excellent, or fun, then it's "Ledge."

If writing is so solitary, I never knew it would also be this challenging.

Fortunately, I'm the kind of guy who likes a challenge—the tougher the task, the better. Like the campaign slogan of a popular sports brand, impossible is nothing! So to help myself with this last and final blog for Cosmo.ph, I came up with a "been there, done that" list:
[readmore]
Playing football for one of the world's biggest premiership clubs…Check!

Wowing a crowd of more than 40,000 sports spectators…Yeah!

Joining a reality show and singing on national TV (outside of the shower)…Done!

Shedding tears on national TV, in front of millions of viewers…Beat that!

Hosting in front of Manila's creme de la creme…Brilliant!

Cooking live on a TV show and tasting my own dish…Good!

Being chosen by Cosmopolitan Magazine as one of 2009's ten hottest men…Wow!

Writing for Cosmo.ph…Ledge!

So I decided that the best way to end my month-long blogging and fill up the spaces is to define what being ledge is all about. Nope, it's not a horizontal projection forming a solid shelf, as defined by Merriam-Webster online. Being called a ledge (short for legend) is all about being the best. Being ledge is living Benjamin Franklin's famous quote: "He that falls in love with himself will have no rivals." It's about being cooler than cool. It's living life to the ledge!

Living on the LEDGE

To those who are not familiar with my football background, one of the best achievements of my young life is being granted the opportunity to play for one of the world's biggest football clubs: CHELSEA FC. I first joined "The Blues" in 1996 and left in 2008 when I finally moved to the Philippines. Chelsea is a professional English football club based in West London. The team plays in the Premier League, which is the top tier of football (or soccer), the biggest sport in England, if not the world. Chelsea was crowned English champions three times, and has won the FA Cup five times and the UEFA Winners Cup twice.

During my 12-year stint for the club, a big transition took place, making Chelsea one of the richest and best football clubs in Europe. A Russian billionaire took control, allowing the club to buy some of the best players in the world. But the real benefit was beyond money.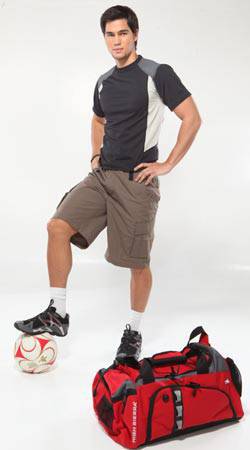 Before the transition took place, my team would win a lot of matches but, for some reason or another, we could never defeat our main rival, who at the time was a more successful football club. During this early period, our rivals had the best pitch, the best gym, the best food, the best football equipment, the best travel arrangements, and the best coaches.

Under the control of a tycoon, his vast resources enabled my team to have the best in everything. And because of this transition, it was now our rivals who could not compete with us. Bewildered by the sudden change in force, we players wondered what had made the difference. It was then our manager revealed the club's philosophy. The club believed in these exacts words: "Give them the best, and they will be the best." Other clubs did not agree with this belief, thinking we were being spoiled and would take it for granted, but our club was a strong believer in this way of work.

Chelsea believed that with the best pitch, we were able to perform different skills with better quality as well as prevent injuries. With the best gym, we were able to improve different aspects of the physical game. With the best food, players were able to perform more consistently with a higher ability. With the best travel arrangements, we were able to receive the appropriate amount of rest and comfort. And with the best coaches, better teaching took place.

Here in my mother's homeland, I am also fortunate to work with the best in the industry: having been given a break by the best TV network as well as endorsing some of the country's best brands. Recently, I am very privileged to have been given the chance to be one of the Cosmo Centerfolds and work with the best editors by being invited to write for Cosmo.ph. Life is good.

So it is now this philosophy that I take into life. I believe that if you give people the best, they will return the favor. Not just in football, but in life. Because that's what being ledge is all about.

Note: To all my friends and fans, you can now join my official fan page at Facebook and follow me on Twitter! Special thanks to the Cosmo.ph staff for having me around for four wonderful weeks, the editorial staff of Cosmopolitan Magazine, GMA 7, my sponsors Alaska, Fit N Right, Energo, Kenny Rogers Roasters, High Sierra All American Backpacks, Gold's Gym, Skin Inc., and all my friends and fans for all the love and support. Cheers everyone, and until next time!
Continue reading below ↓
Recommended Videos