Imagine killing it at work and then going on vacation with your boyfriend, only to be told by a stranger online that you're losing focus and you should go back to work. This is the comment that made Liza Soberano, who's taking a break in between the smash hit Alone/Together and the much-awaited Darna remake, snap on Instagram.
Replying to a netizen who said she "badly needed to go back to the gym" and focus on her career, Liza said, "Who are you to tell me when [my] vacation is over? My managers allowed me and so did my bosses. I've been working hard for my family since I was 12. I think I deserve the time I get off." The actress is currently vacationing in Bali, Indonesia with boyfriend Enrique Gil and family members to celebrate his birthday.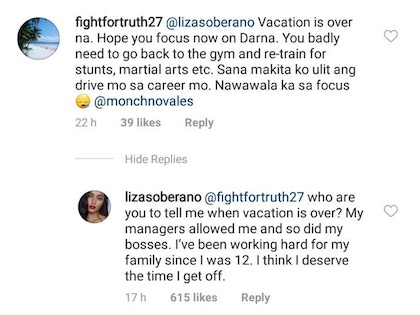 When the netizen said she should take the comment as constructive criticism and get ahead of bashing from other fandoms, Liza said, "Maybe you should stan someone else if I don't meet your beauty standards."
Continue reading below ↓
Recommended Videos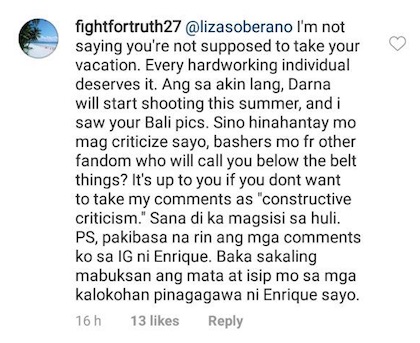 The netizen didn't stop there and Liza's fans and bashers chimed in, too, but she put an end to it with a new post. "[From] now on, I will not stress over things I cannot control."
Follow Dyan on Instagram.