Liza Soberano, 21, and Enrique Gil, 26, are now officially a couple. For more than two years, they have ~not-so-successfully~ hidden their relationship from fans and the rest of the world, and right now we couldn't be happier for them!  
This February, Liza and Enrique are starring in a Valentine's film called Alone/Together, directed by Antoinette Jadaone. It tells the story of Cristine (a UP student with big dreams to change the art world) and Raf (a chill biology student from UST), a couple who are torn apart and who eventually meet again eight long years later.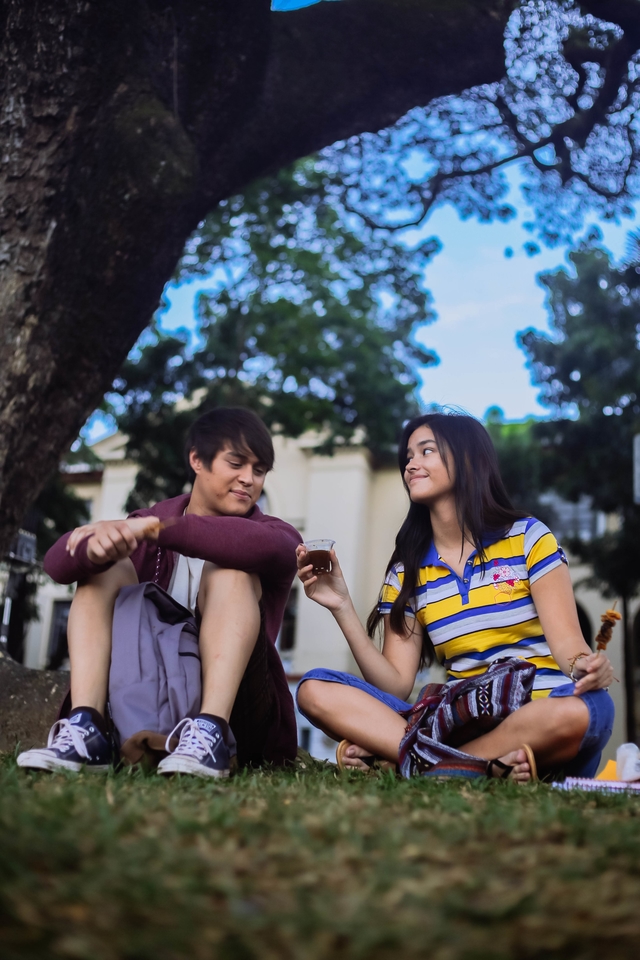 We sat down with LizQuen to talk about what they love and *hate* most about their Alone/Together characters, their favorite spot in UP, and where they see themselves eight years from now. 
On their initial reactions about Alone/Together:
Enrique: I really liked the story to begin with. I thought it was a beautiful film, something people could really learn from. It's something we've never really tackled before in movies, lalo na sa situation nila [Raf and Tin], they're young dreamers. Like, natupad ba yung dream mo when you were a kid? Kung hindi, are you happy with what you've become? It's those simple things that you don't really see in movies or hear people talk about. It's different, and the maturity of the characters here is way different from the characters we've played before. It's different from any project we've done.
On how they prepared for their roles:
Liza: We had workshops before shooting and I attended an Art Studies class in UP. I also got to interview four students and one teacher about being an Art Studies student, about the school, stuff like that. I would also read books on art! Before, I wasn't really much of an art enthusiast or anything. I can appreciate it, but I wasn't really very interested in it. But after doing this movie, I'm kinda getting more into art.
Also, I used to jog in UP, because it's really near my house. I'm glad that I got to experience shooting there and see a different side to it. Because I would always jog there in the early morning, kapag super dark pa. It's the first time I went to the Fine Arts Hall and I basically took a tour around the whole campus. I had to really get the feel of it, to feel like I was actually a UP student.
"Ang daming nangyari doon, may nabaril, may nasaksak." - Enrique during his PGH immersion 
Enrique: I interviewed some doctors in the barrios. We had dinner with Direk [Antoinette] and we invited them, three of them. And I just learned a lot from them, akala ko before sumasakay sila ng kalabaw para lang [makapunta sa barrio]. But no, they get paid really well, they're handled by the government! And usually ang term nila is about two to three years.
Liza: And he also immersed [himself] in the hospital. He actually saw people die!
Enrique: In the emergency rooms, yeah. I was there for two to three hours. We went to PGH and another hospital sa may East Avenue which was also pretty hectic. Ang daming nangyari doon, may nabaril, may nasaksak. One was actually vomiting blood and it wasn't a nice scene to see! But just to know what they [doctors] go through every day, to see all of those who experience it every day, it's one hell of a job.
On what they love (and "hate") most about their characters:
Enrique: Raf is so careless to the point that it was also kind of bad for him. He didn't have any dreams at first, he was just a guy who didn't care. That's what I didn't like first about him. But in a way, I also kind of liked it about him. He didn't really care about anything but his love for Christine. He would tend to forget about important stuff, and hindi naman pwedeng one-sided lang lahat. What I admired most about him is what he experienced and how he handled it. Dapat masaktan ka muna e. You have to be at your lowest of lows to really push and climb up and go higher. I think because of what happened to him, he started to study, he graduated, and he became a doctor.
Liza: What I liked most about Tin is that she's very ambitious. She's a go-getter. Whenever she wants something, she knows how to get it. The thing I don't like about her is how she over-analyzes things. She's an overthinker, and because she overthinks, fear starts seeping into her mind. And those fears stop her from getting what she wants sometimes—it gets in the way of things.
"The gravity of the situation is just way too heavy for me because I haven't been through anything like that! It's hard to act [out] something you haven't experienced." - Liza on playing Christine

On the hardest part about shooting their new film:
Liza: I think the most difficult aspect for us was the maturity. I'm 21, but I'm already portraying a 27-year-old in this film. Tin has been through hardships in her life. The gravity of the situation is just way too heavy for me because I haven't been through anything like that! It's hard to act [out] something you haven't experienced. But that's our job as actors, to be realistic. Just to become believable, get into the character, and make the emotions as real as can be.  
On their favorite UP spot:  
Liza: I loved Area 2 and Tomato Kick because of the food! But I felt like it was the easiest to act whenever we were at the Sunken Garden. The feeling, the scenery, there's some sense of nostalgia when you're there. Even though I personally don't have any memories from there, you can imagine what people must have gone through in that place. And it's been there for years. Like each year, it sinks down a little bit more, right? So I feel like the heaviness of the emotions that people have dealt with there, parang it [adds weight to] the ground. That's what I feel like. It's just so beautiful.
Enrique: Me too, the Sunken Garden. I like nature a lot, so maybe that's why it's soothing to my eyes and made me feel relaxed. The view, the grass, the wind. The people playing in the field. It just makes you think of moments when you were young.
On working with director Antoinette Jadaone:  
Liza: I really enjoyed working with her. She's very chill and she knows what she wants. She's more like a friend than a director, and she won't pressure you! Whenever she's working with us, I don't feel nervous. Even though it was the first time, I felt comfortable with her right away. I think that's very important when you're working with somebody: That you guys feel comfortable with each other because that brings out the best in both of you.  
Enrique: I'm always hard on myself so I get nervous not because of the director I'm working with. But ganoon talaga, as an actor, you want every scene to be how you feel like how you thought you would feel it. But it doesn't happen all the time. But Direk is super cool. She trusts you with what you're going to put on the table, she adds something to it, and you just meet halfway, and bam, there it is.
On where they see themselves eight years from now:
Liza: I'll be 29 in eight years. Hopefully by then, I'll have a family of my own. I've always wanted to have my first baby right before I'm 30, probably at 28 or 29. So hopefully, I'll be in that situation by then. I still want to be working, but probably not as loaded as I am right now.
Enrique: I see myself doing showbiz in the side, handling businesses, taking care of them, and be hands on with them. I want to be hands-on with my "kids!" [They're] my babies. 
"Your great love might not always be the right love. But you can still do something about it." - Enrique
On what they want audiences to realize after watching Alone/Together:
Liza: I hope that they learn to be true to themselves.
Enrique: Don't think about who you were, think of who you should be. Also, your great love might not always be the right love. But you can still do something about it.
Follow Lily on Instagram.
***
PRODUCED BY: Jacinda A. Lopez
CO-PRODUCED BY: Lily Tabanera
ART DIRECTOR & PHOTOGRAPHER: Jico Joson
ART DIRECTION ASSISTED BY: Mixi Ignacio
SHOOT COORDINATOR: Lou Ferrer
SOCIAL MEDIA: Andie Estella
SITTINGS EDITOR:  Jillian Gatcheco
For Liza:
HAIR: Raymond Santiago
MAKEUP: Mickey See
STYLING: Perry Tabora
For Enrique:
HAIR AND MAKEUP: Posh Torres
STYLING: Migs dela Rosa (Ton Lao's Team)
On Liza: 
Layout 1: Button down and jeans: Bench, Cardigan: Stylist's own
Layout 2: Bomber jacket and white tee: Bench, Skirt: Stylist's own
On Enrique: Clothes: Zara, Shoes: Yeezy
Shot on location at Brown's Gourmet.