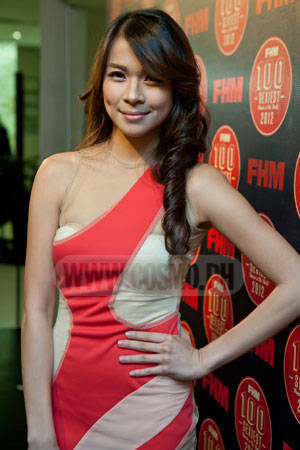 Jumping a modest three places up from 60 in 2011 to number 57 in this year's FHM 100 Sexiest Women in the World list, LJ Reyes proves that being sexy doesn't have to stop once she becomes a mom. Especially since she's actively raising her child, Aki, with Cosmo Centerfold Hall of Famer Paulo Avelino (now, who wouldn't want that?).
"I am very, very honored and blessed to be part of the list again this year," LJ says of being one of FHM's Sexiest for 2012. 
As an actress, she shares that she is ready for more daring roles, except she has a different definition of the word. "Daring", for LJ, is not just about baring skin. "It's more about [how you] attack your roles, how you play your characters. Hindi 'yung nagtanggal ka lang ng top mo."
"I think, ever since I became a mom, I lean towards being classy and sexy," LJ says of her personal style. She goes on to name Lucy Torres as her local fashion icon. "Pero sexier," she muses.
ADVERTISMENT - CONTINUE READING BELOW ↓
We asked LJ how she stays in style during the rainy season. "A very nice cardigan," she says, all praises for her favorite stormy weather style staple. "You can wear it with a dress, with a shirt, with shorts, with anything. And it will keep you warm."
Her style tip for Cosmo girls this wet and windy season? "Very high quality shoes, especially when you walk around all the time. You have to invest in good shoes, so the water doesn't seep in."
Launch the gallery to see exclusive photos of LJ at the FHM 100 Sexiest press con!
2087