1 Following his clarification that there was no "overlapping involved" with his past and current relationship with Angel Locsin and Jessy Mendiola, respectively, Luis Manzano is yet again facing accusations on social media regarding how (and when) his relationship with Jessy started. A Facebook user named Han Carteciano Gob, who claims to be JM De Guzman's (Jessy's ex) mother, posted comments on Pep.ph's Facebook page saying that Jessy and Luis went on a date in London back in 2015.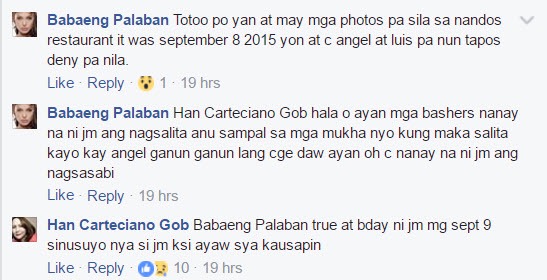 Continue reading below ↓
Recommended Videos
Photos courtesy of Pep.ph
This was the same time when the actress got involved in a plane incident with Enrique Gil during their trip for a Kapamilya Concert in the said country. Jessy was then in a relationship with JM, and Luis, on the other hand, was Angel Locsin's boyfriend. The 36-year-old TV host then clarified the rumors in his Twitter account that they weren't out on a "secret date" because they were together with friends during the said dinner. (Pep.ph)
That day na kumain kami, 5 kami, kasama pa si @robertmarion na biglang sinundo ng tita niya, kumakanta kami ng ronan keating sa IG post ???????? https://t.co/uaoV0opzxx

— Luis Manzano (@luckymanzano) June 28, 2017
Yung malisyoso, nag edit ng pic na parang kaming 2 lang kumakain, 4 kami dahil biglang umalis si @robertmarion , nagpost pa sila IG nyan ???????? https://t.co/uaoV0opzxx

— Luis Manzano (@luckymanzano) June 28, 2017
It's obvious they are just nitpicking and looking for "evidence" to justify their hate ???????????? https://t.co/aQm0PMKyfd

— Luis Manzano (@luckymanzano) June 28, 2017
Funny how some are also using a cropped photo in the UK to say we were on a date na kaming 2 lang ???????????? https://t.co/D9BD3wvmfU

— Luis Manzano (@luckymanzano) June 28, 2017
We were on a "secret date" daw ???????????????? https://t.co/WIRqMP5NA8

— Luis Manzano (@luckymanzano) June 28, 2017
2 Troye Sivan, singer of the LSS song "Youth," came to Manila unannounced. He surprised fans who spotted him in a mall in Makati. In his Twitter account, he explained that he did make a quick trip and was "working on fun stuff." (ABS-CBN Entertainment )
dipped in n out of the Philippines this week workin on fun stuff. If I've taken one thing from this trip it's that I can't WAIT to come back

— troye sivan (@troyesivan) June 29, 2017
Salamat!! ??

— troye sivan (@troyesivan) June 29, 2017
Also I got some of the craziest news I've ever received in my life while I was here. 2017 is taking some twists n turns I'll tell ya!!!!!!

— troye sivan (@troyesivan) June 29, 2017
3 Rihanna's dating someone new, and TMZ has identified who he is. Netizens speculated that the guy she was caught making out with in the pool was a Spanish soccer star, but it turns out to be someone entirely different: He's Hassan Jameel, the heir to Saudi Arabia's biggest Toyota distributor, and he owns a soccer league, NBD. Hassan is reported to have a net worth of (drumroll please) $1.5 Billion. We guess that would put rumors to rest that he's just after her money. (TMZ)
4 Now that A.D. has finally been revealed in the series finale of Pretty Little Liars as Spencer Hastings twin' Alex Drake, both played by Troian Bellisario, the actress shared more details with Entertainment Tonight (ET):
She disclosed that she always asked show creator Marlene King questions about the next things that could happen to each PLL character. Marlene then divulged her plans for Spencer's character, and Troian was thrilled.
"She proceeded to tell me the entire ending plot of the show and I was like, 'Wait—what?! Oh my god!' And then I had this moment where I was like, 'Wait, you're not going to be hiring someone else to play my twin though, right?' And she was like, 'No it would be you!' And I was like, 'Yes!' But it was just so much, and she told me it was a crazy turn of events, but I trusted that she would layer it in beautifully. It was a total blast." (Entertainment Tonight)
5 It's time to get your wallets and EQ ready because sale season is here. Zara, Bershka, Stradivarius, and Forever 21 have slashed their prices up to 50 percent off.
Topshop also announced via their Instagram account that they'll have a special flash sale from July 1–2—discounted items get an additional 60 percent markdown. 
And if you're into K-Beauty, Etude House is offering beauty deals on selected items that are up to 30 percent off the regular price from June 30–July 2.