1 Congratulations to the newlyweds, Karylle and Yael Yuzon! The groom was in tears as he watched his beautiful bride walk down the aisle on Friday, March 21, 2014 at the San Antonio de Padua Church in Silang, Cavite. In attendance were Anne Curtis, Iza Calzado, Divine Lee, Kris Aquino, Tim Yap, Gary and Paolo Valenciano, and more! (abs-cbnnews.com)
P.S. According to sources, these lovebirds are off to Europe for their honeymoon, with a London stopover to watch the Eraserheads concert there!
2 Have you seen Kim Kardashian and Kanye West's Vogue cover yet? The Keeping Up With The Kardashians star said she's "over the moon" about it. But it seems like the rest of the world isn't as impressed, with people bashing the couple and the magazine for its "tacky" cover. (Full story here!) On a lighter note, here's another hilarious parody cover by James Franco and Seth Rogen. We're getting Bound 2 flashbacks!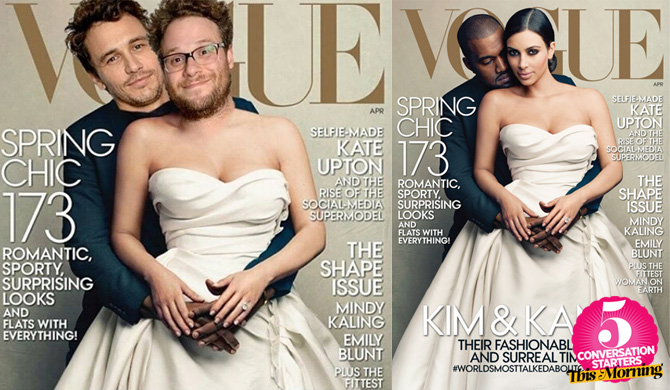 Continue reading below ↓
Recommended Videos
3 Friends and family of Helena Belmonte have revealed that the 28-year-old model has been suffering from bipolar disorder for years prior to her untimely death on March 20, 2014. They hope that her story will shed light on this disease and will remove the stigma associated with it. Watch the full report here.
4 Who watched Bruno Mars' concert at the Mall of Asia Arena on Saturday, March 22, 2014? If you did, we are so jealous! The singer treated his Filipino fans to his best hits from "Unorthodox Jukebox," as well as crowd pleasers like "Just The Way You Are" and "Marry You."(Inquirer.net)
5 Aww! Check out this super cute video of McFly's Tom Fletcher singing a song to his son, Buzz, in a pregnancy montage video leading to his birth. "We took photos every day through the nine months of our pregnancy, [and] this is the result (plus a little song I wrote called "Something New")," says Tom. How adorable is this?