Rumors about Marlon Stockinger having children from a previous relationship have been circulating for the past few months. During a recent event, Marlon's girlfriend Pia Wurtzbach was even asked by the media about the issue, to which she replied:
"I have actually never… Are you sure it's the same Marlon? There's a lot of Marlons… I don't know anything about that."
In an exclusive interview with PEP.ph, model Kit Barraquias confirmed that Marlon is indeed the father of her twin girls. She stressed, however, that he is only the biological dad of the seven-year-old girls, and doesn't have a relationship with them:
"You just wanna know the truth, so I just wanna tell you the truth. I'm gonna be straightforward and, yes, he is the dad.
We had twins. He's the biological dad. I don't wanna say he's the dad… just the biological dad. And that's it. We haven't had any communication. He hasn't seen the girls ever."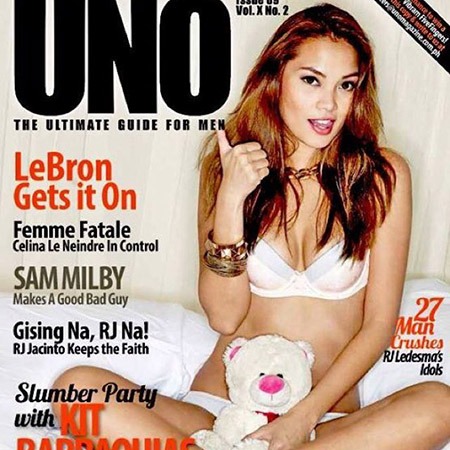 @kitbarraquias for ivory white bridal. :) pic.twitter.com/sq5jpbf6

— Lester Victoriano (@lestershoots) May 28, 2012
She also denied rumors that Marlon's own mother paid her not to speak about their past:
"And the mom hasn't paid me money to keep quiet or whatever it is that's coming out. I have no bad blood with them. It's just like two strangers meeting outside. That's it."
Continue reading below ↓
Recommended Videos
Marlon, who's turning 26 years old on April 4, had a one-year relationship with Kit when he was 18 and Kit was 27.
"I'm older by 9 or 10 [years], I think. And that's the reason... to, like, I don't wanna be the one to ruin his racing career."
Their relationship ended when Kit was four months pregnant. Kit clarifies that she holds no grudges against her ex saying, "I was working then, I can handle myself. I don't take anything against him."
Kit remains financially independent in raising her twins, and she never asked for support from Marlon and his family. "Why would I ask? I'm working. I worked abroad for five years. I came back here and still working. I'm into financing."
There was only one instance that Marlon reached out to meet the girls, but, according to Kit, he never showed up: "He tried before, but he didn't show up. He made some excuse."
For Kit, this is the first and last time she'll sit down to do an interview and talk about the subject. All she wants at this point is for people to stop assuming she's out for Marlon's money:
"Hopefully, after this, [it will] die down. I'm over and done. Whatever they say, bahala na. Siyempre, they have their own followings.
All my friends said, 'They're gonna troll you. They're gonna call you [a] slut.' You know what I mean? And I told them, 'I'm not showbiz. What can they, like, do to me? I'm not an artista.' I just want this to be done and to stop, like, speculating—making me look like [I'm asking for money]."
***
To read Kit's full interview, visit PEP.ph.
Follow Jacinda on Instagram.