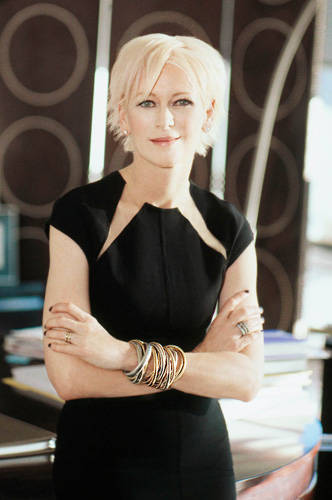 What makes a woman fit to be editor of the biggest-selling monthly magazine on US newsstands and the flagship publication of the world's largest women's magazine title? Recently-appointed Cosmopolitan US editor-in-chief Joanna Coles sure fits the criteria, and we're excited to see the big changes she'll be bringing to the brand.

As Summit Hearst president David Carey says of the former Marie Claire EIC, "Joanna has done an incredible job at Marie Claire over the past six years. Her great success in television and social media, her sharp instinct about women and what they want, and her experience working on a global brand make her an ideal choice for the editor role at Cosmo."

Cosmopolitan.com reports that Joanna, who had headed Marie Claire since April 2006, replaces longtime editor Kate White, who is leaving her post to shift focus to her already successful writing and speaking career. Kate will stay on at Hearst as an advisor. Joanna starts in her new role on September 10th.

During her tenure, Joanna, 50, helped reinvent the US edition of Marie Claire into the successful brand it is today. The September 2012 issue of Marie Claire was the largest in the magazine's history in terms of advertising pages and, under Joanna, the brand launched two successful extensions, Marie Claire @Work and the Women on Top Awards. In 2011, Joanna was named Adweek's Editor of the Year, while Marie Claire made it to the Adweek Hot List. Under her editorship, the magazine won numerous journalistic awards.
Here's a fun fact about Cosmo's highly-qualified incoming EIC: she has also appeared on Project Runway, and is a mentor on Project Runway All Stars.

We've just seen this behind-the-scenes video showing Joanna at her most natural as she rehearses answers for an interview. "Cosmo is a huge global brand empowering women. It's got 110 million readers across the world, which is really the equivalent of the population of the Philippines," she says in the video. Unsure of the Philippine comparison, the British editor quickly amends, "Twice the size of Britain". The video also shows Joanna browsing her phone and casually reciting sex positions featured on Cosmo's iPhone app, "Sex Position Of The Day", such as "Chairway To Heaven", "Sexy Sprinkler", and the "Joystick Joyride". In her sophisticated British drawl, she asks of one of them, "Don't you think 'The Linguini' is an odd noodle for a sex position? I think--what is that?--ziti. 'Ziti' would be better."
A strong, smart, and feisty leader with a knack for naming sex positions? We can't wait to have her on board!