Michael Cinco is furious at Miss Universe Canada 2020 Nova Stevens and her team.
The Dubai-based Filipino fashion designer took to his personal Facebook account on May 22, Saturday, to respond to accusations from the Canadian team of allegedly "sabotaging" Nova's win at the Miss Universe 2020 pageant.
"You have been spreading fake news about me and my team being unprofessional days before the pageant but I chose to be quiet and calm. But this time, I need to stand up for me and my team, as it is just so UNFAIR!"
ADVERTISMENT - CONTINUE READING BELOW ↓
Michael shared a screenshot of what appears to be a now-deleted or archived post of Miss Canada's handler Miguel Martinez from MG Mode Communications, who accused Michael of not sending her gowns on time, of making these all ill-fitting, and that his team still managed to make another custom-made gown for another Miss Universe 2020 candidate. MG Mode even dropped the names of two other beauty queens they handled in the past who allegedly also encountered mishaps with Michael's team: Miss Universe Argentina 2019 Mariana Ivarela and Miss Universe Uruguay 2019 Fiona Tenutavanerio.
"The truth needs to be told! The gown was sent late by Michael's team and when these arrived, none of them fitted! We were able to fix one for the finals but the one for prelims, we didn't have time. We went to Dubai two times to prevent such a mistake since it happened to us well with Argentina's gown last year @marianaivarela and Uruguay @fionatenutavanerio. Such a terrible mistake should not have happened! We love Michael! But this was inexplicable. At the same time, they had time to custom make a gown for another delegate who checked in with her custom-made Michael Cinco gown. Things don't add up! Sadly!"
ADVERTISMENT - CONTINUE READING BELOW ↓
Recommended Videos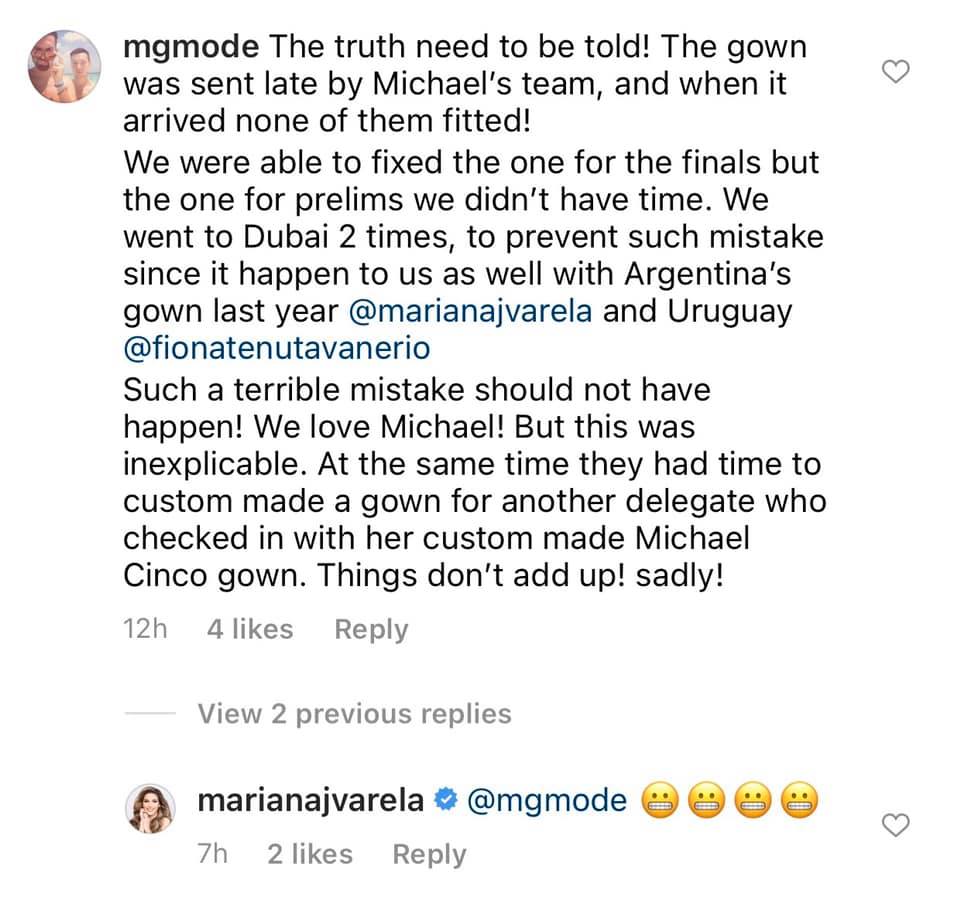 In the caption, Michael said he privately messaged Miguel to delete the post and to not humiliate him on social media.
"I BEGGED him and almost cried and told him I deserve RESPECT. He just told me the TRUTH has to be revealed."
Michael said he also reached out to Nova to defend him.
ADVERTISMENT - CONTINUE READING BELOW ↓
"She just told me that the guys are upset because they believed me and my team are trying to sabotage her. I was just so upset last night and can't believe this was happening."
According to Michael, he has been "used and scammed" by Miss Canada's team. He went on to explain lengthily how the many accusations fired at him are all false.
"FIRSTLY, the gowns arrived on time. Or how could you have sent me photos and videos of her wearing them, showing how the gowns perfectly fitted her, days before each event. You even posted a video of NOVA in her last fitting and she was happy. You were forcing me to make Nova's 26-inch waistline to be cinched to 23 inches, which I obviously didn't heed even if you said that in pageants, comfort doesn't matter. But PLEASE don't say that her gown was ill-fitting."
"SECONDLY, the insinuation that my team was trying to sabotage her win, is just absurd. Her life story was supposedly inspiring and I even went out of my way [to hire] a team of world-class photographer and filmmaker to shoot her in my couture gowns at a world-class location in Dubai just to give her extra publicity mileage and create for her a balance of glam and luxury as opposed to her humble homecoming in Africa. And everything in that shoot was PAID FOR BY ME. Did you get that?"
ADVERTISMENT - CONTINUE READING BELOW ↓
"THIRDLY, if it doesn't add up to you, then I'll add Miss ROMANIA, Miss MEXICO, and Miss CZECH REPUBLIC who all wore couture gowns from my latest collection in Preliminaries. Sadly, it is NONE OF YOUR BUSINESS. Let me just add that they are endlessly thankful. The new Miss UNIVERSE Andrea Meza of MEXICO who was not able to wear my gown on either night even took time to send me a THANK YOU message right after her coronation. Miss ROMANIA Bianca Trilsin even sent me a video message and was very grateful and is even planning to come to Dubai next week to meet me and THANK me personally. Miss CZECH REPUBLIC was so humbled and honored to wear my gown. Former Miss Universe 2017 Demi Leigh-Tebow was so gracious to send me a video greeting and thanked me for the gown she wore. But for NOVA and your team, not only have I not got a curt THANK YOU but even seemed so upset with me for being eliminated in the pageant. AM I THE JUDGE?"
ADVERTISMENT - CONTINUE READING BELOW ↓
Michael also reacted to the Canadian team reportedly blaming him for Nova failing to get into the Top 21 at Miss Universe, and that his gowns allegedly were at fault for affecting her chances at the competition. 
"STOP blaming me for Nova's not making it to the Top 21 in Miss UNIVERSE. In fact, she did not wear my gown to the prelims as you were earlier posting that she will wear another gown. And now YOU'RE TELLING ME that her PRELIMS GOWN KILLED HER to advance to the finals. Am I to be blamed for that?"
According to Michael, he says MG Mode has been "using" him and "taking advantage" of his "kindness" for the past three years to design gowns for their candidates for free. He called the team "ungrateful, vile, and professional users."
ADVERTISMENT - CONTINUE READING BELOW ↓
"You don't even pay the courier or any other charges. A SIMPLE THANK YOU NOTE FROM NOVA, YOU AND YOUR TEAM would have sufficed."
Lastly, Michael told Miss Canada's team not to ask him or any other Filipino designers to create gowns for their candidates and to "stop scamming Filipino designers."
"Ask your Canadian designers to showcase their works in world stage...I DON'T NEED YOU in my career and dressing up your candidates WILL NOT HELP MY BUSINESS. STOP taking advantage of my KINDNESS and STOP scamming FILIPINO designers...HOW DARE YOU...SHAME ON YOU and your whole CANADIAN Team...#sorelosers #moveon #attentionseekers #lifeisnotallaboutMissUniverse"
As of this writing, Nova has set her Instagram account to private, while MG Mode has yet to issue a follow-up statement.
EXPLORE COSMO