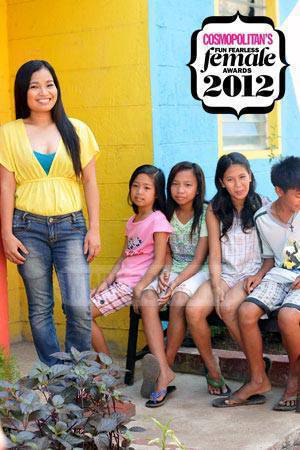 Many dream of making a positive change in society, but few actively put their vision into action. Fun, Fearless Female Awardee for 2012 Mildred Ople is one of the brave young souls to do just that.

The 25-year-old is the program manager of the Hagonoy Young Leaders Program, one of the World Economic Forum's nine Filipino Global Shapers, the organizer of multiple community-oriented programs, and on top of all that, is currently attending law school!

We were so inspired by her dedication to being a positive force in society that we decided to photograph her on location at the Gawad Kalinga Bulaklakan Village in Quezon City to see how she relates with the youth there. She immediately bonded with the kids at the shoot, impressing us with her natural leadership skills and passion for community involvement.


Launch the gallery to see behind-the-scenes photos from our shoot with Mildred and watch out for her inspiring interview and video footage on CosmoTV!

To see the rest of the Fun, Fearless Female Awardees, grab the May 2012 issue of Cosmopolitan Magazine with ANNE CURTIS on the cover, in stands NOW! Virtually flip through our online teaser of this Collector's Edition!
Continue reading below ↓
Recommended Videos
1992