Welp, Miley Cyrus and Liam Hemsworth just broke up after being married for literally five minutes, and the internet has been in a collective state of sads ever since. But all that matters here is that the former couple made the right choice for their relationship, and Miley seems to have more than moved on—ahem, with Brody Jenner's ex-wife (sorry, ex-"wife") Kaitlynn Carter.
Miley and Kaitlynn have been dating for what...two weeks?...and their relationship already seems pretty serious, not to mention pretty cute. (Sorry, Miley and Liam shippers, THE TRUTH WILL SET YOU FREE). But the timeline of their relationship is insanely complicated and overlaps a ton with Miley's split from Liam. Confused? Spiraling? Here, we laid it all out for ya:
August 2, 2019
News breaks (well, more like "breaks," because I'm not sure anyone is truly paying attention at this point) that Brody and Kaitlynn have split up, with Page Six reporting they never actually got married in the first place. Um. K.
Continue reading below ↓
Recommended Videos
August 9, 2019
Kaitlynn posts a photo on vacation with Miley Cyrus, and no one looks twice. Just two friends enjoying a yacht, ya know, casual!
August 11, 2019
The internet loses all chill when Miley's rep confirms to People that she and Liam have split up. NO ONE SAW THIS COMING (except Kaitlynn, lol). Here's the statement:
"Liam and Miley have agreed to separate at this time. Ever-evolving, changing as partners and individuals, they have decided this is what's best while they both focus on themselves and careers. They still remain dedicated parents to all of their animals they share while lovingly taking this time apart. Please respect their process and privacy."
Also August 11, 2019
Miley is spotted making out with Kaitlynn on vacation in pics shared exclusively by Entertainment Tonight. In said pics, the pair can be seen sunbathing, cuddling, and kissing. Truly, the world is shook.
Later That Day: August 11, 2019
Brody hits Instagram to joke about Kaitlynn and Miley's hookup, saying, "Watch out! Pics of Liam and I holding hands on the beach coming soon." And um, Miley is NOT thrilled, hitting the comments to write, "Go take a nap in your truck and cool off #HotGirlSummer."
August 12, 2019
Kaitlynn breaks her silence on Instagram, posting a video of herself flying in a helicopter and listening to the song "Don't Worry Be Happy," which seems like a pretty damn clear message. FYI, she's still on vacation with Miley at this point!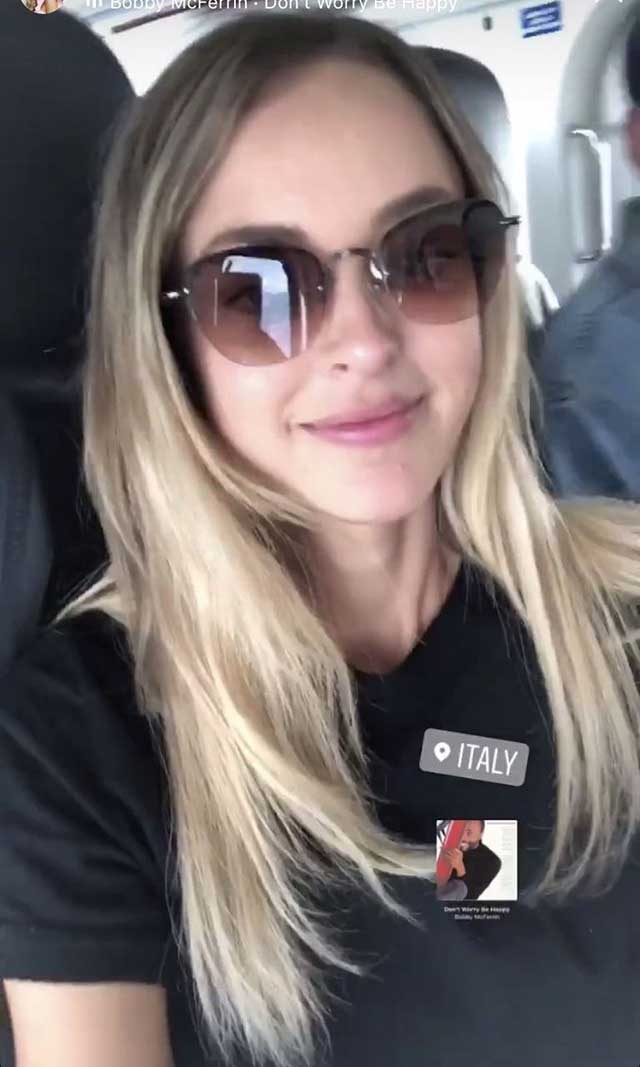 August 16, 2019
Brody releases a since-deleted statement in support of Kaitlynn and Miley's relationship, confirming that he wants his ex to move on with her life and find happiness. Wow, shockingly mature!
"There is far too much negativity being directed at someone who I love and care about very much. I feel the need to set the story straight. Kaitlynn and I have been best friends for 6 years, and we continue to be. We, like many others before us and many after us, grew in different directions over those same 6 years. Kaitlynn is a wonderful person, beautiful and fun to be with, always a positive force in my life. We decided the best move for both of us was to keep our love for each other strong but move forward separately with our lives. I respect Kaitlynn and care deeply about her. She deserves to be able to move forward in her life with respect and happiness."
Later That Night: August 16, 2019
A Page Six source reports that Miley and Kaitlynn were all over each other at West Hollywood's Soho House, by which I mean they were "basically having sex."
"They were obsessed with each other. They couldn't keep their hands off each other," the source says. "They were kissing and making out everywhere. In the bathroom, at the bar, in the middle of the floor. They were basically having sex. There's no question they're together."
August 18, 2019
Oh snap, it's revealed that Kaitlynn, Brody, Miley, and Liam used to hang out all the time as couple friends. The Hills: New Beginnings co-star Ashley Wahler confirms as much during an interview with Access Hollywood, saying, "I have had a lot of conversations with Kaitlynn during the season and her and Miley and Liam and Brody would always hang out together. So I know they've been friends for a long time."
August 21, 2019
Kaitlynn and Miley send Brody a joint birthday present of...a weed bouquet!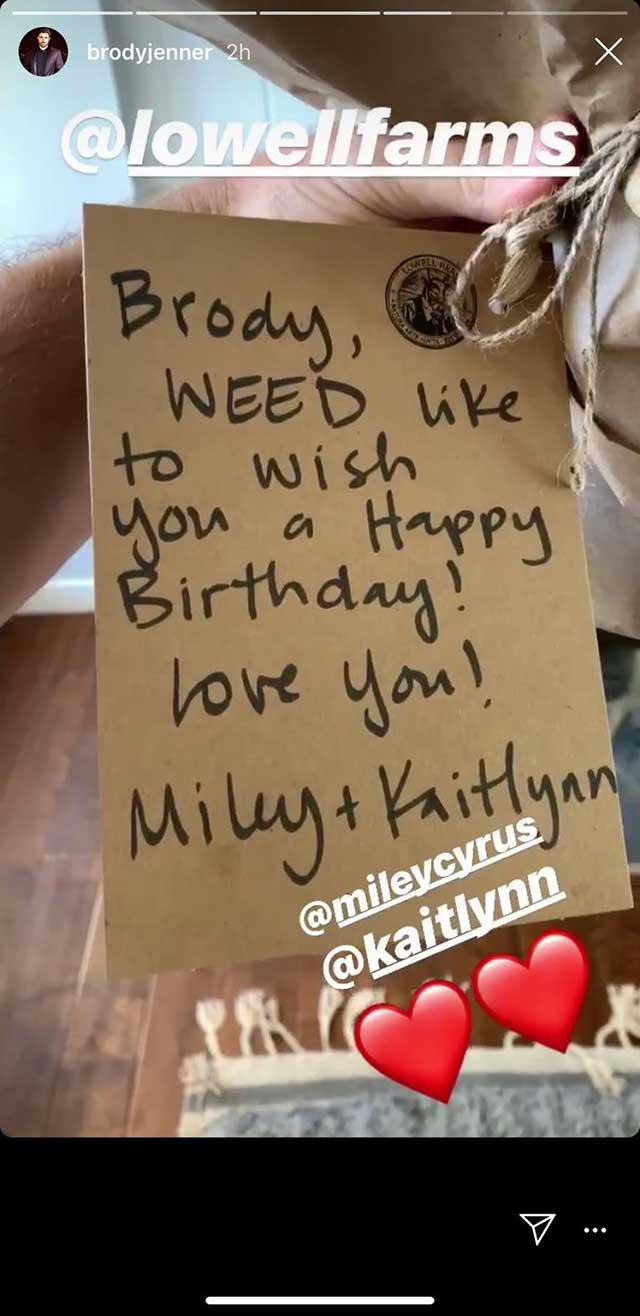 August 22, 2019
It's revealed that Miley got the Visconti of Milan coat of arms inked on her arm—a memento of her time in Italy this summer with Kaitlynn. Cuuuuuuuuute.
August 23, 2019
E! reports that the photos of Kaitlynn and Miley kissing pushed Liam to file for divorce. "Even though Miley and Liam were separated for a while before she was photographed making out on the yacht with Kaitlynn, once Liam saw those photos, he decided it was time to file for divorce," a source says. "That was it for him, seeing those photos and then all the Soho House stories thereafter."
August 26, 2019
Kaitlynn accompanies Miley to the VMAs (where Miley performs her breakup song "Slide Away") and they're spotted backstage together:
August 26, 2019
Kaitlynn and Miley are then spotted getting their PDA on with a sweet hand-hold on the way to a VMAs after-party: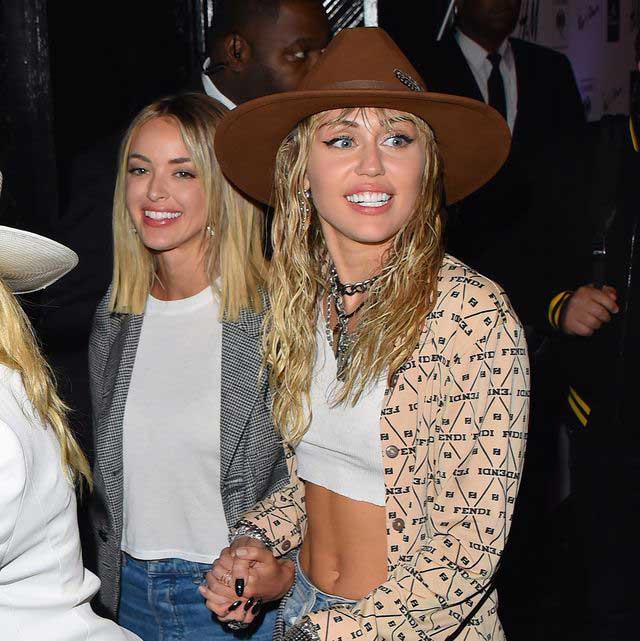 Annnnnd that just about brings us up to date! We'll be updating this timeline with the next chapter of Kaitlynn and Miley's relationship as soon as more information drops.
***
This article originally appeared on Cosmopolitan.com. Minor edits have been made by the Cosmo.ph editors.