Um, HOLY CRAP, guys. You need to see this, so let me get to the point: You know how Emily Ratajkowski got suprise-married at City Hall in NYC a few months back? At the time, she just had a simple gold band from now-husband Sebastian Bear-McClard, but, like, that has ALL CHANGED because now she has this gargantuan double-diamond situation that will literally blind you. From space.
Did I tell you or did I tell you? This thing is huge and so unique. The two stones in the setting appear to be teardrop- and princess-cut. Together with a narrow, gold band, they sit just beneath her original, thicker wedding ring. It is truly a stunning look.
Continue reading below ↓
Recommended Videos
Clearly taken with it herself, Emrata posted two pics of the sparkler to her Insta feed, as well as a closeup in her Insta Stories.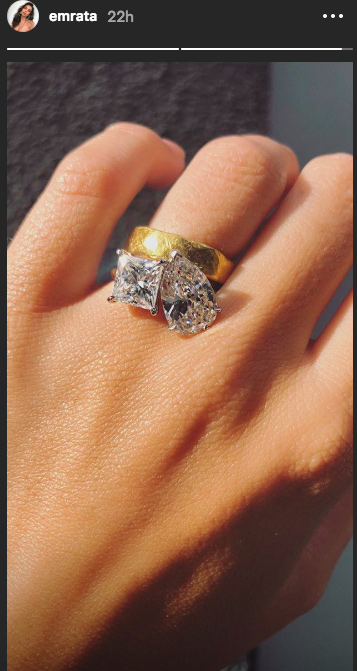 Even though this new ring is, like, W-O-W, Emily will most-likely always cherish her simple gold band, as her husband literally forged it and his own. "We walked into Chinatown and bought an ounce of gold and [Sebastian] was like, 'We'll melt down the gold and make the rings,'" she told Jimmy Fallon. "It was supposed to be temporary but I'm now growing attached to it and I don't wanna get rid of it. I just feel like making it yourself—could it be more personal?"
Well, now she quite honestly has the best of both worlds. Congrats, you love birds!