If you've been keeping track of the advocacies of current Miss Universe Pia Wurtzbach, then "Smile Train" should sound familiar. Smile Train is one of the newest charity partners of the Miss Universe Organization. The global program sponsors surgeries for youth with cleft palates, giving them the confidence to succeed in their future ambitions. 
So despite their busy schedules, Pia and several of the Miss Universe 2016 candidates found time to visit Smile Train beneficiaries at local partner hospital Our Lady of Peace Hospital in Parañaque on Friday, January 20th. The candidates from Argentina, Brazil, Colombia, Germany, Great Britain, Indonesia, Tanzania, Vietnam, and the U.S. spent part of their morning entertaining a happy group of kids.
Continue reading below ↓
Recommended Videos
Later in the morning, the women joined candidates from China, the Dominican Republic, Haiti, India, Mexico, Myanmar, Nigeria, and the U.S. Virgin Islands at the Conrad Hotel, where Smile Train beneficiaries performed two dances for the ladies, with some of the candidates joining in on the fun!
The youth then spent some one-on-one time with the beauty queens and discussed how they overcame bullying, and took the time to create their own sashes for future crowning moments. Here are several of the inspiring messages the Miss Universe contestants had to say.
Miss Universe China, Li Zhenying: "You must believe yourself—you can make your dreams come true." 
Miss Universe Haiti, Raquel Pelissier: "It was so inspiring to see people overcoming their struggles. I feel like we're in this together. Use that smile everyday and you'll not only feel happier, but make others around you happy."
Miss Universe Mexico, Kristal Silva: "I feel fortunate to be in this position, to have this title—a platform to speak for other people. It's important for us beauty queens to speak because people listen to us and we need to take advantage of that. There are a lot of programs that need our help and we need to do something."
Miss Universe Myanmar, Htet Htet Htun: "If you have a dream, don't let them stop you. Keep going. The difficulties make you stronger."
Miss Universe Argentina, Estefanía Bernal: "While we were at the hospital this morning, it was so wonderful to see these children smile with such confidence. This is an amazing organization for doing such work for children."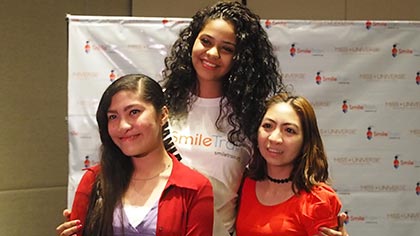 Miss Universe Tanzania, Jihan Dimack: "They've been through so much. Their stories are quite sad but inspiring. I learned so much from these girls, the fact that they didn't give up is inspiring as well. I loved the experience, it was amazing."

Miss Universe Brazil, Raissa Santana: "It was incredible the experience I had with the kids. It was wonderful to see the Philippines have an organization like this, to help the underprivileged kids. It was very fulfilling to be a part of this."
Miss Universe China, Li Zhenying: "I hope that we can help many other people through Smile Train. We use our beauty to let more people know that there are many people who need help. I feel happy to help others, and today when I met the patients I told them 'you're lucky. Believe in yourself, because your dreams will come true.'"
Miss Universe Colombia, Andrea Tovar: "For me [Smile Train] is magnificent. If they can transform a life with only our presence, with the work of all these people, they are really doing a great job. They are giving inclusion, starting with a single person, with a single smile. I believe that is the first part, inclusion to transform the world. Thank you Smile Train for making me a part of this experience."
Miss Dominican Republic, Sal Garcia: "I am pleased to be able to assist Smile Train, because the most important thing in life is to have confidence. With confidence we're able to achieve whatever we wish, and this organization gives confidence to the children. I congratulate Smile Train because they give smiles to people, and everyone knows that with a smile you can conquer the world."
Miss Universe Great Britain, Jaime-Lee Faulkner: "I was lucky enough to go to the hospital today and meet a little 8-year old boy called Von. His smile is one of the best smiles I've ever seen. It was my first time working with Smile Train, but this is something I'm going to continue to do back home as soon as I arrive back in London."
Miss Universe Haiti, Raquel Pelissier: "No matter who you are, you can face the same struggles and challenges. We have our own history and past, but what is important is you put that behind you. I can smile because I overcame my struggles. Today they can smile because they overcame theirs."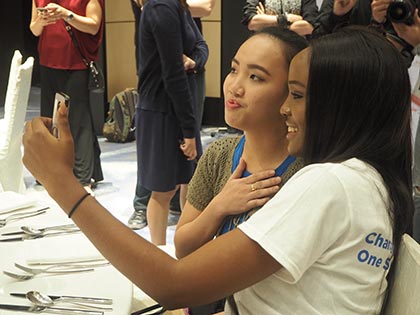 Miss Universe Nigeria, Unoaku Anyadike: "To all of the children out there, there is so much hope for you. Rise up to your problems. Whatever you think, whatever you dream, whatever you think you can achieve—do not let anybody tell you that you cannot do it. You can do it. Stand up, fight, and go for it. There's so much out there, there's so much to be happy about, always put a smile on your face."

Miss Universe India, Roshmitha Harimurthy: "We shouldn't take this [smile] for granted. There are many people who suffer, and it's not easy. They go through isolation in society, and Smile Train is one organization that can help all of these people gain back their smiles. So all it takes is a surgery, and what we need to do is spread awareness. This organization is there for the people who need it. It's a solvable problem so let's solve it soon."
Miss Universe Mexico, Kristal Silva: "I had the opportunity to work with Smile Train in my country, and now I'm in the Philippines to share this message. I try to share my experiences, because before I had no confidence in myself. Now I can prove that I have 'it,' and they can do the same. They can see the future and they don't have limitations."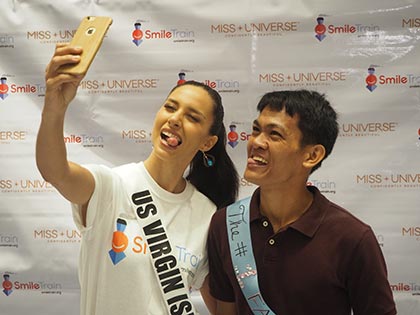 Miss Universe U.S. Virgin Islands, Carolyn Carter: "I am Native American and I've worked with Navajo nations with Smile Train in New Mexico. I visited the Philippines and we had a fundraiser where we raised enough funds to provide 47 children with cleft surgery—so maybe some of those funds went to some of the people I met today. I want to thank Smile Train for empowering men, women, and children around the world to believe in themselves and to know that they are confidently beautiful and that they can achieve all of their dreams."

Miss Universe USA, Deshauna Barber: "It was a true pleasure to speak with the children, I think it is so important to make sure that we instill confidence in our children now. Under 10 years old is a very impactful time in a child's life, it really focuses on what their personality is going to be like and what they can get self-conscious about, like a cleft lip or palate. It can really impact how successful they are in their adulthood. It is so incredibly important what Smile Train is doing, and I'm so happy they're in over 180 countries."
Miss Universe Organization CEO Paula Shugart: "Everyone deserves the right to have a smile. The one thing I got out of today, talking to the women—they don't necessarily know, the word isn't out there. I'm asking all of you to get the word out. It takes a village: we're all working together, we're raising awareness, we're raising money. If one woman learns that her baby has hope, that's because of you. If you're very far away, Philippine Airlines has a foundation and will absolutely get your child to a place where they do surgery. No matter how far away you are, just respond, get to Smile Train."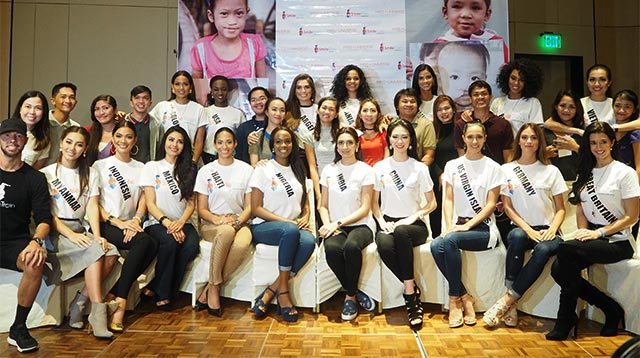 For more information about Smile Train's global efforts and to make a donation, please visit smiletrain.org.
Follow Andie on Instagram.