UPDATE: April 30, 2022, 11:35 p.m.
Miss Pasay Celeste Cortesi wins the Miss Universe Philippines 2022 crown! Here are the other winners and their titles:
2nd Runner Up: Miss Taguig Ma. Katrina Llegado
1st Runner Up: Miss Misamis Oriental Annabelle McDonnell
Miss Universe PH Charity: Miss Bohol Pauline Cucharo Amelinckx
Miss Universe PH Tourism: Miss Makati Michelle Marquez Dee
***See the original published article below
We always anticipate the question and answer portion of the Miss Universe Philippines because it's where we discover the Top 5 candidates' views on important issues. NGL, this is the part where we get unforgettable quotes from these queens. Their answers could tell the chances of them taking home the much-coveted crown. 
The Top 5 candidates didn't disappoint, and we find it hard to guess who'd win Miss Universe Philippines!
Read the complete transcript for Miss Universe Philippines 2022 Top 5 Q & A below:
Miss Misamis Oriental Annabelle McDonnell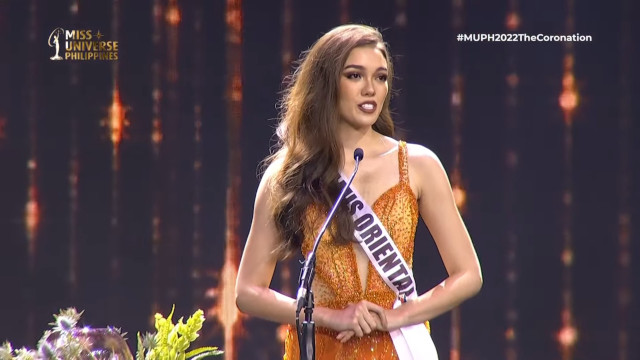 Question: What is your biggest insecurity and how do you address it?
Answer: "My socioeconomic status has been one of the biggest insecurities that I've had. Seven years ago, I was just a meager, marginalized orphan, starving and trying to make her way through. But now, you see me, when you see me, think about how I worked hard and studied even harder to be here and to aspire and conquer the universe."
Miss Makati Michelle Marquez Dee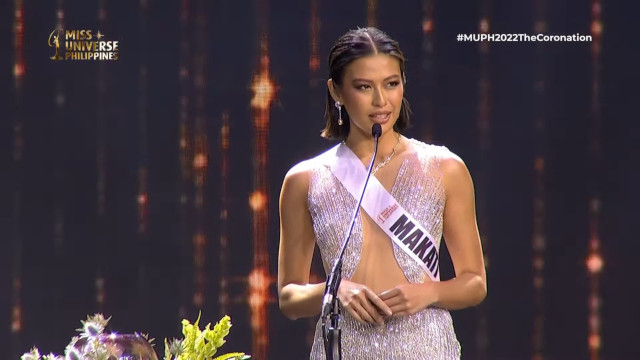 Continue reading below ↓
Recommended Videos
Question: What is your greatest fear and how do you try to overcome it?
Answer: "Honestly, my greatest fear is making a fool out of myself sometimes but I conquered that by always putting myself in that kind of situation. Actually, just joining a pageant was something that I was very scared about because of the pressure but I'm standing here in front of you, hoping to be your next Miss Universe so that I can make my country proud once again, ang minamahal kong Pilipinas."
Miss Taguig City Ma. Katrina Llegado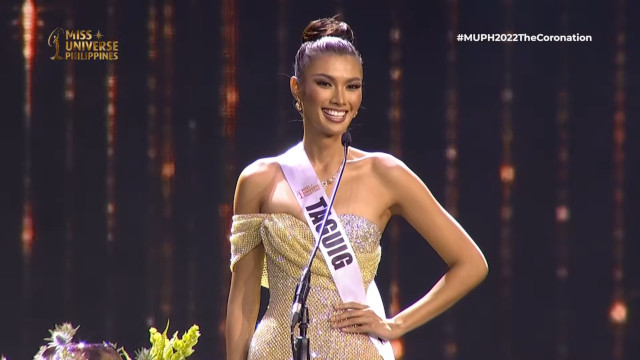 Question: If you could teach Filipinos one thing, what would it be and why?
Answer: "It would be [to] start loving yourself. Me as a person, I have a lot of flaws. I am not perfect and I may not be the perfect Miss Universe but I am here, trying to conquer my fear, trying to be a better person and pageantry really helped me to be a transformed woman to be truly uniquely beautiful and I think that is what I'll be having in Miss Universe. That is my greatest… Thank you."
Miss Pasay Celeste Cortesi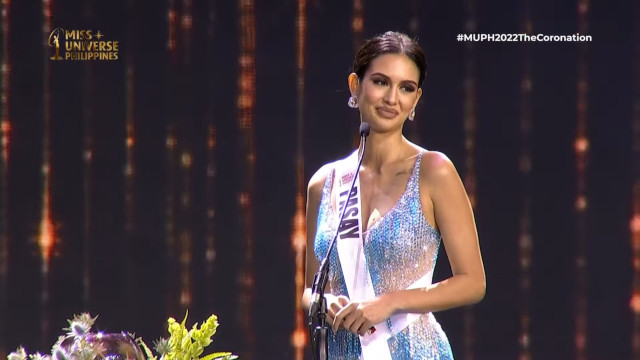 Question: If you could stop time for a day, how would you spend it?
Answer: "If I could stop time, I would spend it with my family, especially my mother. It's been two years since I didn't see my family because they live in Italy and I came here to the Philippines just by myself. So if I had a chance to spend one day, I would definitely be with my mom and I would just tell her how much I love her and miss her."
Miss Bohol Pauline Cucharo Amelinckx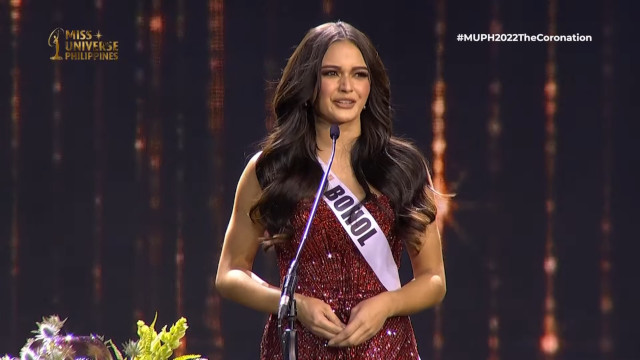 Question: What is that one life-changing decision that you made, and what was its impact on your life?
Answer: "The life-changing decision I've made was to join Miss Universe Philippines again. Despite being bashed for my body, being doubted by people, I found strength in myself. And this story can be a testament for other people to draw strength from too, that a second chance can be just as sweet, and you can still achieve your ultimate a second time around."
READ MORE ABOUT MISS UNIVERSE PHILIPPINES 2022
Bea Gomez's Tuxedo Outfit For Her Final Walk At Miss Universe PH 2022 Is Simply Iconic
We're Loving Miss Universe PH Candidate Michelle Dee's Elegant and Stylish Swimsuit OOTDs
Aww, It's All About Sisterhood Between Queens At Miss Universe PH 2022