As you probably know, Manny "Pacman" Pacquiao and Floyd "Money" Mayweather will be vying for a welterweight world title on May 2, 2015 at the MGM Grand Garden Arena in Las Vegas, U.S.A. Why is it called the "Fight Of The Century?" True, the title is at stake, but here's the real reason why, via cbssports.com:
For five years, boxing fans have dreamed of a matchup like this. Mayweather is undefeated in his career, 47-0, two wins shy of Rocky Marciano's iconic 49-0 career record. A win would further his rather bold claim that he is, indeed, the greatest fighter of all time.
A win for Pacquiao, on the other hand, makes its own kind of history. The Filipino superstar would forever be the man who took the zero off Floyd Mayweather's record. And we've waited five years to see it. 
Now you know why there's so much hype about this match. To add to your boxing trivia knowledge, here are Mayweather and Pacquiao's last six fights, to give you an idea of where they left off: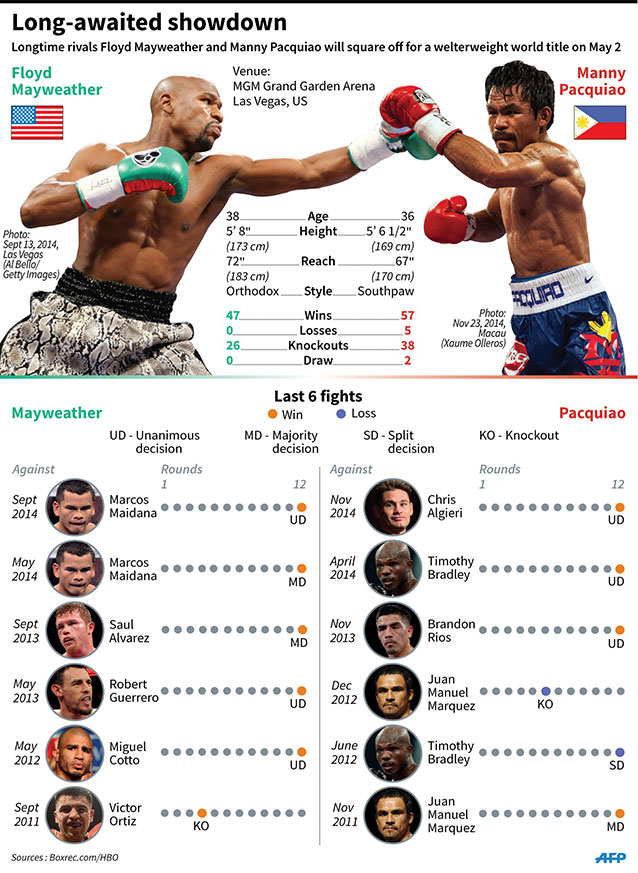 Continue reading below ↓
Recommended Videos
[Boxrec.com/HBO]
But let's get to the juicy stuff. How popular are the two on social media? 

We know you're probably betting on Manny, but whose side is Justin Bieber on? Or Theo James? P.S. Did you know that Mark Wahlberg and Diddy made a $250,000 bet, with Diddy backing Mayweather and Mark siding with Pacquiao? Whoever wins will get to donate the money to the fighter's favorite charity!


[Repucom]
This match is dubbed "the richest fight in history." No kidding!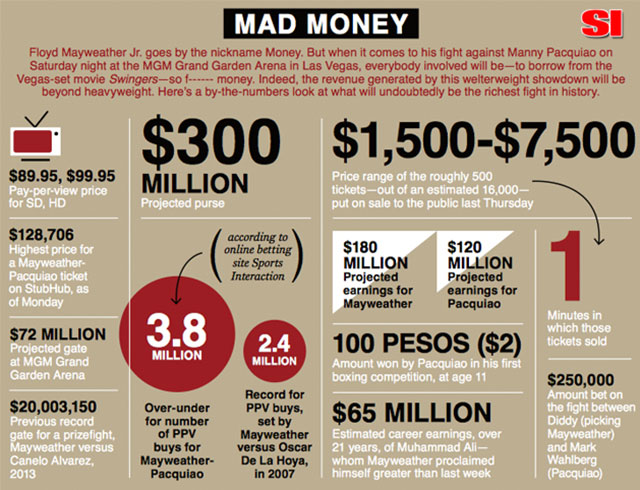 Ever wondered how much the two have earned in their careers?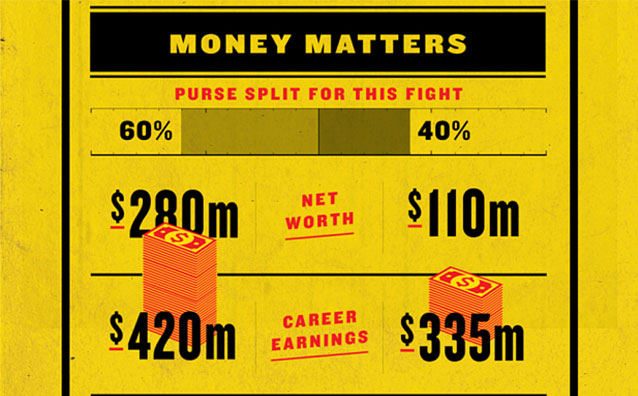 We'll be glued to our TV screens and radios on May 3, when the fight commences at 10 a.m. Philippine Time (In Las Vegas, it will be on May 2, at 9 p.m. ET). You can check this and this for places where you can watch the match live; there will also be a delayed telecast on ABS-CBN, GMA-7, and TV5. 
We're right there with you, Manny! You make us proud no matter what! FIGHT! #LabanManny