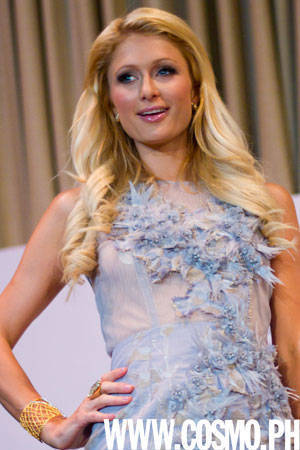 What does it take to draw an international celebrity to Philippine shores? A childhood dream and a loyal fanbase, apparently, in the case of hotel heiress Paris Hilton.

The 30-year-old socialite and former Cosmo cover girl showed up in Manila last week and caused a certifiable media frenzy. Her much-anticipated  five-day visit was revealed to be part business, and part pleasure. Missed her? We made sure to cover her exclusive press conference at Peninsula Manila last Wednesday, August 17, for you! Read on.

An Heiress's Dream Come True

On the business end, Paris met with execs from Century Properties and revealed that she is designing the clubhouse of the man-made beach at Azure Urban Resort Residences in Paranaque. It's her latest business venture, having already created 17 different product lines, which include fragrances, shoes, jewelry, handbags, and more.

Out of all her career roles—TV star, designer, singer, actress, model, author—Paris is most proud of her sucess as a businesswoman. Hailing from one of the most famous business clans in the world, she stood out by building her own global brand. Sounds like a certified fun, fearless femme, don't you think?

Paris revealed that she's waited a long time for a project like this. "I've had many proud moments in my life. I've worked very hard and built an amazing business... But this is probably the one project I'm most proud of because real estate is something that runs in my blood. My great-grandfather started the Hilton hotel chain and created his own legacy, and that's what I'm doing now."

It seems her family approves of her business here. She said, "My grandfather called me a couple days ago when he heard I was coming to the Philippines and heard about this project. He just said, 'I'm so proud of you. You're my oldest granddaughter, and you've achieved so much success, and to see you now developing your own real estate is just so amazing.' It made me feel really proud to get that call from my grandfather 'cause I really look up to him as a businessman. Being a businesswoman has been a dream of mine since I [was] a little girl. It just feels amazing now that all my dreams are coming true."

Century Properties managing director Robbie R. Antonio, who met Paris's dad in New York through a mutual friend, explained that Paris will be more than just the face of the resort. He said, "I don't believe in endorsements, people who just put their face, wherein they're really not part of the process. Paris is designing the beach club, no questions asked."

Before the presscon, Paris actually came from a design meeting with Century Properties. She looked over tiles, woods, and color schemes for the beach club. Her design inspiration? She's been to some of the best tourist destinations in the world, and hopes to replicate that atmosphere in our country. "I travel all around the world so I'm very inspired from everywhere I go," she said. "Basically, I'm taking all my favorite parts from all these places and putting them into this Paris beach club at the Azure. When people go to this beach club, they're gonna know it was designed by me. It's gonna be very Paris: sexy, fun, exciting, beautiful. It's gonna be the best beach club on earth."

A Fan's Wish Granted

One of Paris's other goals during her visit was to meet her devoted fans. Last week, one fan in particular got the chance of a lifetime to meet her idol.

Isha Dinio, her long-time Twitter follower and self-professed "No. 1 Filipino Fan" of Paris, was called onstage during the presscon to finally meet her in person. Isha was in tears when Paris hugged her, and the two exchanged gifts and updates. Later on, some selected Paris Facebook fans were also called up to meet the star and get autographs.

Fans like them touched Paris's heart and brought her attention to her Filipino fans. "It makes me feel so flattered and so happy," she said. "When I'm on my Twitter, I read [messages] from all my fans in the Philippines and the things they say literally bring tears to my eyes and make me cry. It makes me so happy that there's so much love. It just really fills me up and makes me feel like one of the luckiest girls in the world."

Many girls look up to Paris because of her style, charm, grace, and success both on TV and in business. Before ending the presscon, Paris offered the following advice for ladies who want to pursue their passion in life: "It's all about believing in yourself, being confident, working toward your dreams, and never letting anyone hold you back. No matter what anyone says, always just believe in yourself and know you can do it. Believe that if you're a good person, God will give you good karma and good things will come in your life."


Launch the gallery to see photos of Paris Hilton at the Peninsula Manila, and read more quotes from her revealing interview! Watch for another feature on her in Cosmo.ph soon!

Continue reading below ↓
Recommended Videos
1442