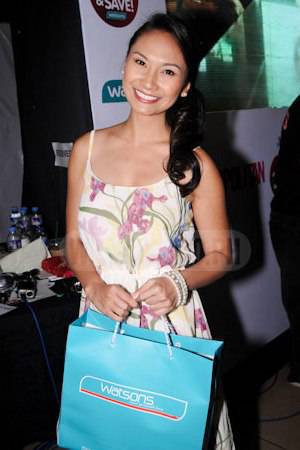 Uber smart, oozing with confidence, and radiant in the simplest of outfits--even sans makeup-- Patty Laurel makes the perfect media personality.

She's definitely come a long way from the UAAP courtside reporter who used to keep guys glued to the TV screen. Patty went on to best other contenders and become an MTV VJ, then stepped in to become a regular host on the Studio 23 morning show Breakfast.

Today, she continues to be an all-around media sweetheart, sharing her smarts to college students as a Communications professor in Ateneo, writing about her travel experiences, updating her lifestyle blog, modeling for fashion magazines, and doing the occasional events hosting. No doubt about it, she's one true-blue "passionista".

Oh, and she's also set to wed schoolmate-turned-love of her life (not to mention certified hottie), commercial editor and productions company owner, Patrick Filart. This girl seems to have it all!

The pretty college prof-cum-blogger gamely shared advice on scoring impeccable skin and style smarts to Cosmo.ph's college chick readers. Check out our exclusive interview with Patty below!


What are your skin care tips for college girls?

When you're in college, it's really hard to manage your time. [You're] frazzled with your deadlines and your oral exams. The best secret is really getting a lot of sleep. A lot of people take that for granted, and really spend a lot of time on putting on all those beauty creams, thousands of pesos for all those products. But when you really sacrifice or you scrimp on your sleeping, it really shows on your face. For me, it's really [getting] the whole eight hours of sleep. It will do your body good, it will do your brain good, and it will reflect on your skin.

What about your recommended beauty tricks for them?

I'm more for really keeping it natural, so try to use products that are organic. If you're trying something new, make sure that you've done your research, because of course, your skin is your biggest organ in your body, so you can't put just anything on it. Make sure they're trusted brands. That's important.

How should college chicks dress up for school?

[In] college, it's about making a statement. But of course, comfort should always be the first thing. You want to present yourself in a way that people will feel comfortable around, so be confident in the way you dress, and if you have the personality in your clothes as well, people will emulate and gravitate towards you. Don't be too much of a slave to fashion and [don't] be stressed about fashion, because you have other things to worry about in school, so might as well have fun as well!