To mark National Women's Month, the Philippine Commission on Women (PCW) launched its #BilangBabae online advocacy campaign.

"It aims to gather women netizen's perspectives on two things: (1) the changes that they want to see relative to women's issues and concerns, and (2) how they see themselves contributing to make these changes happen. The initiative will use Facebook as a platform using the hashtags #BilangBabae and #PartnerForChange," explains PCW.

The PCW will compile the #BilangBabae posts from March 1 to 20, 2017. These will be consolidated and used in a video montage, which PCW will feature in its official social media accounts and during the Women's Summit on March 30 to 31. The PCW will then randomly select 20 #BilangBabae women who will be given special prizes as simple tokens for participating in the activity.

Below are the mechanics of the #BilangBabae crowdsourcing initiative:

1. #BilangBabae is open to all Filipino women and girls who own a Facebook account. Please know that Facebook requires everyone to be at least 13 years old before they can create an account (in some jurisdictions, this age limit may be higher). Participating individuals must comply and adhere to the rules of the social networking site. If you do not have a Facebook account, it is free to create one at www.facebook.com.
 
2. Post your selfie/photo montage/portrait photo and complete the statement:
Continue reading below ↓
Recommended Videos
#BilangBabae gusto ko na (statement on the changes that you want to see or issues that you want to be addressed).

Magiging #PartnerForChange ako sa pamamagitan ng (state what you are willing to contribute or do to make these changes happen).  
3. To make your entry valid, like PCW's official Facebook page www.facebook.com/PCWgovph and do not forget to use hashtags #BilangBabae and #PartnerForChange.
 
4. Make sure that your post is set to "public" so people can view your entry.
 
5. Make sure that you would only post your own photo and not somebody else's picture.
 
6. Please note that pre-selected entries will be uploaded in PCW's Facebook account. By joining the #BilangBabae contest, you grant PCW the permission to post your photo and name in its social media handles, website, and other advocacy activities relative to its causes.
 
7. Make sure that you follow PCW's official Facebook account to check if your entry has been pre-selected for inclusion in the video montage and the raffle of prizes.
 
8. Only valid entries posted until March 20, 2017 (6:00 p.m., Philippine Standard Time) shall be included in the video montage and in drawing of 20 prize winners.
 
9. Winners shall be notified by PCW through a private message on Facebook.
PCW likewise posted sample entries.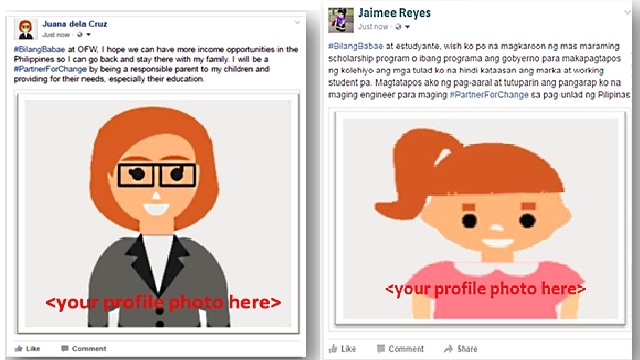 PCW explained that the theme for the 2017 National Women's Month is "WE Make Change Work for Women." "WE" stands for women's empowerment. Meanwhile, "Make Change Work" or MCW does double duty as it mould also stand for the Magna Carta of Women.
 To know more about the other activities that the PCW has planned this month, check out their comprehensive press release.