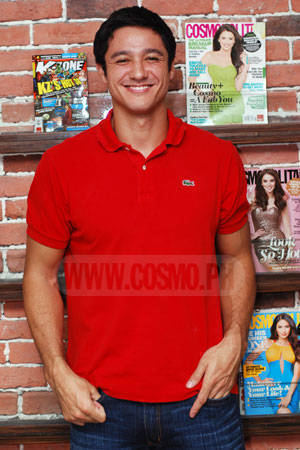 We don't do this with all our Cosmo Online Hunks; that's how you know this particular Cosmo Chat with February 2012 featured hottie Andrew Wolff was really special. It's our Valentine's gift to all our readers who have been asking for another round of Celebrity Chats (the last one we had was also in February, featuring Cosmo Online Hunk Paul Jake Castillo, last year).

Andrew arrived 30 minutes early for his 4PM Cosmo Chat at the Cosmo HQ last Wednesday, February 8. He says he was excited to talk to you, ladies, and answer your questions in an hour-long Cosmo Chat. While waiting for the chat event to begin, the Philippine Volcanoes heartthrob gamely exchanged jokes with the Cosmo.ph team, being his naturally makulit self. And as 4PM neared, the chatroom started filling up with anxious messages.

"It's 4PM na. Where's my Andrew?" asks chat participant iLoveCosmoPH.

Andrew quickly joined the chatroom with an excited "HI EVERYONE!" What followed next was a no-holds-barred flirty, kilig, and sometimes steamy conversation between the hunky rugby player and, as he himself put it, the "sweet ladies" of Cosmo.ph.

Girls went gaga over seeing Andrew's smile on the webcam, and they kept begging him for more throughout the hour-long chat. 

"OMG, I just fell [off] my chair when you smiled. You look soo cute ANDREW," gushes his obviously avid fan, iLoveCosmoPH.

He drove them even crazier when he licked his lips:

"OMG! Stop licking your lips, Andrew. You make my heart beat faster every time you do that," says mallows.

"Dry kasi lips ko e. I need someone to kiss them," came Andrew's flirty reply.

Other stunts he pulled in front of the camera were doing a face dance ("'Pangit ko!!!" he said after, to which every lady in the chatroom disagreed) and the Ocho-Ocho, both upon the request of chat participant ItsmeGello. And, since everyone was wondering what a rugby player's abs really looked like (sans, ahem, Photoshop), he gave in and lifted his shirt a bit for a few seconds ("Flabs," he deprecated his midsection; again, we disagreed). He also stuck the "I <3 WWW.COSMO.PH" sticker on his bare chest, as requested--no, demanded--by mallows12!

Cosmo chicks also wanted to know what type of girls Andrew usually dated--information that is currently relevant as Andrew confessed, "Wala akong girlfriend. Kalungkot." (We noticed that he seemed to be the only one in the chatroom who was sad about it). 

"I try to date girls with the same direction in life and similar background. Should be focused on a stable career, independent, and have great goals," he answered. "First and foremost, faithful" is how the adorably passionate guy described his ideal woman. And the easiest way to a guy's heart? "A naughty smile."

Want to see more highlights from the fun Cosmo Chat with Andrew? Launch the gallery to see behind-the-scenes photos of Andrew having fun and flashing more of that naughty smile of his while chatting with you, Cosmo gals, as well as screengrabs of the chatroom! (Did you think we would let you miss all the fun?)

For more of Andrew, be sure to check out his Cosmo Online Hunk features (Week 3 was published yesterday, and watch for Week 4 next Wednesday, February 22!). Follow him on Twitter (@AndrewWolff_), too.
Continue reading below ↓
Recommended Videos
1822