Pia Wurtzbach has clarified a tweet of hers posted on May 17, Monday, after angering many Vietnamese pageant fans. During the coronation night of the 69th edition of Miss Universe, Miss Vietnam Khan Van Nguyen Tran garnered the highest number of fan votes.
"Mas maraming pageant fans sa Vietnam kaysa sa Pilipinas? #MissUniverse," the viral tweet read, with exploding head emojis.
Continue reading below ↓
Recommended Videos
On the morning of May 18, Tuesday, Pia was shocked to see the offended reactions of Vietnamese. One netizen replied:
"How would you feel if you got the highest votes but people doubted you? We are not as big as you, but we give our representatives more than our verbal supporters. If you doubt the results of the vote, the crown you have is also questionable! Your attitude never changes. Thanks."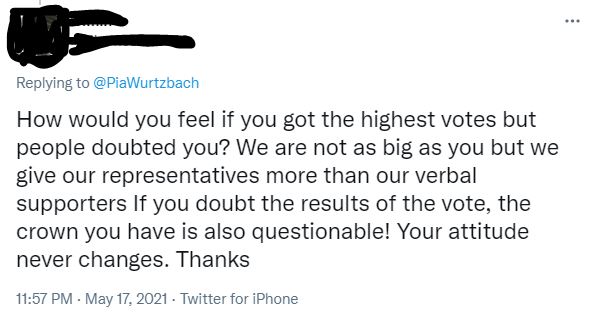 Another Vietnamese netizen reacted, "Why we had so much vote? Because we had that 'solidarity.' We may not have as many pageant fans as your country, but we are extremely proud of Ms. Vietnam."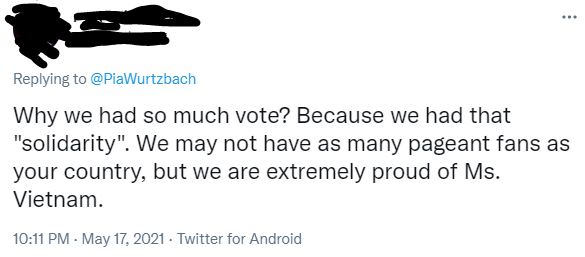 Another Vietnamese pageant fan said, "Vietnam is stronger than you think Pia, we do it because we are united and she deserves it, not a fan of anyone more than anyone else. So, Vietnam has achieved the highest votes ever of Miss Universe."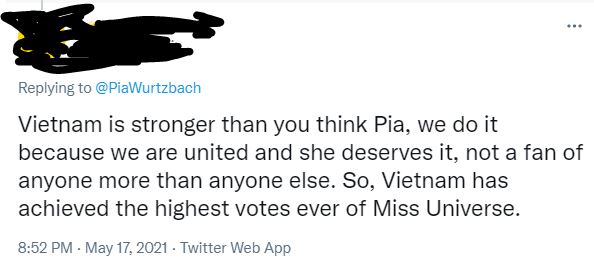 Pia tweeted, "Whoa! Woke up to so many angry fans from Vietnam! I think some of you misunderstood my tweet last night! I didn't mean any harm by it at all! #MissUniverse #MissUniverseVietnam"
She clarified that her earlier tweet was only a reaction to Miss Universe Vietnam's record-breaking number of fan votes.
"For years I was told (and I believed) that the Philippines had the most pageant fans in the world. But yesterday Vietnam got the highest votes in history! Which meant I was wrong. Which surprised me! That's it! That's all I meant by my tweet!"
"I wasn't being sarcastic or questioning your win at all! Hope this clears it up. Congratulations, Vietnam, for the highest votes in Miss Universe history! #MissUniverse #MissUniverseVietnam."
Miss Mexico, Andrea Meza, was crowned Miss Universe 2020. Both Miss Vietnam and Miss Universe Philippines Rabiya Mateo made it to the pageant's Top 21 but failed to enter the Top 10.