Rabiya Mateo's ~first~ boyfriend of six years, Neil Salvacion, has confirmed that he has split up with the Ilongga beauty queen.
On Instagram Stories, Neil posted a note to settle the real score between him and Rabiya.
"Spreading rumors without even knowing the real story is just too much," Neil started. 
"We don't deserve all the negativities manifested towards us, especially towards [Rabiya], she worked hard to achieve whatever she has right now, and she deserves it all," he wrote.

Neil added, "It's NEVER okay to degrade a person just to prove a point, I mean, if you have nothing good to say, it's better to keep it within yourself."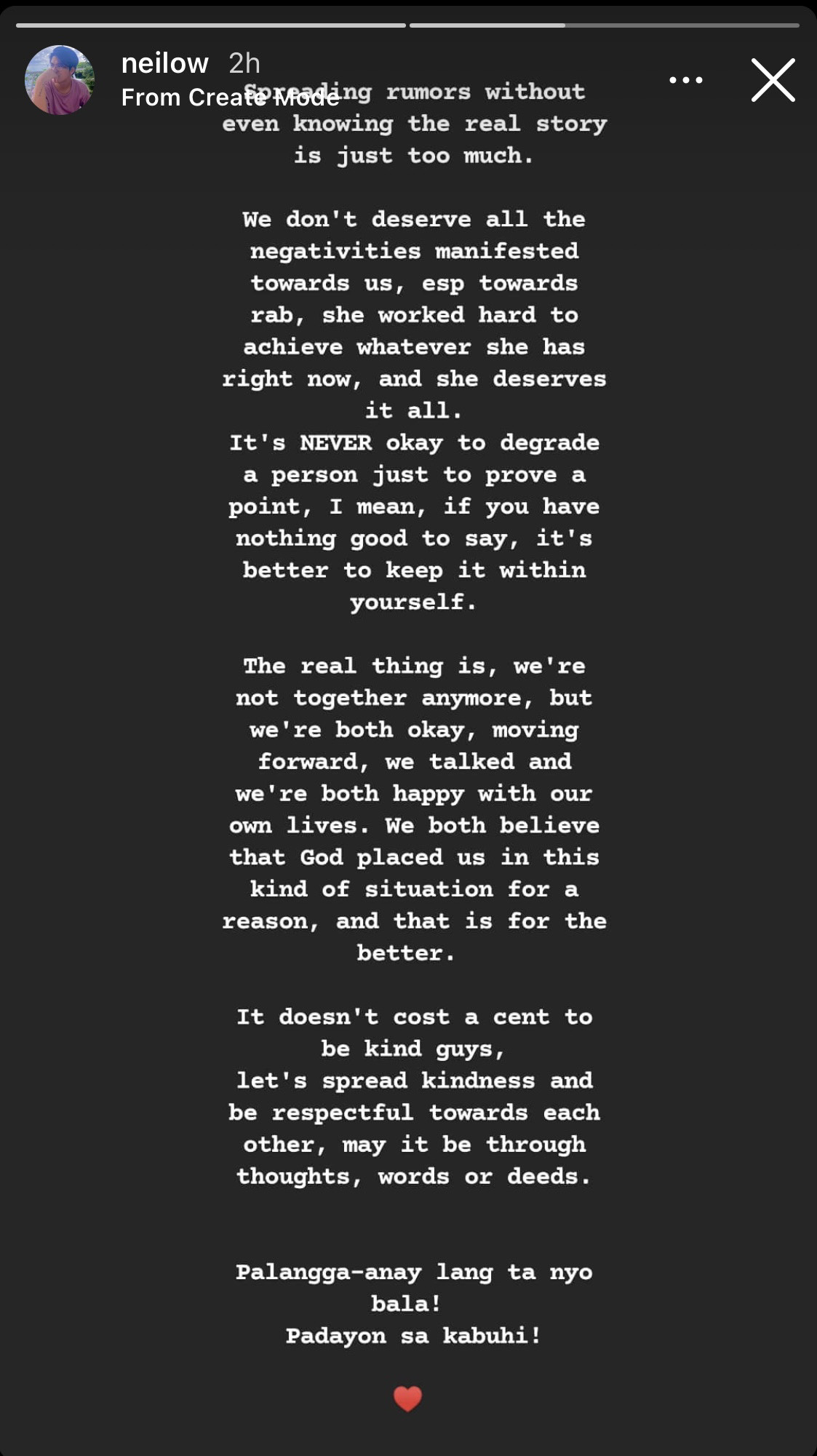 Confirming his split with Rabiya: "The real thing is, we're not together anymore, but we're both okay, moving forward, we talked and we're both happy with our own lives. We both believe that God placed us in this kind of situation for a reason, and that is for the better."
He added a reminder to be kind, always: "It doesn't cost a cent to be kind guys, let's spread kindness and be respectful towards each other, may it be through thoughts, words, or deeds."

In a recent interview with Boy Abunda on May 30, Rabiya revealed that her relationship with Neil was a "complicated situation." 
In late May, rumors of Rabiya's split with her boyfriend circulated online, following news that Neil deleted all of his photos with the beauty queen on his Instagram page. Rabiya was also linked to former Pinoy Big Brother housemate Andre Brouilette, but she said that there is "no malice" between her friendship with Andre.
Continue reading below ↓
Recommended Videos
As of this writing, Rabiya has not posted anything regarding her split with Neil. But in an Instagram post made on June 4, Rabiya wrote, "Praying for [a] stronger spirit and tougher heart every day."