It was only a few days ago when Regal Entertainment, Inc. released the teaser trailer for its upcoming movie, Cuddle Weather, which stars Sue Ramirez and RK Bagatsing. The story revolves around two sex workers, Adela (played by Sue) and Ram (played by RK), who agree to become "cuddle partners."
We see a bit of Adela's playful personality in the trailer, with her punchy lines and colorful wigs. 
Today, Sue took to Instagram Stories to invite netizens to get to know more about Adela, who actually has her own Facebook page: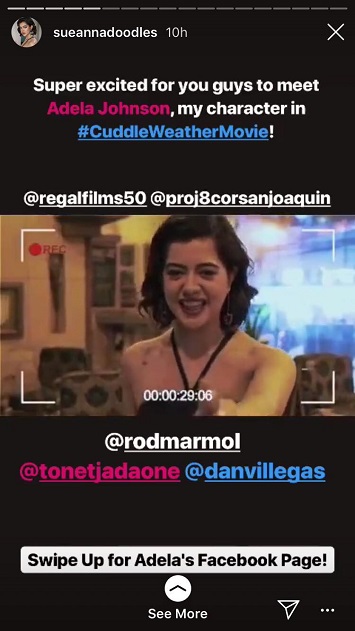 ADVERTISMENT - CONTINUE READING BELOW ↓
The video is actually an ad for "Angels4Rent," which Adela is part of. Sue totally gets into character and goes into seduction mode as Adela.
The IG Story actually lets you check out Adela Johnson's Facebook page, which gives us an actual feel of how Adela promotes her services online. We also get a taste again of that colorful personality:
"hai im adela johnson. bet mu ba blue hair ko?" Adela says in her profile photo caption. LOL.
Here are more hilarious posts:
ADVERTISMENT - CONTINUE READING BELOW ↓
We can't wait to see the full official trailer soon!