1. Jennifer Lawrence tripped (again!) on the Red Carpet and host Ellen Degeneres poked fun at her during the opening monologue. It's okay girl, you're still awesome! Just laugh it off.
2. Jared Leto jokingly admitted that he's dating Best Supporting Actress nominee June Squibb. Other women he has recently been linked to include Best Supporting Actress winner, Lupita Nyong'O, Taylor Swift, and Miley Cyrus.
3. Ellen DeGeneres' hosting skills had everyone cracking up the entire night. Seriously, this woman is amazing. She even distributed pizza straight from the box to Hollywood A-listers! She later collected money from the actors. LOL!
4. Anne Hathaway presented the first award of the Night, Best Supporting Actor, to Jared Leto for his role as a drug addict and transvestite in Dallas Buyers Club. He dedicated his speech "to everyone in the world who felt injustice for being who you are and who you love." His touching speech brought tears to our eyes!
5. Pharrell Williams performed Best Original Song nominee "Happy" from Despicable Me and danced with Lupita Nyong'O, Meryl Streep, and Amy Adams.
6. Frozen won Best Animated Feature Film! Idina Menzel also performed "Let It Go," which won Best Original Song. Yay! All together now... Let it go, let it goooo!
7. OMG! Joseph Gordon Levitt and Emma Watson TOGETHER onstage to present the award for Best Visual Effects. Can we just say, they would totally make a cute couple!
8. Brad Pitt kissed partner Angelina Jolie on the head after watching a flashback clip of her acceptance speech from a past show. Sweet!
9. Rock legend U2 performed  Best Original Song nominee, "Original Love," from Mandela: Long Walk to Freedom. 
10. BEST GROUP SELFIE EVER. Brad Pitt, Angelina Jolie, Ellen DeGeneres, Jennifer Lawrence, Bradley Cooper, Channing Tatum, Julia Roberts, Meryl Streep, Jared Leto, and more! It is now the most-retweeted picture and it temporarily crashed Twitter's website.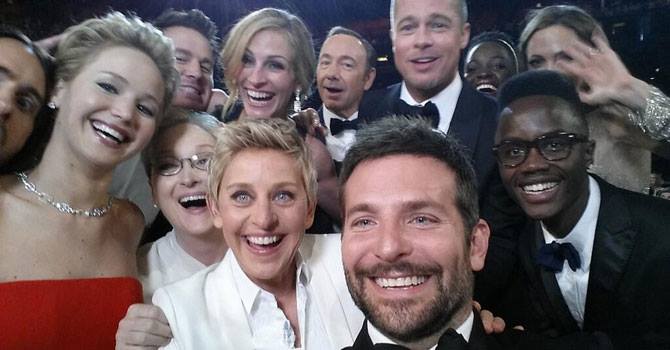 11. And the award for Best Supporting Actress goes to...LUPITA NYONG'O for 12 Years A Slave!  The first time-Oscar winner tried to hold back happy tears as she accepted the award. Congrats!
12. Gravity won Best Cinematography, Best Fim Editing, and Best Original Score. Alfonso Cuaron also won Best Director. 
13. Pink perfomed a tribute medley to Wizard of Oz, including classic song, "Somewhere Over the Rainbow."
14. As per tradition, an In Memoriam tribute was dedicated to Hollywood colleagues who passed away in 2013 and 2014. A few of the actors included were Paul Walker, Shirley Temple, and Philip Seymour Hoffman.

15. Ellen emerged in this fairy outfit.
16. And the Oscar for Best Actress goes to...CATE BLANCHETT! During her accpetance speech, she praised the other nominees like Amy Adams, Meryl Streep, and Sandra Bullock. Also, "Hashtag suck it, Julia [Roberts]." (It's an inside joke, FYI.)
17. And the Oscar for Best Actor goes to...MATTHEW MCCONAUGHEY for Dallas Buyers Club! We're sad Leonardo DiCaprio didn't win tonight, but we're happy for Matthew because he really deserved it! We recommend that you check out his movie to see why.
18. And last but definitely not the least, the award for Best Picture goes to 12 Years a Slave!
Congrats to all the winners!  
***