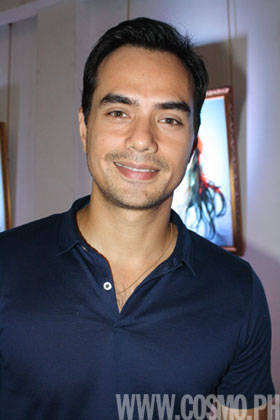 If you've been a loyal Cosmo reader for at least four years, you would probably remember TJ Trinidad as one of the 2006 Cosmo Centerfolds. Fast-forward to the present, now at 34, TJ has a promising career ahead of him as a certified primetime leading man. He plays Iza Calzado's love interest in the new teleserye, Beauty Queen, which premiered on GMA-7 yesterday. With his classic good looks and intense acting  skills, he's sure to make hearts melt every night. To get you a little more excited about this new milestone in this hunk's career, Cosmo took the opportunity to chat him up at the Town & Country Wonder Women Awards.

How do you feel about a lot of women admiring you? 
I'm not sure if that's accurate, but it's always flattering. But I don't really think about that. If that happens, then that's just a plus for me, I suppose. To be admired like that, it doesn't really come to my attention. I mean, nobody really tells me that.  
Continue reading below ↓
Recommended Videos
How's it like working with Iza Calzado? 
We worked [together] before in Desperadas and Pilyang Kerubin. It's great! She's a great actress and [she's] very easy to work with--very professional, very giving.
Aside from dramatic roles, are there any other roles you want to portray? 
There isn't really one dream role that I have. As long as it's challenging and it's interesting, then why not?  
What other genres would you like to try aside from drama?          
[I'd like to try] comedy [and] action. I'd like to try to do everything. I don't know if I'm necessarily going to be really fantastic at it, but I'd like to try. 
Who is your "Wonder Woman"?

My mom, my stepmom, and my girlfriend. [Also] Cory Aquino. What she did wasn't easy--to [help the country] transition from martial law to a democratic system, [even if] she really had no background [on how] to be the president of the country. So, I think she did a great job.

With reports from Regina Belmonte