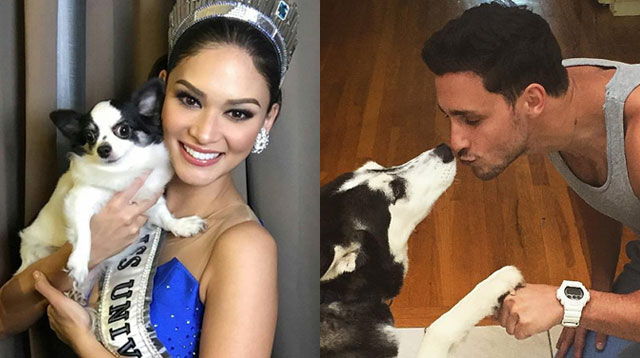 INSTAGRAM: piawurtzbach, doctor.mike
With a heavy heart, we are sad to announce that the PiAtom ship has sailed. So sorry, Pia Wurtzbach and Atom Araullo fans, it looks like our Miss Universe has found love (or something close to that) in a super hot New Yorker named Dr. Mike.
ICYMI, our girl Pia has been hitting the headlines once again now that she's been seen on her real-life McDreamy's Snapchat in the recent weeks. You know, them casually hanging out in their jammies at home, being their gorgeous selves in their pambahay best. (Mere mortals, we are.)
We gathered all the reasons why Dr. Mike is peeerfect for our Queen P! 
Continue reading below ↓
Recommended Videos
1. Dr. Mike aka Mikhail Varshavsky is a Russian immigrant, having moved to the States at 6 years old. It means the guy knows how to adapt to a foreign culture! We can imagine him having no problem learning our native Filipino from his girl Pia.
2. He loooves dogs! And so does Pia! Dr. Mike has a gorgeous husky named Roxy while Pia has the adorable Prada, a Chihuahua mix she had to leave behind in Manila. Awww...
3. Working odd hours is NBD for Dr. Mike. He is a doctor after all! With Pia's tight sched, we're sure these two are masters of time management.
4. He has a big heart! Having found the Limitless Tomorrow foundation, Dr. Mike's principles in life are in line with Pia's–they both strive to help those in need. Truly, GOALS.
5. Pia will have a personal doctor on call! Dr. Mike certainly knows how to make a girl feel better. See tweet below. #inggit
@RealDoctorMike like this guy? ???? pic.twitter.com/oLFSoDEiym

— Pia Alonzo Wurtzbach (@PiaWurtzbach) February 21, 2016
6. They're both health buffs! Post-boxing selfie anyone?
Zombies after boxing ???? @RealDoctorMike pic.twitter.com/lDf2DOa5g1

— Pia Alonzo Wurtzbach (@PiaWurtzbach) February 27, 2016
7. And TBH, they're just sooooo beautiful individually that when they're together, it's like, DAMNNNNN. 
Follow Jacinda on Instagram.