The last time our April Cosmo Online Hunk Rocco Nacino dropped by, we got him to fill out this little getting-to-know-you form for all you Cosmo chicks out there who are itching for more info on this Starstruck cutie.

And since we know you've already begun to miss him, we now share with you that little sheet wherein he tells you 10 things about himself that he really, really wants you to know! Read on below.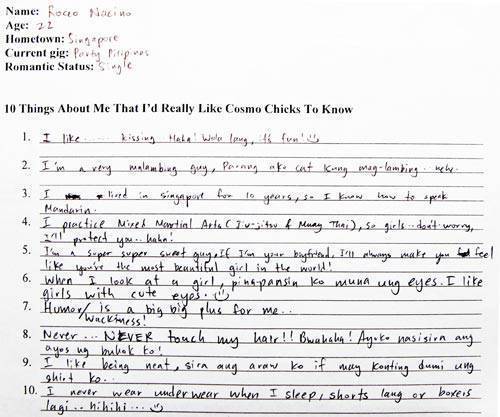 Just in case you can't read what Rocco wrote:
I like...kissing. Haha! Wala lang, it's fun!
I'm a very malambing guy, parang ako cat kung mag-lambing. Hehe.
I lived in Singapore for 10 years, so I know how to speak Mandarin.
I practice mixed martial arts (jiu-jitsu and muay thai), so girls...don't worry, I'll protect you. Haha!
I'm a super super sweet guy. If I'm your boyfriend, I'll always make you feel like you're the most beautiful girl in the world!
When I look at a girl, pinapansin ko muna 'yung eyes. I like girls with cute eyes.
Humor/wackiness is a big big plus for me.
Never...NEVER touch my hair!! Bwahaha! Ayoko nasisira ang ayos ng buhok ko!
I like being neat, sira ang araw ko if may konting dumi 'yung shirt ko.
I never wear underwear when I sleep, shorts lang or boxers lagi. Hihihi.