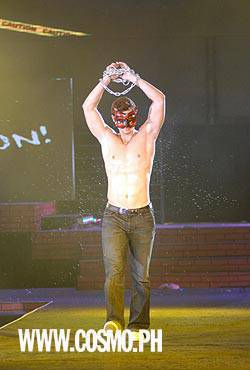 **In this personal journal, Cosmo's celebrity blogger for September, Phil Younghusband, gives you an exclusive insight on what it feels like to be part of this year's Cosmo Centerfolds and how the opportunity helped open more doors for him.
You are about to walk the longest runway of your life. Loads of photographers and an army of fans greet you, screaming. The cameras blind you with flashes of light. The decibels give you a rush of adrenalin. As spectators observe your every move, you know you will get to see everything on YouTube the next day. With the advent of new technology, they text and Twitter, and suddenly there are a multitude of updates. They would surround you and topple you, if it weren't for security. They just want to touch you, to be near you, to feel you. Just for a second.
[readmore]
Surely this must be what being famous feels like: being in your early 20s, still enjoying the physical perks of youth, making money, and doing TV commercials for a wide variety of products. People keep telling you something
big
is happening. The phrase
window of opportunity
is in the air. You could be the next Mark Wahlberg, joking with wry self-deprecation a decade from now about your modest beginnings as a young
Marky Mark
parading your bare muscular physique, with hands chained high above your head, wearing a devil's mask in front of a wild crowd.
And then you feel the moment has arrived. The time has come to throw aside chivalry and mystery by overwhelming everyone with a brazen move. You go on the offensive by unmasking yourself. You hear the lovely host scream a familiar name to the crowd. The crowd bursts into a stentorian roar.
Yet this moment, this priceless momentum, is fragile. Nothing lasts forever. You know that the next guy is up, and what if he gets a louder cheer? So you remind yourself with great conviction: once upon a time, before all the glittering lights, camera and action, you stood out among the ten guys chosen by
Cosmopolitan Magazine
to be its
2009 roster of Centerfolds
for the fact that you hailed from one of the world's biggest, most prestigious football club. That in a land far, far away, you once played in front of 40,000 or so rowdy and aggressive football fans that never cared about your looks. It's how you kicked the ball to make a goal and win it for the team that made you the hottest man alive. You were trained to win.
But that's all in the glorious past; what's in front of you now is a different ball game.
The show's audience is a strange coalition: teenagers, 20-something girls, 30-something women, gay men, straight guys, entertainment-media people, advertisers, agents, network executives, celebrities, socialites, and the bloggers circuit—which must continually manufacture and discover fresh celebrities before their 15 minutes of fame are up. Put all these people in one boiling event, and they give this year's
Cosmo Bachelors Bash
the heat and flash and swagger of a smash.
And then the night ended as fast as it started. When you wake up the next morning, you ask yourself:
Was it all a dream? Did I actually do it?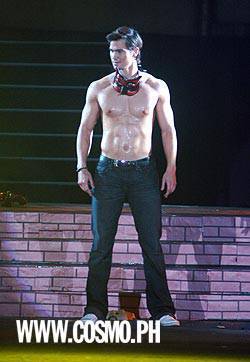 So you decide to Google yourself out of curiosity. The Internet defines you fast and with the fierce severity of fan fiction.
To become the talk of the town, you implicitly agree to serve as a fictional and real-life character in the Web's ongoing, anonymously written reality forum. Whether it's the truth or not, you need to face what's written out there with professional maturity and wisdom. "Attention, whether good or bad, is better than being ignored,"
advises your lady manager, who serves as your emotional rock whenever you read something inappropriate. You are at your most impressionable age, she explains, when you need to soak up everything like a sponge and learn. You are in your element.
So really, nobody should be complaining, squirming, or asking for more. Keep your eye on the big picture. And the big screen. Be sure to stay humble when there are times when you want to pinch yourself thinking,
it just doesn't get any better than this.
Try not to think of competition (if it even exists), or fame and success as a zero-sum game. Even if the world is telling you that's exactly what it is.
A few days later, your face is on television news and talk shows. The country's most influential entertainment editor gives you a brilliant full page on the newspaper that people read from cover to cover. A powerful entertainment online portal says you received one of the loudest screams that eventful night. You get offers to advertise even more products left and right. You get recognized everywhere.
Life is fun, and part of the drill are things like showing up, looking good, being photographed, working the press line, and being adored for your semi-blokey growl of an accent. You tell yourself, if this opportunity becomes bigger,
I'd better start thinking of a secret identity to keep my personal life separate from the public one.
You think of Batman, liking the idea of it and joking to your friends, mimicking the Dark Knight's throaty version, "I am Batman."
Your manager looks at you from head to toe, amused. "But you already took off the mask!"
You smirk. "No, actually I'm hotter. I am Bruce Wayne."

NOTE:
I would like to thank Joya and Steve Genzola of Bacolod City for the hand-crafted mask that I wore during the Cosmo Bash (designed after the mask worn by Chuck Bass in Gossip Girl Season 1); stylist Alyanna Martinez for providing a back-up mask; make-up artist Omar Ermita of Shu Uemura; director Robby Carmona and his SAGA Events Team; the Cosmo editorial team led by Zo Aguila; photographer JC Cerilla; John Brillantes; Bob Agustin of Gold's Gym; my Kapuso family in GMA-7; my brother James for supporting me backstage and my manager Joyce Ramirez for fighting her way against a wall of screaming fans just to get to the front of the runway and release me from those bloody chains. Thanks everyone for the great banter!
Continue reading below ↓
Recommended Videos