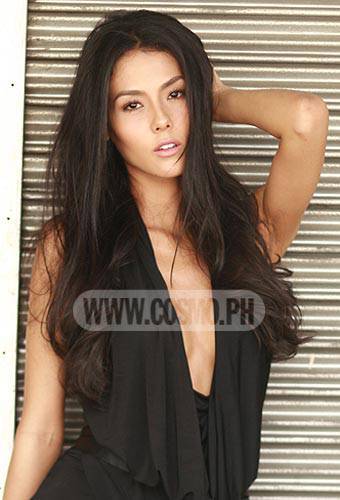 When you flip through the pages of this month's issue of Cosmo, there is one exotic woman who will definitely grab your attention: Vanessa Matsunaga, who knows how to transform herself from the friendly, peppy girl she is in real life to the bombshell with the smoldering stare who jumps off the page.

It's not only male Brazilian-Japanese models like your fave Cosmo Centerfolds Fabio Ide, Akihiro Sato, Hideo Muraoka, and Vanessa's younger brother Daniel Matsunaga who are making waves in the showbiz and fashion scenes. Female Brapanese are invading both industries, too. And we really can't complain, can we? They're all absolutely gorgeous! That's why we simply had to include Vanessa in the special November fashion editorial, "Cosmo's 8 Sexiest," because she has that undeniable Brapanese magnetism. She's effortlessly hot, and both men and women just love her. After watching her do one fierce pose after another during her Cosmo shoot at the Summit Studio, we wanted to know more about the popular model.

Read our full interview with Vanessa below to find that she's as smart and down-to-earth as she is sexy and drop-dead gorgeous. Then view behind-the-scenes photos from her shoot when you launch the gallery.

How did you get into modeling?

I actually started when I was 11. I was just doing little things, but I was studying at the same time, so I stopped for a while. Then I totally quit [because] I wanted to be a doctor. But by the age of 17, I was walking in a mall and they discovered me again. By the age of 18, I started traveling, and since then I've been traveling around the world doing modeling.

Who or what inspired you to become a model?

Well, since I was a kid, my family was like, "Oh, why don't you? You're gonna be Miss Brazil!" So I always had the incentive of my family, but I never really looked up to anyone when I was young. Of course, after I really got into the modeling business, I [started to] admire Gisele Bundchen for everything that she's accomplished in her life.

What do you think makes you different from other models?

I'm a nerd! (Laughs.) I read a lot and I don't really like to go out. Yeah, I'm nerdy.

What's the best modeling experience you've ever had so far?

I've had so many great experiences. When I was living in Thailand, I got to shoot with the elephants and they are so charming and so cute. Oh my gosh, I really wanted to take them home, but they're really stinky. [Then] when I was living in Cape Town, South Africa, I was shooting with the penguins. Everything that involves nature for me is really, really nice.

What's been your most challenging modeling experience so far?

Also in Cape Town [when] I was shooting a commercial. I was coming out of the water and it was dark already, and Lord, it was so cold I had hypothermia there.

What is the biggest misconception about models?

That they are dumb. We're not.

What was your biggest insecurity and how did you overcome it?

I was always told that I was too short [in Brazil], but here in the Philippines, I'm too tall! I'm okay for modeling now...but I remember going to castings in my highest high heels ever to do a ramp, and the girls were wearing Havaianas or flip-flops and we were the same height. They were like, "Oh, how tall are you?" "5'8"" "What are you doing here?" And I'm like, "I can walk guys! What are you talking about? Ano ba? Let me show you!" But so many times, they were like, "I don't even wanna see you walking because you're too short." But now I'm tall! (Laughs.)

Do people treat you differently now that you're a model?

Yeah, actually. When I first started, I had friends back in Brazil, [but] for some reason, when I get back home, they think I'm a different person--which is not the truth. I just got to travel a little bit, and I got to experience other countries and meet a lot of people, but that doesn't change my values, or who I am, or where I came from.

What are a model's daily essentials?

I always carry my luggage with me. Everything's there, like you can find bras, panties, shorts, jeans, high heels, makeup, first aid, toothbrush...there is everything! You have to bring everything [because] you never know what you're gonna encounter. Umbrella--you never know when it's gonna rain! You really have to be prepared. And don't go [to shoots] with high heels 'cause these little things will really kill you--always Havaianas!

What's the top beauty secret you've learned from modeling?

How to project myself. You learn your angles [and] you learn what works best. You learn how to put makeup--how to make something show more and hide something.

How do you take care of your skin?

I always wash my skin; I don't like anything that clogs my pores. I have moisturizer all the time, too. I drink water. I'm wearing makeup because we just did the shoot, but I don't like makeup on my face usually. I like [having a] bare face.

How would you describe your personal style?

Basic. I love comfy clothes. I don't like anything too tight, which makes me feel like a crazy person (she mimes being in a straitjacket). I really love basic jeans and a white t-shirt.

Who's your fashion icon?

Sarah Jessica Parker. I really admire her for the way she can wear all that stuff and be pretty and elegant. She's like that all the time, but I'm basic.

Name five things every woman should have in her closet.

A pair of nude high heels-- they make your legs look a lot longer even though you're petite. Another one is a nice pair of skinny jeans, something that you can put on at night or during the daytime and you're gonna feel comfortable. Spaghetti straps--it's basic even if you [pair] it with skinny jeans and high heels. You go out like that [with] an attitude and you're done! You have to have makeup, I think. If you want to [make] a different impression, mascara is everything. And a nice bra, so you can give that va-va-voom effect you want. (Laughs.)

Where do you find good shopping deals?

Wherever it's not overpriced because people have this fake idea that what is pricy is worth it. But sometimes, it's so overpriced [that] you're just paying for the brand. So I don't really advise people to go for brands, you [should] go for quality and the right price. I'd say Forever 21 is a good idea 'cause you can do a lot with little [money] there.

What advice can you give girls who want to pursue modeling?

Make sure you know what you want. You really need to know where you stand 'cause things are gonna change totally in your life. It requires a lot of heart. It's not just something you just wanna do; you need to have passion and courage. You're gonna receive no after no after no, [but] eventually you're gonna get a yes. After you get one yes, you'll get a second yes. So don't ever give up--that's my advice.


Launch the gallery to see Vanessa's behind-the-scenes photos from her "Cosmo's 8 Sexiest" shoot! Don't forget to grab a copy of Cosmopolitan Philippines' November 2011 issue with Carla Abellana on the cover to see the entire fashion editorial!
ADVERTISMENT - CONTINUE READING BELOW ↓
1635