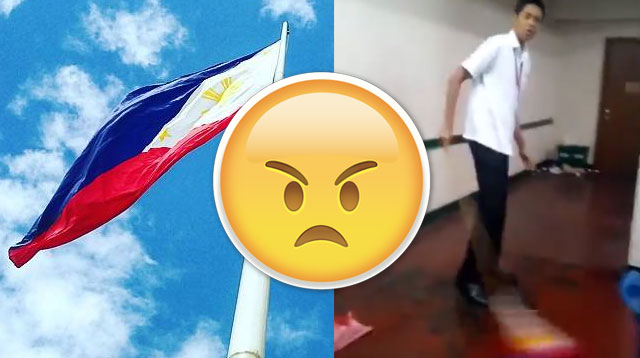 (FLAG) Instagram/maewinendaya, (SCREENCAP)  Facebook/Filipino Netizens

A student is in big trouble after a video of him clowning around by using the Philippine national flag as a floor mop in school recently went viral.

In a Facebook post by the Filipino Netizens page, the 22-second video shows the unidentified student first posing for the camera before proceeding to use the flag to mop the classroom. 
[fb:https://www.facebook.com/filipinonetizenscom/videos/1306294692730844/:fb]
The person taking the video, presumably a classmate, can be heard giggling in the background shortly after.

The student using the flag as a mop then tells the person taking the video to not include his face in the footage.

"Wag mo isama mukha ko, pre," he said.

It's a bit too late for that since the video already went viral with nearly a million views and over 25,000 shares as of posting time. It has also made it to a national news program.

Netizens meanwhile were infuriated with the actions of the student, saying that what he did was stupid and disrespectful.

Some netizens even pointed out that ignorance of the law excuses no one.

Republic Act 8491, Section 34a states that "To mutilate, deface, defile, trample on or cast contempt any act or omission casting dishonor or ridicule upon the flag over its surface" is prohibited.

Violators can be penalized with one of or both a fine ranging from P5,000 to P20,000 and imprisonment of up to a year.
ADVERTISMENT - CONTINUE READING BELOW ↓