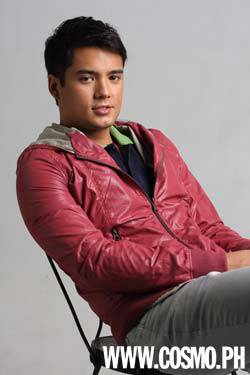 Geoff Eigenmann first captured our hearts when he appeared in a TV commercial for a mobile communications company some years back, his boyish good looks and naughty smirk earning him hordes of Filipina fans. Being a member of the Eigenmann clan, it's no wonder the commercial model would later reveal his acting chops, winning him even more lady fans.

Now this cutie is clearly all grown up, with chiseled features, keen insights, and a mature TV role to boot. Read on to find out how far Geoff has gone from his cellphone-waving days!

How does it feel to be given the role of Fernando in Rosalinda?
Siyempre flattered! I'm excited to play this character. To me, it's one of the most mature roles I've ever played. This guy kasi, this Fernando, everyone loved him the first time Rosalinda came out. So [there's] pressure to do that part din kasi I have to live up to people's expectations in a lot of ways, like how I tackle the character, how I look physically. And he's a very dark character, ever since childhood. So it's one of the hardest things.

What's it like growing up in a family of actors?
It's fun actually. I wouldn't change my childhood for anything else. I grew up having fun. I have known most of the ins and outs of the business. I know who's telling the truth, I can tell. I'm really happy I have that background.

Your parents are two of the most respected actors in the industry. Do you feel pressured to live up to people's expectations of you as an actor?
Of course. Siyempre since showbiz royalty kumbaga ang family ko, everybody's expecting that we know what were doing and that we might surpass what they've achieved, but I doubt that's ever gonna happen. Kasi my parents have done way more than any one of us ever have. Kahit na ipagsama-sama pa 'yung mga nagawa [namin] magkakapatid, magpipinsan, my mom alone has more credentials than all of us. So [there's] pressure talaga.

How much influence do your parents have when it comes to your career decisions?
A lot talaga, as in majority is really up to them especially with my mom. Kasi even the littlest detail, [she's] really hands-on. Kunwari I'm given a script and she reads it. Sometimes she reads the stuff that I'm about to do. If she knows I'm capable of just doing it on my own, she'll let me be. But if there's one thing that she's bothered about, she'll let me know and she'll teach me, she'll coach me and give me details on how to do it and all that. So hands-on talaga.
Continue reading below ↓
Recommended Videos
[nextpage]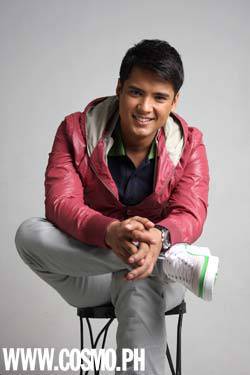 What's the best advice your parents have ever given you, in career or in life?
I think it's applicable to both career and life. Always keep your feet on the ground. 'Wag magpapalaki ng ulo. Be nice to everyone 'cause the people you're nice to, whom you have a great working relationship with, they're the same people who'll be nice to you no matter what happens to you.

Which actors do you look up to?
Local, my family talaga, almost everyone in my family, kasi they paved the way for us in this business. [With] what they've done in the past, andami nilang taong pinahanga. That on its own is a big thing. International naman, I admire a lot of actors. I'm a big fan of mga support actors lang. Like kunwari Entourage. I'm a big fan of Jeremy Piven, I think he's a great actor. [Then there's] Benicio del Toro. He rarely gets lead roles but I love Benicio del Toro. I love watching character actors.

Do you have any career goals or are you just taking things as they come?
I just take things as they come, each day at a time. I've done so many things on TV, I've done movies, but I've never been nominated for anything at all. So hopefully for self-reward na lang, I guess to win an award or at least be nominated for something I did.

How does it feel to be admired by women all over the country?
It's actually something I really don't get into my head. It's flattering of course. Medyo may kilig factor din. But as much as possible I just do what I'm supposed to do. And I'm happy naman na ganun ang response [to] me.

What's the most memorable thing a fan has ever done for you?
Ang dami, 'cause most of my fans I end up being friends with also: like I see [them] on a daily basis, nagdi-dinner kami out, [as a] group talaga. There's this someone na every time she leaves the country, once she gets back, talagang may pasalubong. But we're just really friends, there's nothing going on between us. She's actually way older than I am. Sobrang bait lang niya. She's someone I consider an ate already. Ganun na ka-close.

What are you really like when the cameras aren't rolling?
I'm not showbiz at all. What you see with me is not exactly what you get but totoo ang makukuha mo. I don't give bullshit. Yes, you can hear that from me (laughs). I'm real. I won't let all the typical showbiz stuff get to me.
[nextpage]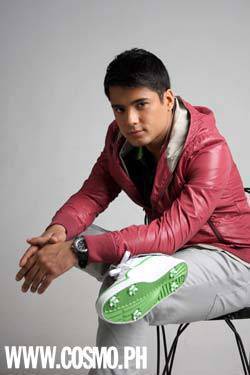 When you're not filming, what do you do?
Most of the time 'pag mahirap 'yung gagawin naming next few scenes, I study my script, I really do. It's one thing na lagi kong hawak. But most of the time when we're relaxing, of course I bond with my co-actors. Kulitan on the set just to make work light. Para enjoy lahat kahit inuumaga na kami, nagpapatawa, nagkukulitan para masaya.

Do you have any gadgets like an iPod or a laptop that you have to have on the set?
Just recently I got a laptop, my very first one. I'm tinkering with that now. I'm an iPod guy. Or mostly DVDs, [my] DVD player [is my] companion talaga. I watch a lot of movies.

What music do you listen to?
I can listen to all kinds of music. I can listen to hip-hop, country music, rock, classic rock, even boy bands.

How about movies?
Halu-halo. I've seen a few documentaries here and there. I'm a big movie buff talaga. Any movie I haven't seen, good or bad review, I still try to watch. And I'm a big fight fan so I like watching boxing or UFC.

Onscreen, you look like a cool, confident, self-assured young man. Do you have any fears or insecurities?
Fears? Not really. The only thing I fear is God. Insecurities? Siyempre marami. I used to be really insecure about my weight, how I look, how I talk.

What do you do to de-stress after a long day at work?
Massage. Most of the time I have a masseuse at work. As much as possible I get a massage, but I rarely go to the spa. And sports. It's really an outlet for me.

Do you have a favorite sport?
Boxing. Any form of fighting.

Do you like to go out and party or are you a homebody?
Homebody. I rarely go out. If I have a chance to just stay at home or bring the party to my house, ganun na lang.

You're single right now. Is it hard to juggle an acting career with a romantic life?
Yeah. 'Cause sometimes love life tends to get in the way of work. It's hard din. But when your love life is with your work din naman, it's easy but it also has its pros and cons. I think in any career naman, relationship will interfere. When you're in love, everything revolves around that.

What relationship lessons have you learned along the way?
Just be true, be honest talaga. And keep your communication open. No matter if it will break the person you love, you just have to tell truth and be honest talaga.

Watch our exclusive interview with August 2009 Man on Fire Geoff Eigenmann here.

Photos by Mitch Mauricio
With reports from Happy Lopez
23