With her dramatic love affairs and super public family dramas, Heart Evangelista has lived one wild ride. Here's what she said about fighting for independence and her epic romances with Jericho Rosales, Daniel Matsunaga, and now-hubby Chiz Escudero.
Candy August 2000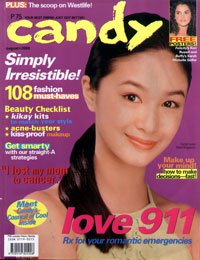 On being a celebrity:
"Up to now, I can't believe I'm a model. I'm still not used to people going up to me in public and asking me, 'Aren't you the girl in the Rexona ad?' It's really strange."
ADVERTISMENT - CONTINUE READING BELOW ↓
On talking to a crush:
"Whenever my crush starts talking to me, my mind goes totally blank! Either I eat my words or I commit these embarrassing grammar flubs. But I normally speak good English naman!"
Her fave type of music:
"What I really like is classical music (Andrea Bocelli and Sarah Brightman). It relaxes me and it's nice to listen to." 
Preview September 2005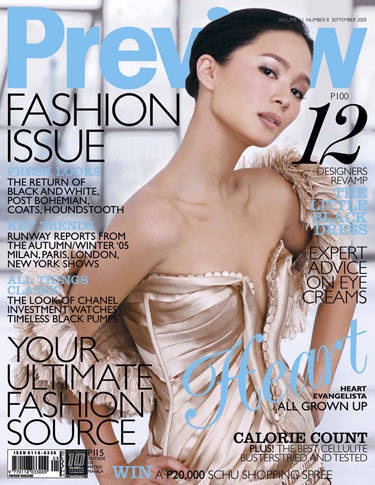 On sticking to her values no matter what age:
"Being wholesome is not about how you dress or move. It's about who you are, your values. So I really don't want to break away from the wholesome image I have now. I want people to look at me with respect. Besides, I can be wholesome at 20 or 21, or no matter what age."
Cosmopolitan February 2006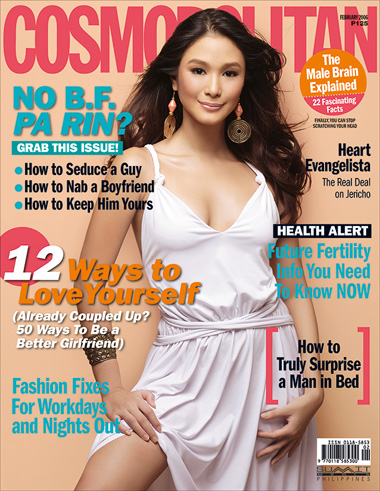 ADVERTISMENT - CONTINUE READING BELOW ↓
On her status with Jericho Rosales:
"I'm not going to tell you! Umm, let's just say we got to know each other outside of work. We go on dates… Kami lang. We get along. We're happy."
On her old love teams:
"John (Prats) was my first love. Geoff (Eigenmann) is my friend. And Jericho (Rosales)? We'll see.
What she's like when she's in love:
"I draw. I love buying things for that person and I like dressing him up. I like doing sweet things like going to the grocery for him. When I'm in love, I'm obviously happy!"
Her first kiss:
"It was stolen! I didn't like it."
Her first date:
"In front of the Blessed Sacrament in Forbes! I was forbidden to go out, so I'd meet up with him there."
Marie Claire June 2007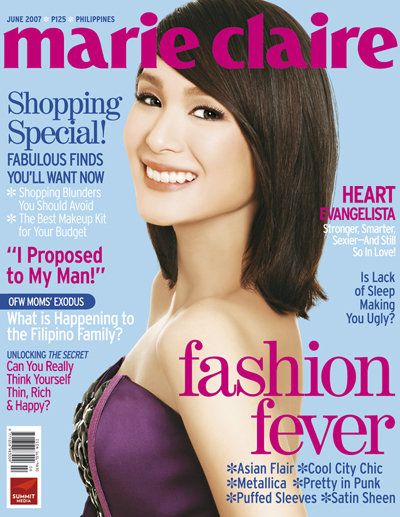 ADVERTISMENT - CONTINUE READING BELOW ↓
On Jericho Rosales:
"This guy, he's the perfect guy. He's experienced so much and he's done so many things. He knows what he wants."
"When Echo tells me he loves me, he tells me that he will love me forever."
On how they became official:
"We were in Bohol. He handed me a shell on which he had carved: 'To many more islands and sunshines together.' He asked me to be his girlfriend. I was so surprised! I knew he was falling for me but I didn't really think—I thought it was going to be easy for him (to say) 'Okay, we'll just date.' But he proposed and there wasn't anything for me to do but say 'yes'."
On her so-called rebellious stage:
"It wasn't about Echo. It was about me turning 21 and wanting to do things on my own. I wanted to make my own choices."
"It was like a slap in the face. But it left a good scar.  Ang laki ng tinino ko from before. I am super humbled."
ADVERTISMENT - CONTINUE READING BELOW ↓
Seventeen October 2008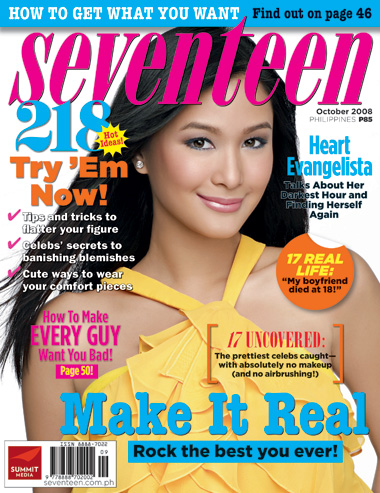 What would the 23-year-old Heart tell her 17-year-old self?
"I'd tell her to take her time, and not take anything for granted. I'd also tell her that it's okay to love herself more. I learned this the hard way. I wanted to make someone happy, so I did everything he wanted willingly and didn't think for myself. I love loving and used to think I was satisfied with just losing myself in someone, but I realize that I lost myself in the process."
ADVERTISMENT - CONTINUE READING BELOW ↓
Would she rather be perfect or real?
"There's no such thing as perfect, I'd rather be real; you just have to be strong and learn from everything that comes with it. You're human, and pain is part of life. It's like a diamond (that needs to be polished) in order for it to shine. You need to go through all that to gain wisdom."

Preview November 2008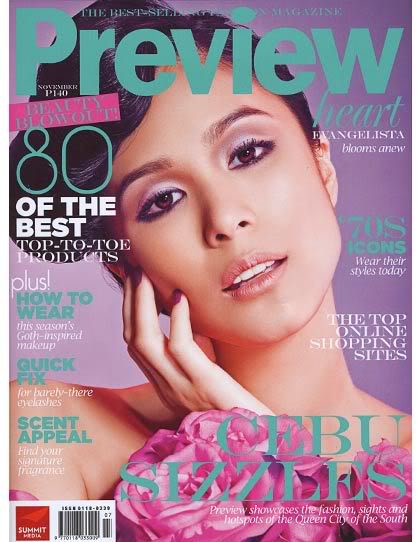 ADVERTISMENT - CONTINUE READING BELOW ↓
On being bullied:
"I was such a loser in school! I went through a lot; people bullied me, they were really mean to me. Groups would come up to me, they'd make me sugod. And they'd push me… physically push me! There was even one girl who really wanted to attack me, and she'd say to her friends, 'Awatin n'yo ko, awatin n'yo ko!' Tapos wala, umiiyak lang ako. The whole time I was in school I was in hell. Problemado ako pag lunchtime: where would I go this time, sa banyo, sa field…ganun. I didn't have anyone to hang out with. 'Pag dun naman ako sa common ground ng mga girls, and they're going to see me alone, susugurin na naman ako, mapapahiya na naman ako. That scene in Mean Girls where Lindsay Lohan was eating alone in the banyo? That was me."
On failing:
"All of a sudden everything in my life changed. My career was just about DEAD, and my personal life was a DISASTER. I would wallow in self-pity. I lost my family, I lost my love and passion for life. I thought it was the end of the world!"
ADVERTISMENT - CONTINUE READING BELOW ↓
On turning to God:
"There was a time when everything else was gone. There was no one else to turn to but Him. I really clung to that passage, 'God will never leave you nor forsake you.' I believe that He allows things to happen for a reason. Like I realized I missed my family and that no one could ever replace their love… their UNCONDITIONAL love."
Cosmopolitan June 2011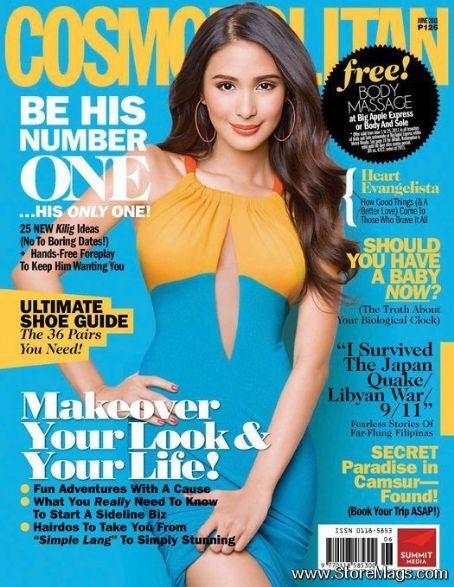 ADVERTISMENT - CONTINUE READING BELOW ↓
On Daniel Matsunaga:
"He's a Christian and mabait. That's the one thing that struck me: He's Christian."
"He has a concept of family, and for me, that's important. He's close to his family. He's very malambing and super sweet."
On her relationship with Daniel:
"Well, there's ligawan naman, but we really started out as friends. It just happened. Nagka-develop-an. We have this Tuesday group, and my friends from the set and I just hang out, and Daniel would go also. He'd take me out to dinner. He'd ask me out to a movie."
"We do everything together. When I shop, he shops. We even have a dog together."
"Of course you want to make this work. Pero pray, pray, pray na lang, kasi what happens if you want it so much but He doesn't want it pala? So, you just have to pray. Good thing, Daniel and I aren't afraid to talk about the future."
ADVERTISMENT - CONTINUE READING BELOW ↓
On her breakup with Jericho Rosales:
"It took me a long time to be okay. A looong time. [The recovery] was just a matter of time. You have to suck it in. Embrace the pain, and you just wait because something better will come for you. You just have to recognize the fact that you deserve more and you deserve better."

Cosmopolitan July 2012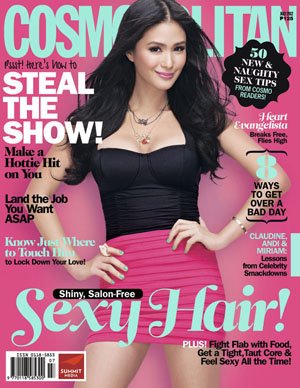 ADVERTISMENT - CONTINUE READING BELOW ↓
Her one true love:
"Talagang si Jericho. It's not sad because at least you met him, it's not sad because it was so great that you'll never, ever forget—you can still feel it to this day. The way I see it, I'm just happy I experienced it, 'cause not all people do. 'Yung talagang all-out? Wow, you and me against the world! We could live in a kubo, I don't care if we live in a carinderia, my God, magkamay tayo! It's the best life I ever had, and I will never forget it!"
On her break up with Daniel Matsunaga:
"He and I, we were too different. We couldn't even get to fighting about the big things anymore because we were fighting about the little things. People say, 'Grabe naman siya magpalit, parang damit.' They say I move on too fast. Well, I move on too fast because when it's over, it really is over for me. Can you just be happy that I moved on and carried myself well?"
ADVERTISMENT - CONTINUE READING BELOW ↓
Esquire May 2013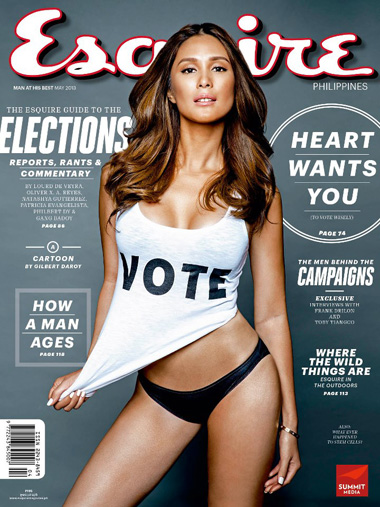 On moving out of her parents' house and being independent:
"I have to learn or else I'll just be that sheltered girl who will forever be 18."
On being too sheltered:
"It's like the whole time I wasn't doing this the whole world was evolving. I used to have my mom decide on everything. What I wear or what car I'd use today or my schedule for tomorrow. Everything. I was made to sit and smile."
ADVERTISMENT - CONTINUE READING BELOW ↓
On her friendship with Miriam Defensor-Santiago:
"I was like her little princess. I was like her daughter. We would go to New York. I'd change into my pajamas. We'd wear the same color robes. She'd put on slippers and we'd talk about Cleopatra. We'd talk about all these things. She would tell me that I should treat men like furniture. You change them, or something like that."
Cosmopolitan March 2014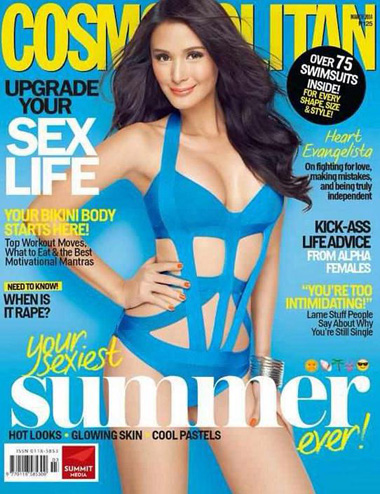 ADVERTISMENT - CONTINUE READING BELOW ↓
On Chiz Escudero:
"He's home. Of course I've been in love before, but with Chiz, we've never faced an issue that made me want to give up. I've never felt this way before. He is so patient with me. He stays away from me when I'm needy. Alam niya paano ako i-handle. Ayaw niya na ilipat 'yung dependence ko on my parents ko to him. He wants me to be able to learn on my own. He made me grow in that area. It's tough love, but he makes me feel secure."
The greatest challenge of her relationship with Chiz:
"Obviously he is much older than I am, has been married before, and has kids—that was something new to me. I didn't know how to act in front of them. I'm also like a child myself."
The one thing she learned about love:
"Don't let anybody meddle in your life."
ADVERTISMENT - CONTINUE READING BELOW ↓
Preview October 2014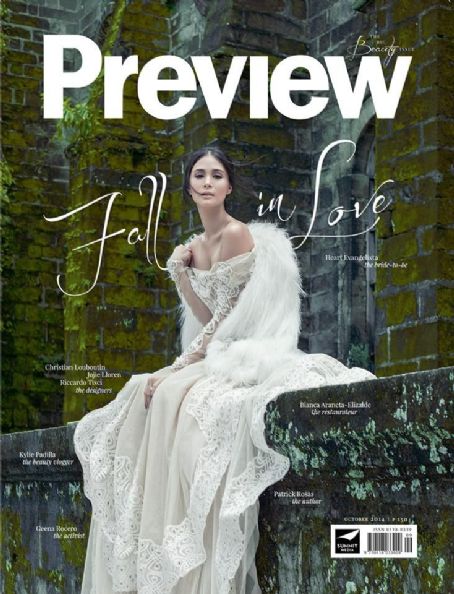 On her engagement with Chiz:
"It's all still sinking in. But I have never felt happier in my life. That feeling when you have a solid home. You don't have to move from one place to another. I feel like I don't have to box my pictures anymore. I can take as many pictures as I want and put them in frames knowing I don't have to put them down one day. Permanence is such a good feeling."
ADVERTISMENT - CONTINUE READING BELOW ↓
"With everything falling into place, I could sit down and say, 'I am home now. I will not have to move anymore.'"
Follow Jacinda on Twitter.
RELATED:
What We Learned About Toni Gonzaga In 8 Magazine Covers
What We Learned About Ellen Adarna In 7 Magazine Covers