Well, this is news!
Michelle Rodriguez and Cara Delevingne were spotted cuddling at a basketball game!

The Fast & Furious 6 actress, who confirmed she is bisexual last October, was spotted puckering up to the British supermodel and flirty up a storm after taking their courtside seats to watch the New York Knicks defeat the Detroit Pistons at Madison Square Garden on Tuesday night, January 7.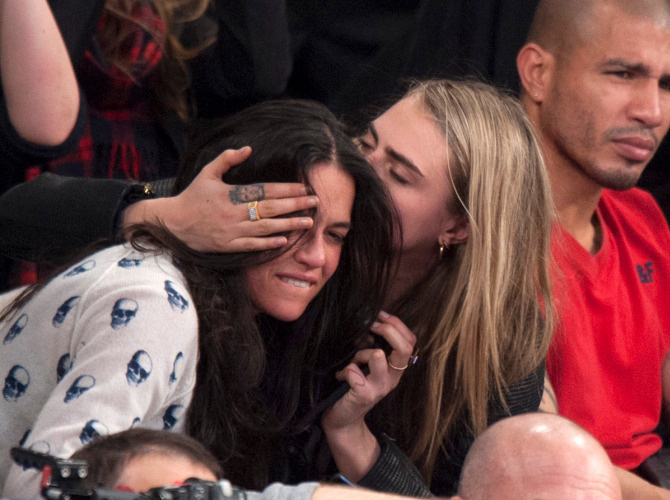 Photo: ohnotheydidnt.livejournal
The 35-year-old brunette star, who blew smoke rings from an electronic cigarette, draped her leg over the 21-year-old blonde model and tried to kiss her before sticking her tongue out and giving Cara an affectionate smooch on the cheek as she casually clutched a glass of alcohol.
Continue reading below ↓
Recommended Videos
Their romantic antics attracted jeers and cheers from amused spectators, according to the New York Daily News.

Cara, who recently returned from holiday in Barbados with Rihanna, clearly enjoyed the game and posted several pictures on her Instagram profile, with the caption: "And tonight the Knicks @MRodOfficial x"

She also posted a photograph of her sticking her tongue out alongside The Legend of Hercule' star Kellan Lutz.

The Burberry model, who was previously linked to One Direction star Harry Styles, has hinted in the past that she is attracted to both men and women.

She also wrote on Twitter in November: "Don't worry I play for more than one team."

Michelle admitted for the first time last year that she is bisexual.

The actress said: "I've gone both ways. I do as I please. I am too f**king curious to sit here and not try when I can. Men are intriguing. So are chicks."