1 Let's face it: Every true beauty addict knows Patrick Starr, and unless you've been living under a rock, you definitely know Kim Kardashian. Well, the stars have aligned because these two powerhouses recently released a makeup tutorial that can only be described as "snatched!" 
2 ICYMI, Angelina Jolie and Vanity Fair are locked in a pretty intense feud right now. Angelina is on the cover of VF's September issue where she discussed her divorce from Brad Pitt as well as her newest film, First They Killed My Father. The cover story went viral. It was insinuated that the casting of the female lead was done in an emotionally abusive manner: "In order to find their lead, to play young Loung Ung, the casting directors set up a game, rather disturbing in its realism: They put money on the table and asked the child to think of something she needed the money for, and then to snatch it away. The director would pretend to catch the child, and the child would have to come up with a lie."
Angelina quickly released a statement denying that accusation: "Every measure was taken to ensure the safety, comfort, and well-being of the children on the film starting from the auditions through production to the present. I am upset that a pretend exercise in an improvisation, from an actual scene in the film, has been written about as if it was a real scenario. The suggestion that real money was taken from a child during an audition is false and upsetting. I would be outraged myself if this had happened."
According to Vanity Fair, Angelina's lawyer reached out and asked for a retraction. The magazine is standing by the writer's story. They also released a transcript from the interview. Read it in full here. [Just Jared]
3 Looks like things are going well for Selena Gomez and The Weeknd. Despite being private and protective of their relationship, Sel told InStyle magazine, "I'm lucky because he's more of a best friend than anything else." She also spoke about how their relationship is different from her past experiences: "I don't depend on one area of my life to make me happy. It's really important for me to love and nourish my friends and family and to make sure that I never get influenced by a guy. I've wanted to be in a strong head space for years, and I really wasn't. Before, I was so young and easily influenced, and I'd feel insecure. You want someone to add to your life, not to complete you, if that makes sense."
4 Know of any inspiring women? The UK's Women of the Future Programme just launched The Women of the Future South East Asia Awards! Founder Pinky Lilani announced, "When we created the Women of the Future Awards in 2006, it was always my dream to bring it to Asia. Over the years, we have built a remarkable, informal community of influential women determined not only to build professional and personal relationships with one another, but to be advocates for an exciting new generation of business leadership talent. It is now time to celebrate the diverse spirit of young women and their achievements in shaping the future of Asia." 
In collaboration with Aviva, the awards are open to women aged 35 or under. They aim to recognize and celebrate influential women across seven categories including business, culture, media, tech, and more. 
For more details on how to nominate someone, visit their website. 
5 For the last leg of Cosmopolitan's Fun Fearless Life Power Up, Cosmo.ph will head to AON Insurance & Reinsurance Brokers Philippines Inc. today, August 4, 2017! This year's Fun Fearless Life will be a three-part office tour where speakers will impart practical and life-changing fashion and beauty advice to Cosmo Girls. This event is made possible by our sponsors: Bobbie Nails, Skin White, and Carefree, who have all prepared activities and prizes for the participating offices. Follow the hashtag #CosmoFFLPowerUp on social media to see all the photos and posts from today!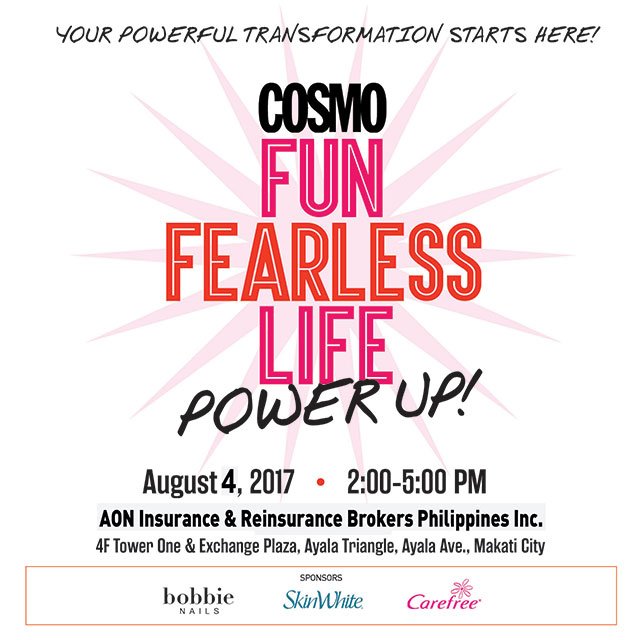 Recommended Videos