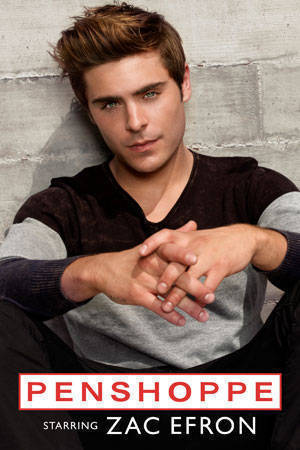 Zac Efron is a man who needs no introduction. We've seen him grow before our eyes from high school campus cutie to certified Hollywood hottie, captivating us with his mesmerizing blue eyes and perfectly sculpted face--not to mention that ultra-hot form.

But that's not all Zac has to offer; the High School Musical star has proven that he's capable of a lot more than just looking good without his shirt on. With blockbuster hits like The Lucky One and Paperboy under his belt, Zac is well on his way to becoming one of the most sought-after actors in Hollywood.

Despite having a full schedule and being plagued by jet lag, Zac was still as friendly and courteous as ever as he met with a select few from the press during an exclusive round table interview before his Penshoppe Fan Conference. He made everyone at the table feel at ease by addressing each person by name (yes, we were "The Lucky Ones"!) and even cracked a few icebreakers and jokes.

Read the interview below from our round table interview with the one and only Zac Efron!


What's the biggest misconception people usually have about you and how do you deal with it?

More often than not, I think what I'm  doing now with my career is a little bit different from what was anticipated. I wouldn't call it a misconception, I just think I enjoy surprising people and sort of doing not necessarily what was expected. I think that it all comes with time. I'm working on differnt projects with very talented directors and I'm very blessed to have that opportunity. To have certain directors sort of take me under their wing and guide me and really show me a lot of new facets of acting. They present me with different roles that are going to be more challenging.

What attracts you to a girl?

It's one of things you don't know until you see. It could be just about anything. I think I have to be in front of her to see it.

How did Penshoppe convince you to come to the Philippines?

They didn't really have to convince me; I've always wanted to come to the Philippines. I was thrilled that a brand like Penshoppe wanted me to do this. I was ecstatic! Not only because the brand is very cool, but it also gave me a chance to go to the Philippines, which I've always wanted to do. When I was young, my dad always used to come out here. He was always the adventurous type, and I always admired him for going out and experiencing different cultures and seeing the world, specifically the Philippines. I was thrilled when Penshoppe asked me to come here. It was like a dream come true.

Do you have more plans to do action-adventure films?

I would love to. It all comes down to the people involved with the project: the director, the role. If there was a way for me to really immerse myself in a role, whether it was action or anything else, I definitely would.

How do you keep yourself fit?

Everyone knows the rules. Ninety percent of it is what you put in your body and what you eat. If there's one thing that I try to make sure of, it's my diet. I eat a lot of vegetables and I try to stay away from fast food. I don't really drink soda; I think soda is a bad thing. All the things you already know.

What has been your most memorable experience in Philippines so far?

My most memorable experience in the Philippines so far was a total surprise. I was sort of hiking up the Mayon Volcano and all of a sudden there were like 10 ATVs halfway up the trail and i was like "Oh my gosh!" and they were like "Yeah, we're going to ride this up the mountain." We got on the ATVs and me, my dad, and the whole Penshoppe group rode them up the lava fields to the top of the volacno for one of the most incredible views I've ever seen in my entire life. It was one of the funnest things I've ever done in my life, and not even just the trip. I was blown away. It was pretty cool.

If you had a dream role, what would it be?

I don't know exactly what would be my dream movie role yet. I think that every movie I do ends up becoming my dream part. It's kind of just where I am in my life and what's around in that particular moment. I would love to do everything so it's kind of hard to just pick one. I don't think I have just one dream role.

If you could pick a dream cast, who would be part of it?

I really enjoy working with my elders and more experienced actors. I mean, it changes. All the people you would think, I would really love to work with. I love Johnny Depp; I'd love to work with him. I want to work with Leo [DiCaprio]. I'm in my dream cast right now; I just finished a movie with Nicole Kidman, Matthew McConaughey, John Cusack, and Macy Gray. That was a dream cast. That was one of the most incredible experiences in my life.

What are the fashion pieces you bring when you travel?

I usually bring one suit for premieres or dinners. I wear a lot of t-shirts and jeans. Oh, and a leather jacket.  

Can you describe your transition as an actor?

It's a journey, sort of just a natural progression. I can't really help it. As I continue to work and grow up, my aspirations kind of evolve. I have always enjoyed work that is challenging and forces me to grow, the type of thing that scares me at first. I'm always looking for things that are going to challenge me to grow in my acting.
Recommended Videos