Is it just me or grabe na yung back pains because of this work from home setup? Spending hours staring at a computer screen can be bad for your eyes, but nobody told me my neck and shoulders would be aching after sitting for 8+ hours a day.
If you're like me and rolling your shoulders or a nice long stretch sesh isn't cutting it anymore, don't worry. I asked Pinays in our Cosmo Community Facebook group for their best tried-and-tested back pain remedies, and here's what they had to say!
1. Blogilates, yoga, and proper stretching
"I do Blogilates stretching videos. It helps my back get stretched out." – Noela
"Search for [Blogilates] morning and night stretches videos. There's even one you do in bed and it helped me!" – Retty
"Cat-Cow yoga pose to flex the spine!" – Timmy
"Cat-Cow + Child's pose+ Supine spinal twist poses ftw!" – Sarah
"You can do this stretching thing I do. Roll a towel and lay on the floor then place it underneath your back (position it aligned to your navel). You'll feel the crack, haha. You can use it as a roller." – Alexandra
"I do Essential Restorative Yoga or Essential Flow Yoga through the Nike Training Club app. [It] not only helps alleviate the pain, but it's also very mentally calming." – Marvelle
"Check out Yoga with Adrienne on youtube and try her Yoga for Seniors na video. I tried that so many times and I have really bad back pain. As in I sometimes shout "Aray!" out of nowhere kasi super sakit niya. But when I do that yoga, super narerelieve siya." – Trina
2. Tiger Balm
"TIGER BALM PATCHES. I TELL YOU." – Retty
"Tbh, Tiger Balm is part of my WFH table setup." – Maebel
3. Salonpas
"Salonpas is my friend. Sa akin shoulders/upper back usually. I also ordered Tiger Balm na neck and shoulder rub. Sarap din!" – Ro
"Salonpas is life haha, but seriously I carry patches with me everywhere." – Andie
READ MORE:
Pinays Share Their Most Useful Work From Home Purchases
5 Important Self-Care Habits To Practice When You Work From Home
WATCH: 16 Pinays Share Their Work From Home Spaces
Continue reading below ↓
Recommended Videos
4. A more ergonomic WFH setup
"I bought a laptop stand, keyboard, and mouse...sobrang nakahelp sa back pain! Sobrang worth the extra expense! Also, get a good office chair." – Ishi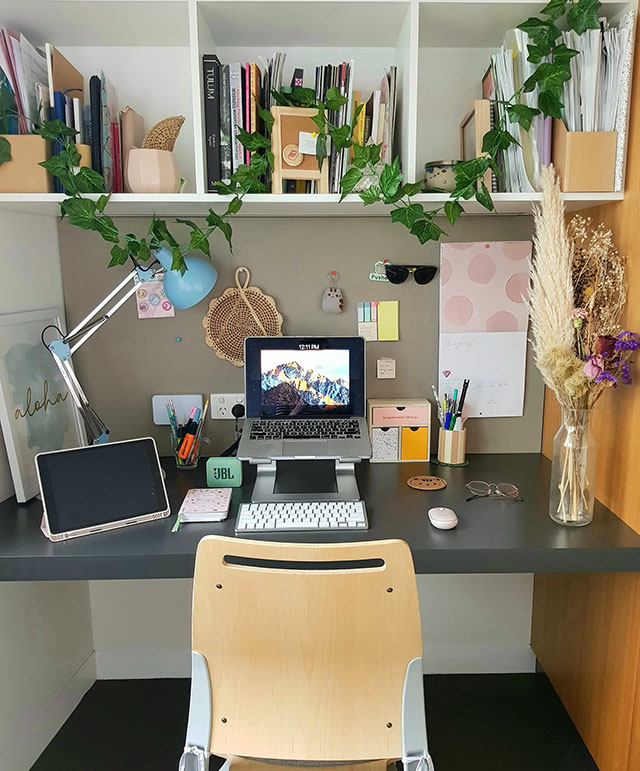 "Invest in an ergonomic chair and make sure to stand up and walk every now and then. I have scoliosis and after getting an ergonomic chair, haven't been complaining for months that my back and hips are about to break. My fitness tracker alarms 12 times a day, reminding me to stand up when it detects I've been sitting for a long time." – Katrin
"Check the height of your table. [It] took me a while to realize the table I was using [is] too high [for] my sitting position." – Phoebe
5. Consult a chiropractor
"[It] came to a point that for me, it's no longer the usual back pain I experience. I had a consultation with acChiropractor and turned out, I already have several misalignments in my spine. My x-rays confirmed the findings. I'm about to start my sessions with Mabuhay Chiro." – Mariel
Lastly, here's a helpful reminder from our Cosmo Community member Megan:
"Don't forget eyebreaks, too. [Follow the] 20/20/20 rule - every 20 minutes look at an object 20 meters away from you for 20 seconds. Your eye is a muscle too and we're prone to eye strain and dry eyes (lesser blinking from intense computer use).
Do you suffer from back pain, Cosmo Girls? What is your tried-and-tested remedy?
***
What does your zodiac sign say about you? Subscribe to Cosmopolitan Philippines and find out!
Follow Andie on Instagram.
EXPLORE COSMO