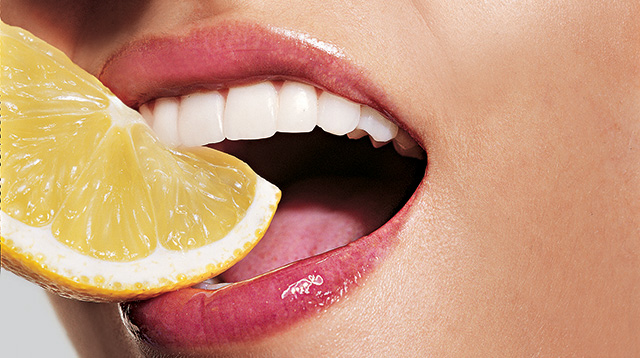 Do you often find yourself wincing when you brush your teeth or eat ice cream? If you do, you might be suffering from pangingilo. According to a study published on Health.com, sensitive teeth occur when enamel on the outside of the tooth wears away. This triggers a short, sharp, shooting pain that causes discomfort given the right stimuli. It's nothing incredibly serious but it could be a hassle at times.
So how about we help you out? We've listed the six biggest reasons you suffer from tooth sensitivity here. We've provided some tips, too!
1. You brush too hard.
Brushing your teeth with too much force won't make them cleaner. Doing so actually wears down the protective layers and exposes dentin (the middle layer of the tooth). The absence of protective layers means that when you take something cold or hot, you're really going to feel it. Use a soft-bristled tooth brush and be gentle when brushing!
2. You grind your teeth. 

Tooth enamel is the strongest substance in your body but it wears down when you grind your teeth. You may do it unconsciously when you're stressed, or while you're sleeping. Soon enough, the dentin will be exposed as well. The cure? Avoid getting stressed to put a stop to unconscious grinding.
3. You do DIY teeth whitening.
Baking soda whitens your teeth by eating away at the stains. Unfortunately, it also eats away at the enamel, thus exposing the dentin and the roots of your teeth. You're at risk of overdoing it with this DIY solution. If you want whiter teeth, just set an appointment with your dentist.
4. You have a cracked tooth. 
A crack or chip in your tooth may expose the underlying dentin or it may fill up with bacteria from plaque, causing the nerve to inflame. At this point, the dentist is your only choice. He'll check the tooth and evaluate whether it needs to be filled or extracted. 
5. You're not cleaning your teeth enough.

The purpose of brushing and flossing is to remove the plaque that forms after you eat. If you don't remove them after you finish your meal, the bacteria starts to eat your enamel protection. The longer you take to remove the invaders, the more damage they'll be able to cause. To protect yourself from long-term tooth decay and pain, floss and brush as soon as you can.
6. You love acidic food.
Acidic beverages and food items are the biggest contributors to sensitive teeth. They wear down the enamel and soften the teeth. So if you're an avid fan of orange juice, tomatoes, sodas, and pickles, just make sure to balance them with foods rich in calcium. Calcium will help restore your teeth's strength.
This story orginially appeared on Fhm.com.ph.
*Minor edits have been made by the Cosmo.ph editors.
Recommended Videos