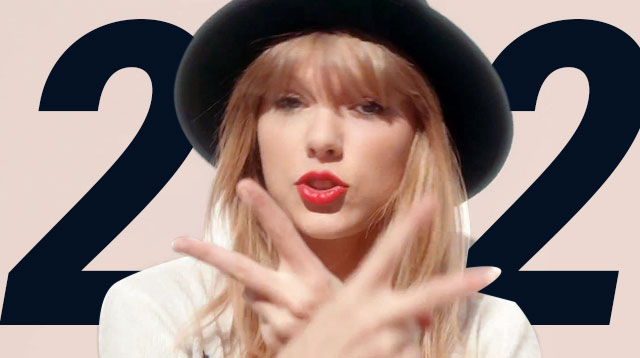 Instagram/TaylorSwiftVEVO
1. Trends. Just because your favorite fashion blogger posted an #OOTD wearing the hottest trend today doesn't mean that you should be wearing one, too. Trends really do fade, so invest in staple pieces like a structured blazer, a sleek pencil skirt, nude or black pumps, a go-to pair of ballet flats, and a plain white tee. 
2. Feeling bad about not replying to every single text that you get. It's okay not to text back as long as it's not something important or urgent, of course. But if it's obviously a message out of boredom and you have more important things to do, don't feel bad.
3. Having a few friends. You are not in high school where being popular meant everything. At 22, you realize who your real friends are—and news flash—you'll have a smaller group in your late 20s. Quality over quantity, always.
4. Having a gazillion Facebook/Instagram likes. Social media shouldn't define who you are. Getting at least 100 likes on Instagram is cool and stuff, but it shouldn't be your end goal. You have more important things to do, like paying your bills on time and being a nice and kind human being in general.
5. Speaking your own mind. When was it ever wrong for you to share your opinion? Don't be afraid to speak up.
Continue reading below ↓
Recommended Videos
6. Failure. I've always wanted to have a small business so I started an online shop with my friends...three times! That's because the first ones didn't do so well, but that's okay. It was a learning process. Being 22 is the perfect time to commit mistakes.
7. What your friends are doing. In this time and age where social media has become a window to your life, it's so easy for people to see and compare what other people are doing. But these people don't know any more than you do. I'm not being a super nega person, but life looks easier on Instagram. Social media can show you one part of someone's life. But you don't see everything.
8. Being single. You know that feeling when almost everyone in your barkada has a boyfriend? And here you are figuring life out at 22? Having a boyfriend or getting married can wait. Use your time to learn new things and meet people outside your social circle. Enjoy your weekends! Don't worry about your #OOTD! Shave (or don't shave) your legs for two full weeks! Have fun!
9. Not being able to attend every single party your friends plan. Stay home if you really want to watch the last few episodes of OTWOL. Say you have the flu. Hehehe!
10. Losing friends. As you mature and take on a path that's different from before, you lose a few friends, but meet new people. It's not that you don't like them anymore, but your priorities have shifted and you guys eventually lose the connection you thought was unbreakable. It happens, and it's normal.
11. Timelines. There is a loooong list of things you want to accomplish by the time you're this age or that age: a stable job at 23, travel to at least 10 countries by 30, settle down by 35, retire and be rich by 40—we can name a lot more!
But I'm here to tell you that they won't happen...well, at least not yet. And not in the same way you had planned. Live in the moment because there's no "right time" for anything. Enjoy what you have and go lang nang go. Things will fall into place when they do. If you worry too much, you lose sight of all the good stuff that's actually happening.